Regular price
$99.99 USD
Sale price
$49.99 USD
Unit price
per
BYOB 50% Off
Sold out
5 seats per copy - Licence
We've unleashed POLYGON - Dogs onto the world. It's a low poly asset pack with various dog to choose from, and did we mention... it's animated!
With interchangeable attachments, you can customize your pet to either carry health packs for your players or have demon dogs chase them. You're barking mad if you don't get this pack. 
◼ Key Features ◼
- Animated Dogs!
- Lots of dog types and attachments!
- Includes example controller and camera scripts!
Dogs (x18)
Dalmatian
Doberman
German Shepherd
Golden Retriever
Greyhound
Husky
Labrador
Pointer
Ridgeback
Shiba
Wolf
Fox
Coyote
Robot
Scifi
HellHound
Zombie Doberman
Zombie German Shepherd
Attachments (x28)
High Vis Vest
Military Vest
Police Vest
Rescue Vest
War Vest
Saddle
GasMask
Goggles
Muzzle
Straps
Armour Dark Back
Armour Dark Chest
Armour Dark Leg Front Right
Armour Dark Leg Front Left
Armour Dark Leg Rear Right
Armour Dark Leg Rear Left
Armour Dark Neck
Armour Dark Helmet
Armour Light Chest
Armour Light Helmet
Armour Helmet Skull
Armour Light Neck
Armour Light Leg Right
Armour Light Leg Left
Saddle Seat 01
Saddle Seat 02
Saddle Roll
Dog Cone
FX (x4)
Poop, Pee, Digging and WaterShake
Props (x44)
Balls, Ball Thrower, Barrel, Basket, Dog Bed, Bone, Dog Bowls, Dog Brushes, Cans, Dog Carrier, Discs, Doggie Bag, Food Bag, Dog House, Obstacles, Poop, Dog Roll, Scissors, Steak, Stick, Dog Tags, Toy Chicken, Toy Duck and a Toy Bone
Animations (x77)
Standing
Walking
Running
Falling
Standing Turn90 Left
Standing Turn90 Right
Jump_Sitting
Jump_Standing
Jump_Walking
Jump_Running
Action_Standing_Bark
Action_Standing_Beg
Action_Standing_Cower
Action_Standing_Dig
Action_Standing_Eat
Action_Standing_Howl
Action_Standing_Drink
Action_Standing_Pee
Action_Standing_Poop
Action_Standing_Shake
Action_Standing_Sniff
Action_Standing_TailWag
Action_Standing_Yawn
Action_Standing_ToyShake
Action_Sitting_Bark
Action_Standing_Beg
Action_Sitting Howl
Action_Sitting_Scratch
Action_Sitting_TailWag
Action_Sitting_Yawn
Sit_Sitting
Death_Sitting
Death_Standing
Landing_Soft
Landing_Medium
Landing_Hard
Sleep_Sleeping
Sleep_HeadUp
Sleep_HeadUp_Idle
Sleep_HeadDown
Stand_ToSleep
Sleep_ToStand
Sit_ToSleep
Sleep_ToSit
Sit_ToStand
Stand_ToSit
AttackReady_ToStand
Stand_ToAttackReady
Head
Head_Standing_Up (Additive)
Head_Standing_Left (Additive)
Head_Standing_Right (Additive)
Head_Standing_Down (Additive)
Head_Sitting_Up (Additive)
Head_Sitting_Left (Additive)
Head_Sitting_Right (Additive)
Head_Sitting_Down (Additive)
Eyes
Mouth
Mouth_Close (Additive)
Mouth_Open (Additive)
Mouth_Tongue
Ears
Ears_Alert (Additive)
Ears_Fearful (Additive)
Ears_Sad (Additive)
Tail
Tail_Standing_Neutral (Additive)
Tail_Standing_Up (Additive)
Tail_Standing_Left (Additive)
Tail_Standing_Right (Additive)
Tail_Standing_Down (Additive)
Tail_Standing_Wag
Tail_Sitting_Neutral (Additive)
Tail_Sitting_Up (Additive)
Tail_Sitting_Left (Additive)
Tail_Sitting_Right (Additive)
Tail_Sitting_Down (Additive)
Tail_Sitting_Wag
◼ Compatibility ◼
- Character setup to work with Mecanim (no animations included in this pack)
- View our tutorial on converting to the Universal Render Pipeline.
- Compatible with Unity 2019.4+
- Compatible with Unreal 4.22+ (Community developed alpha version)
- Diagnostic Guide Here
Follow us for updates and news
Email | Facebook | Tutorials | Discord | Newsletter
Share
DOG GONE! THIS IS AN AWESOME PACK!
This pack fits into a new project we just started three days ago and it also will work in two future projects we have on the schedule board. I am age 56 now and have been using Synty products for years. Just looking over these asset packs stirs my creative mind to reach into the Aether and pull out a story to tell. This pack is just as Professional and Inspiring as all the others Synty Studio packs.
Thanks for the review. We'd love to see anything you make with the pack - feel free to share it on our Discord in the user-showcase channel.
Great Asset pack
Up to the usual high standard that is Synty Studios Assets.
Really pleased with this pack. Highly recommend.
Thanks Guys
Thanks for the review. Happy to hear you are enjoying the pack.
Best low poly dog pack out there!
Amazing pack - please create a UE5 package for this asset, though!
Thanks for the review. There is actually a community developed alpha build of the dog pack already available in the downloads for the pack, be sure to check it out :)
Is there a UE4 version of this
Cheers for the review. Yes, there's a community alpha version available in the downloads.
Fantastic addition to my sets
I love dogs. This set is perfect to fill out any human packs with a favorite pet. And the behaviors are very dog-like.
Great job Synty!
View full details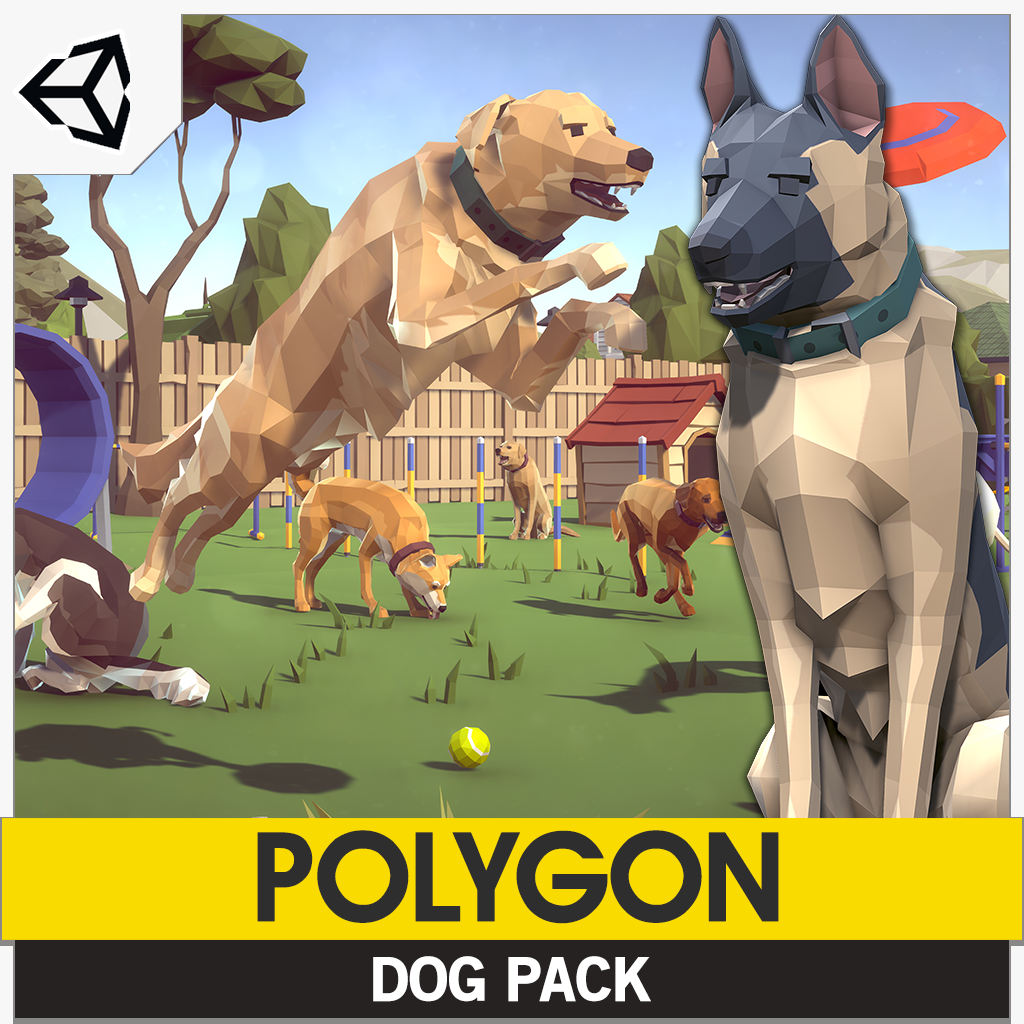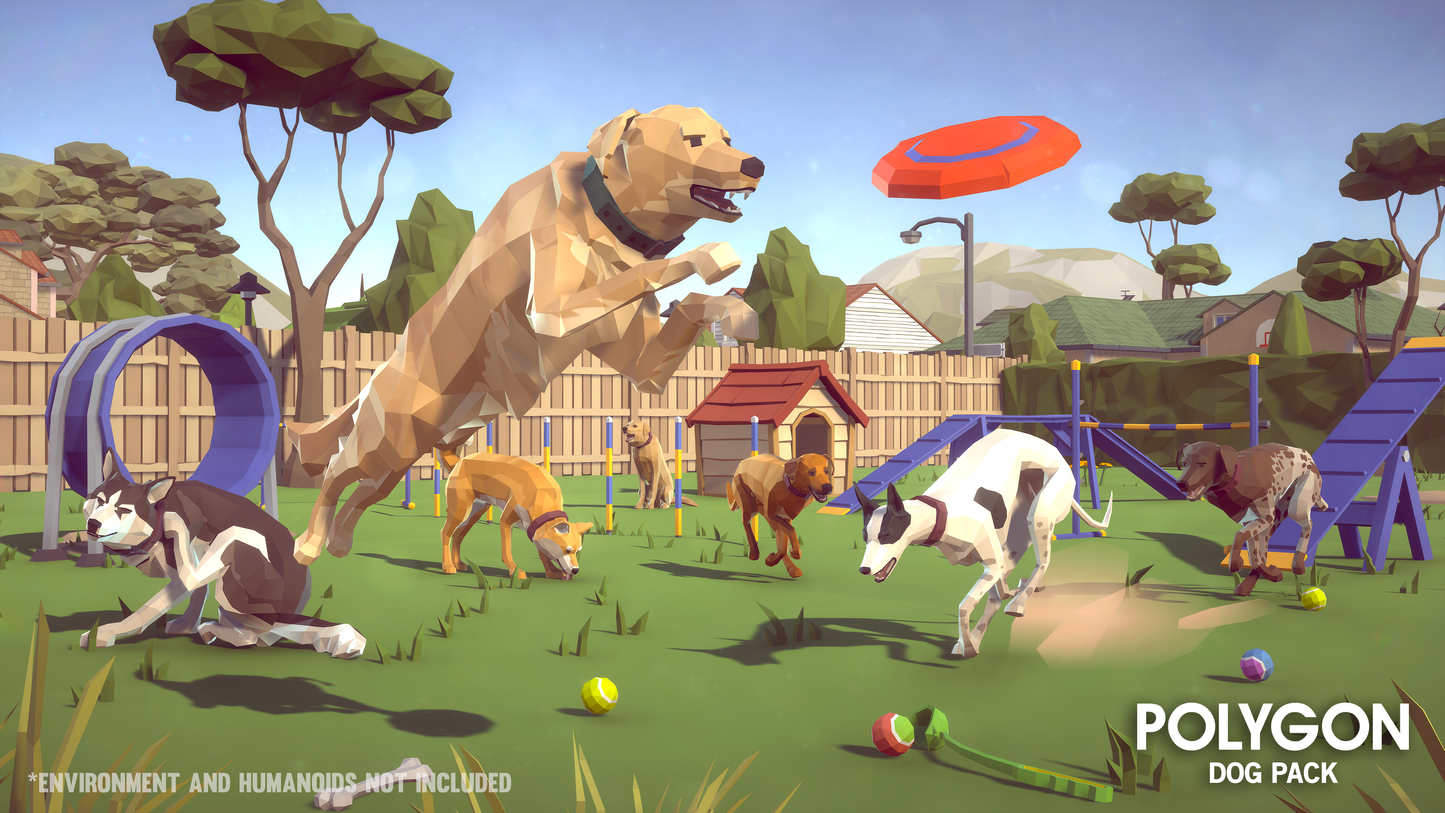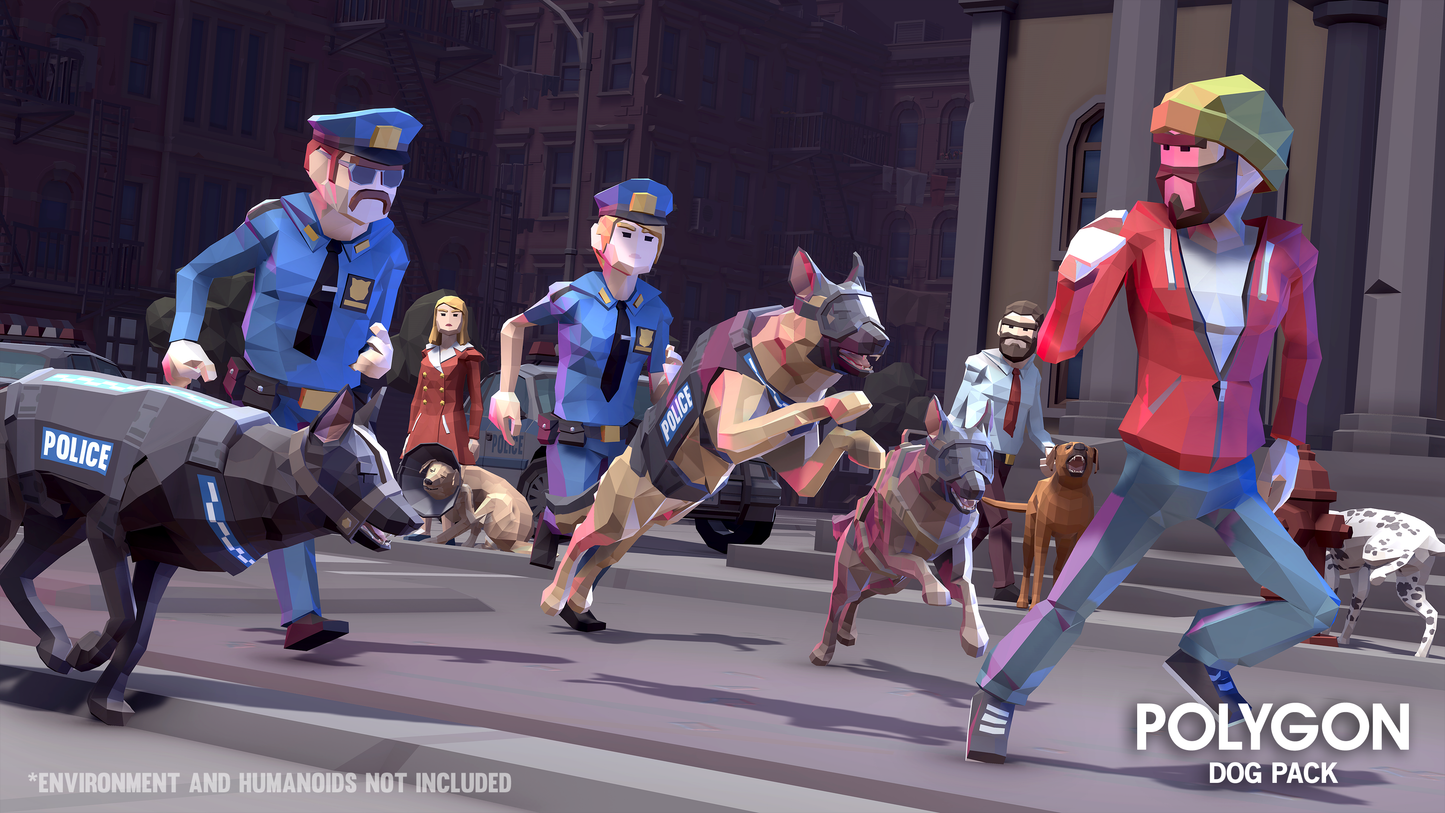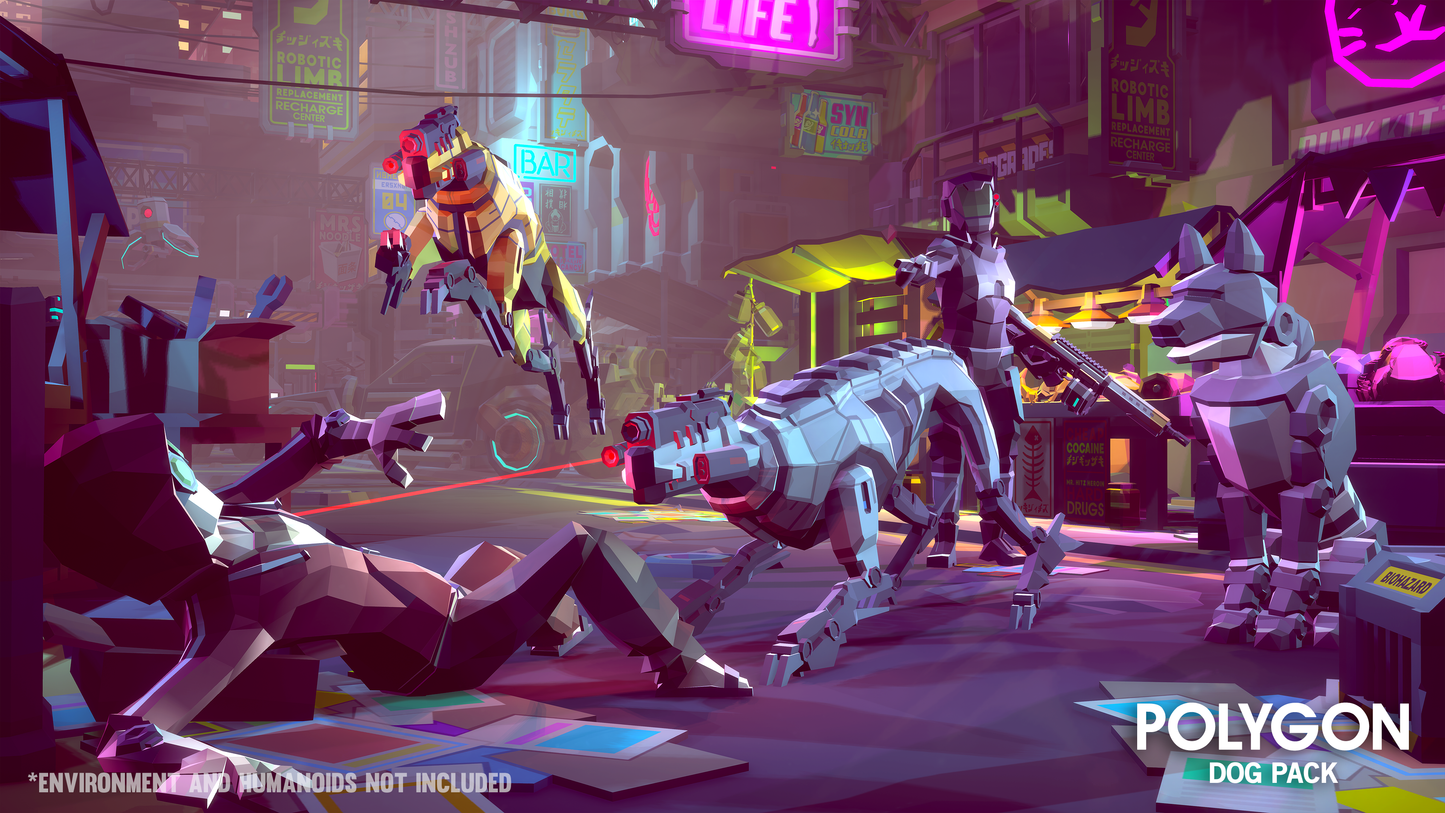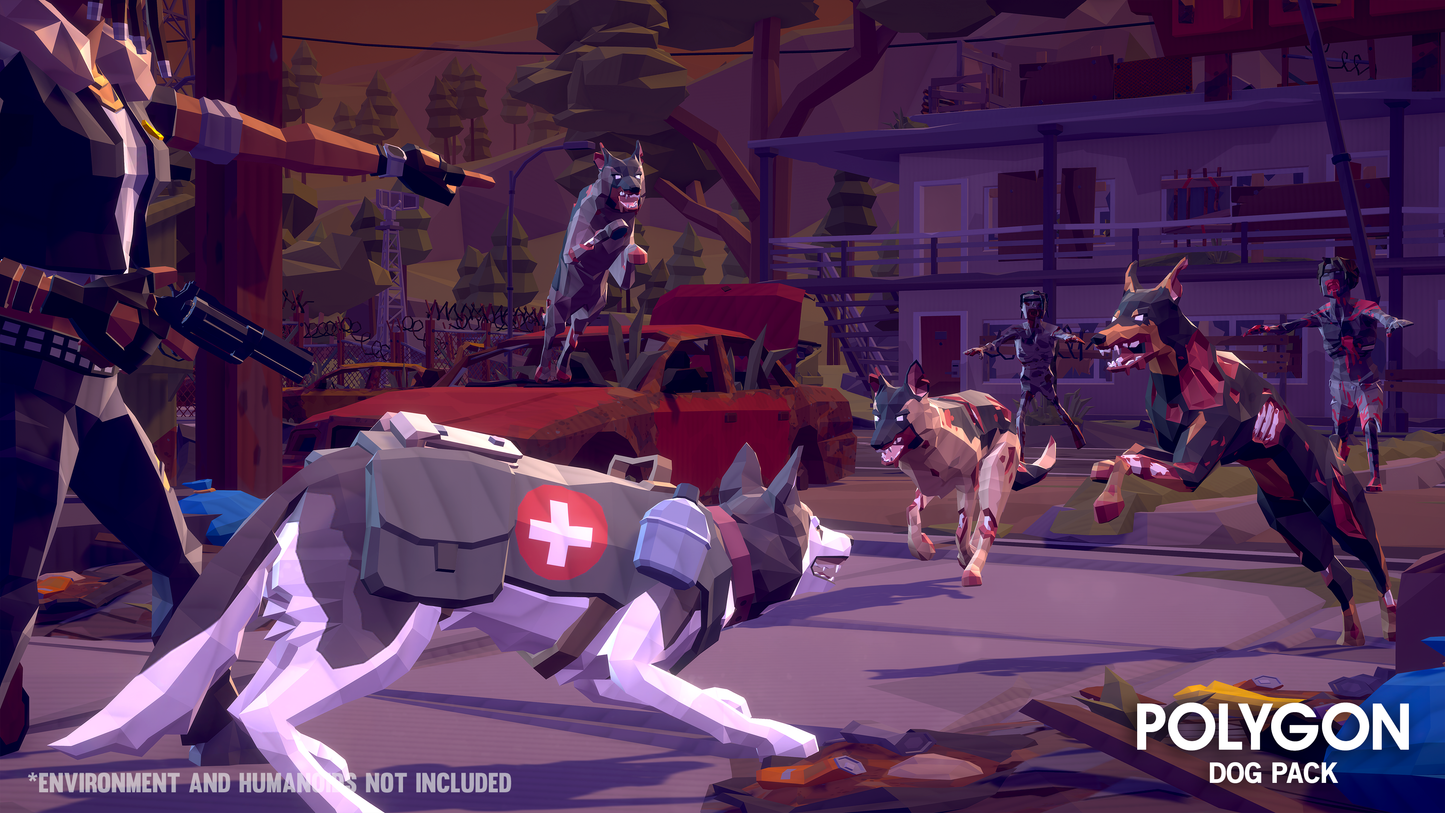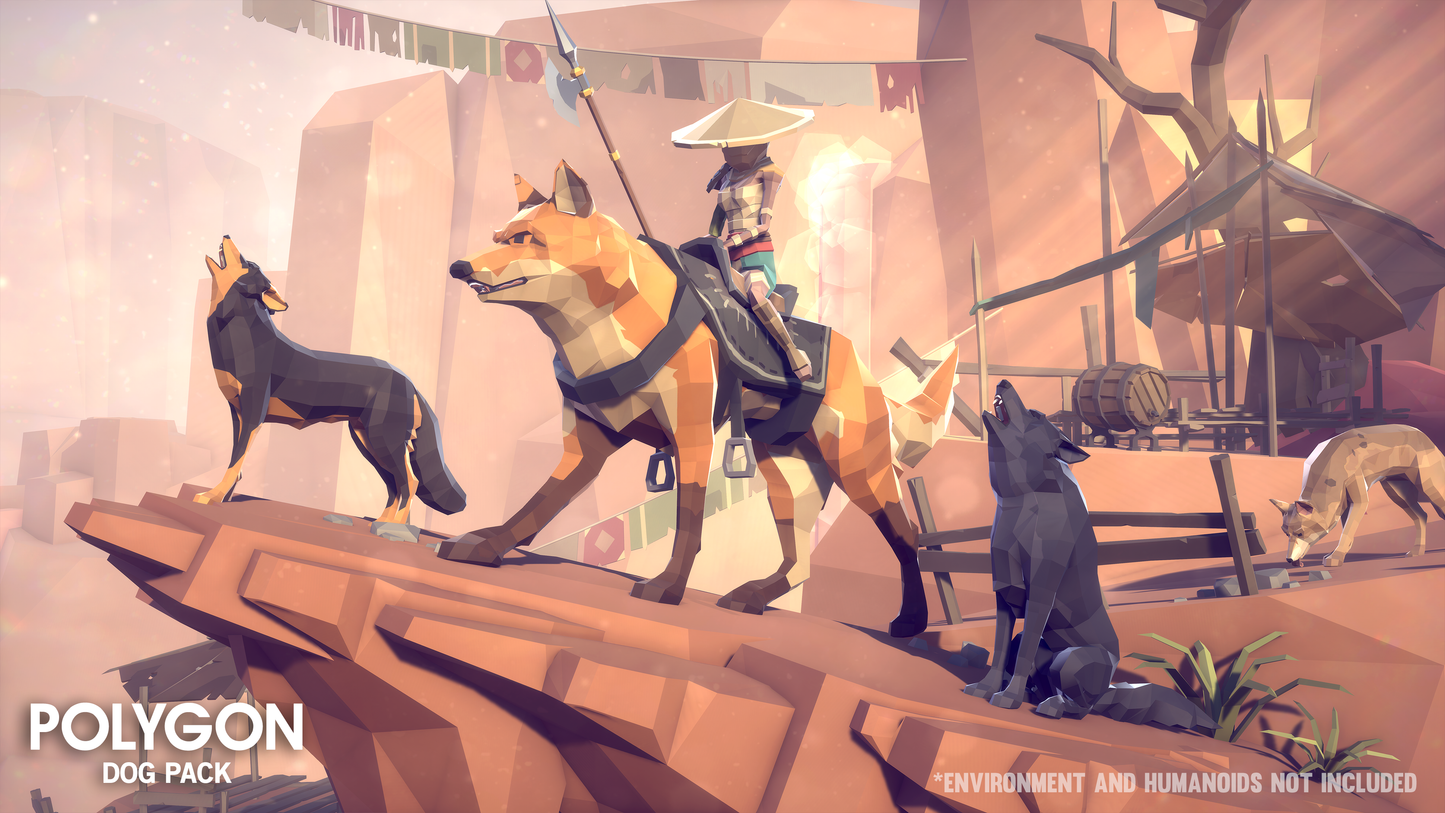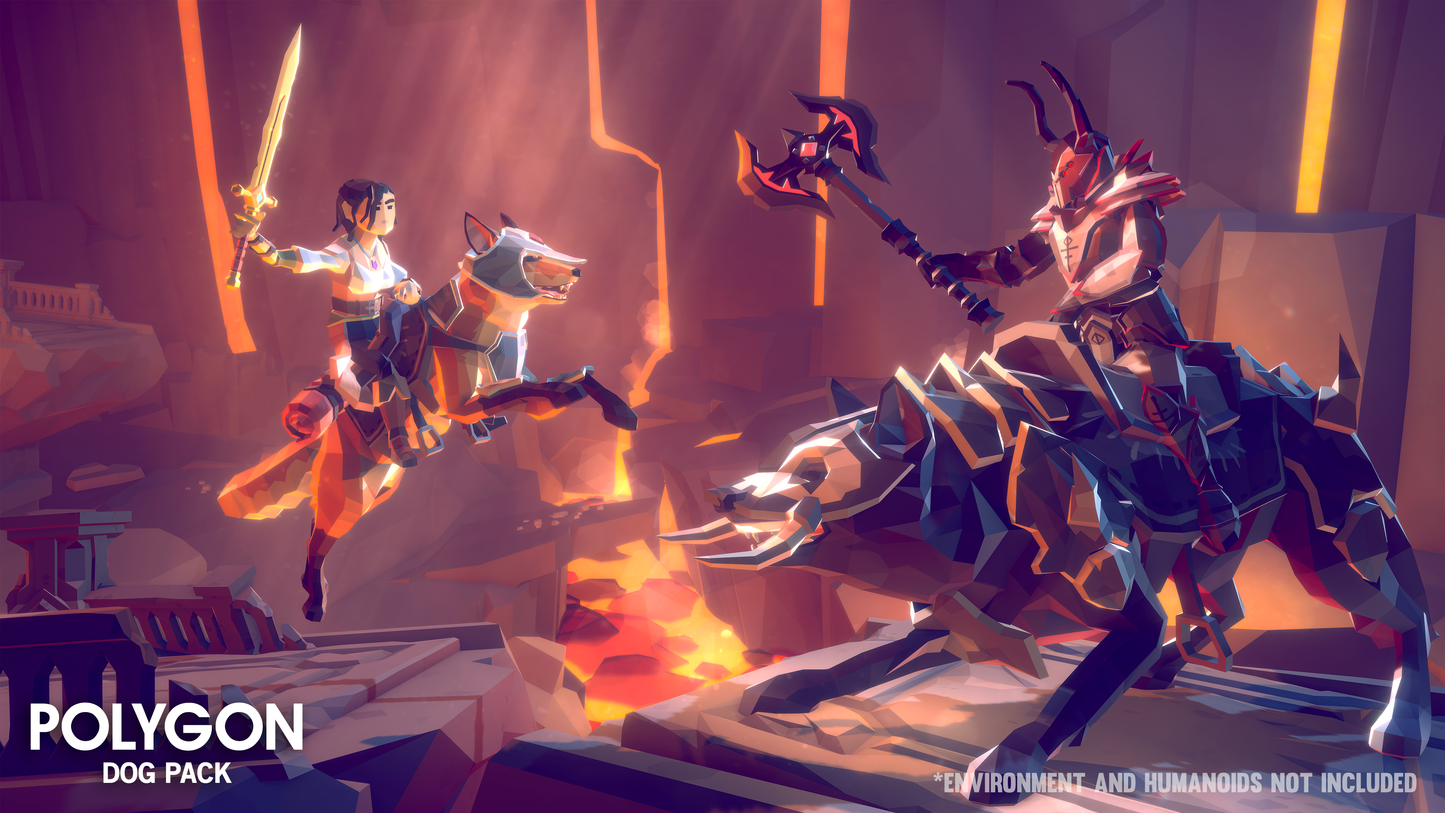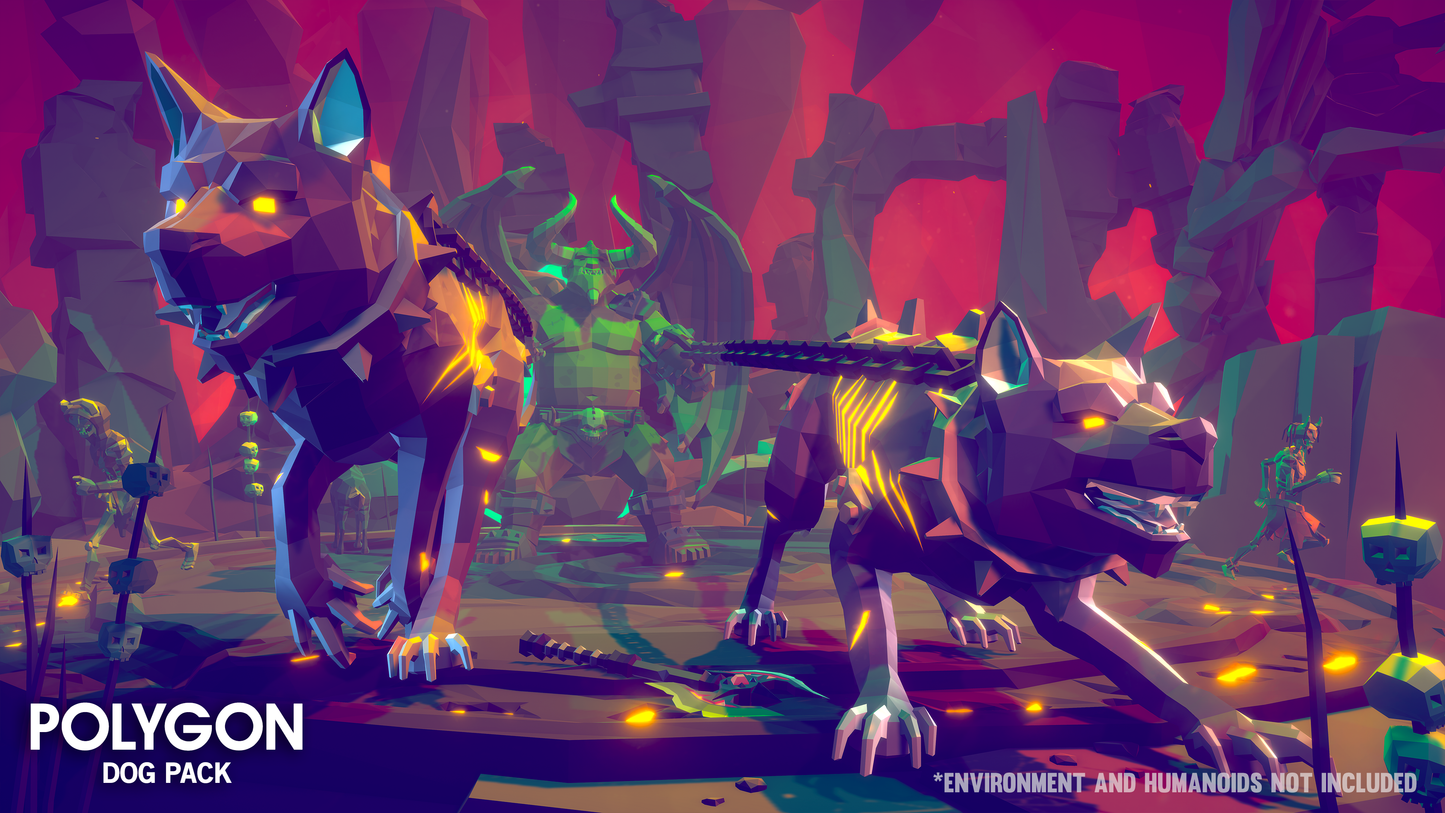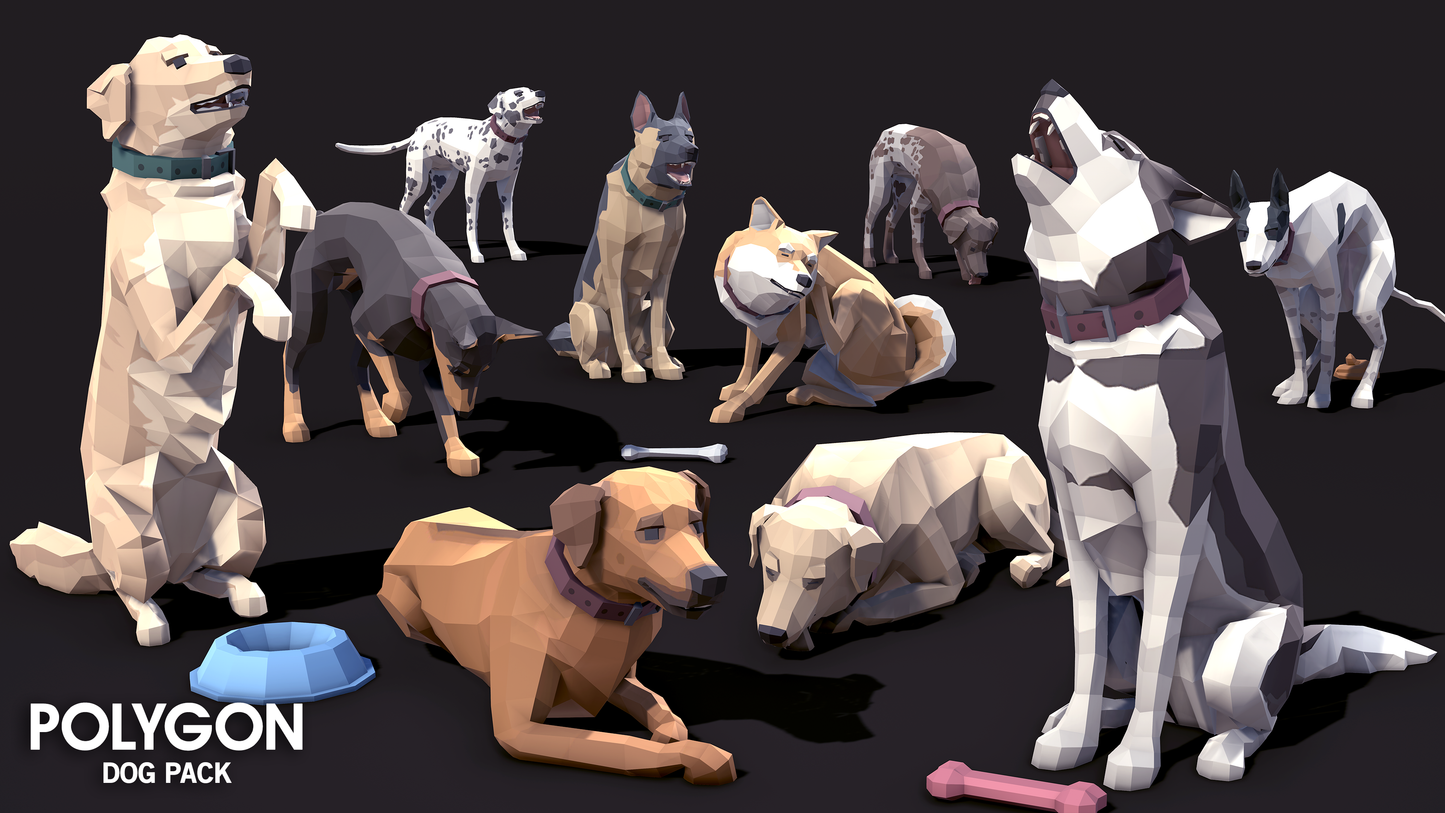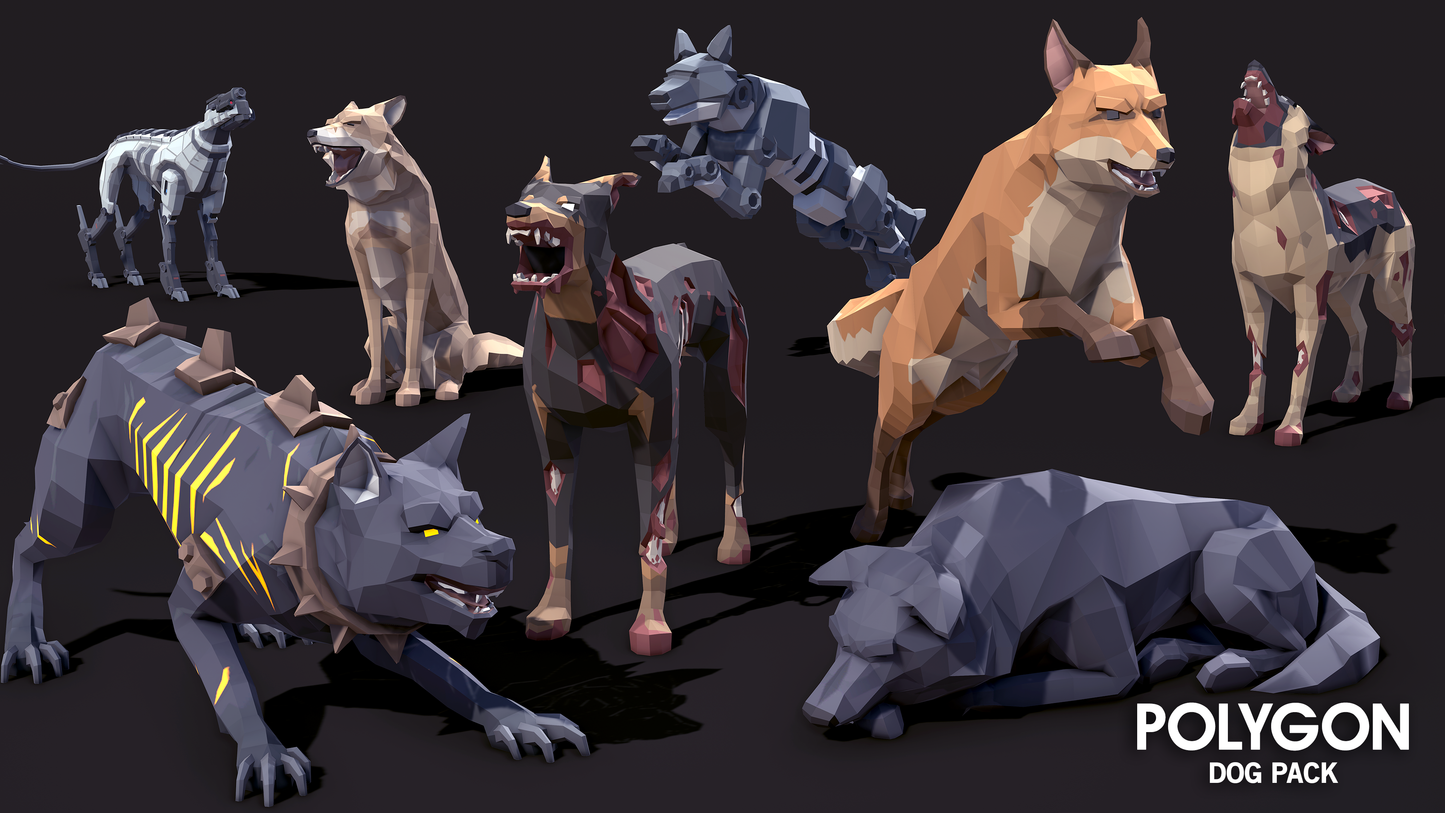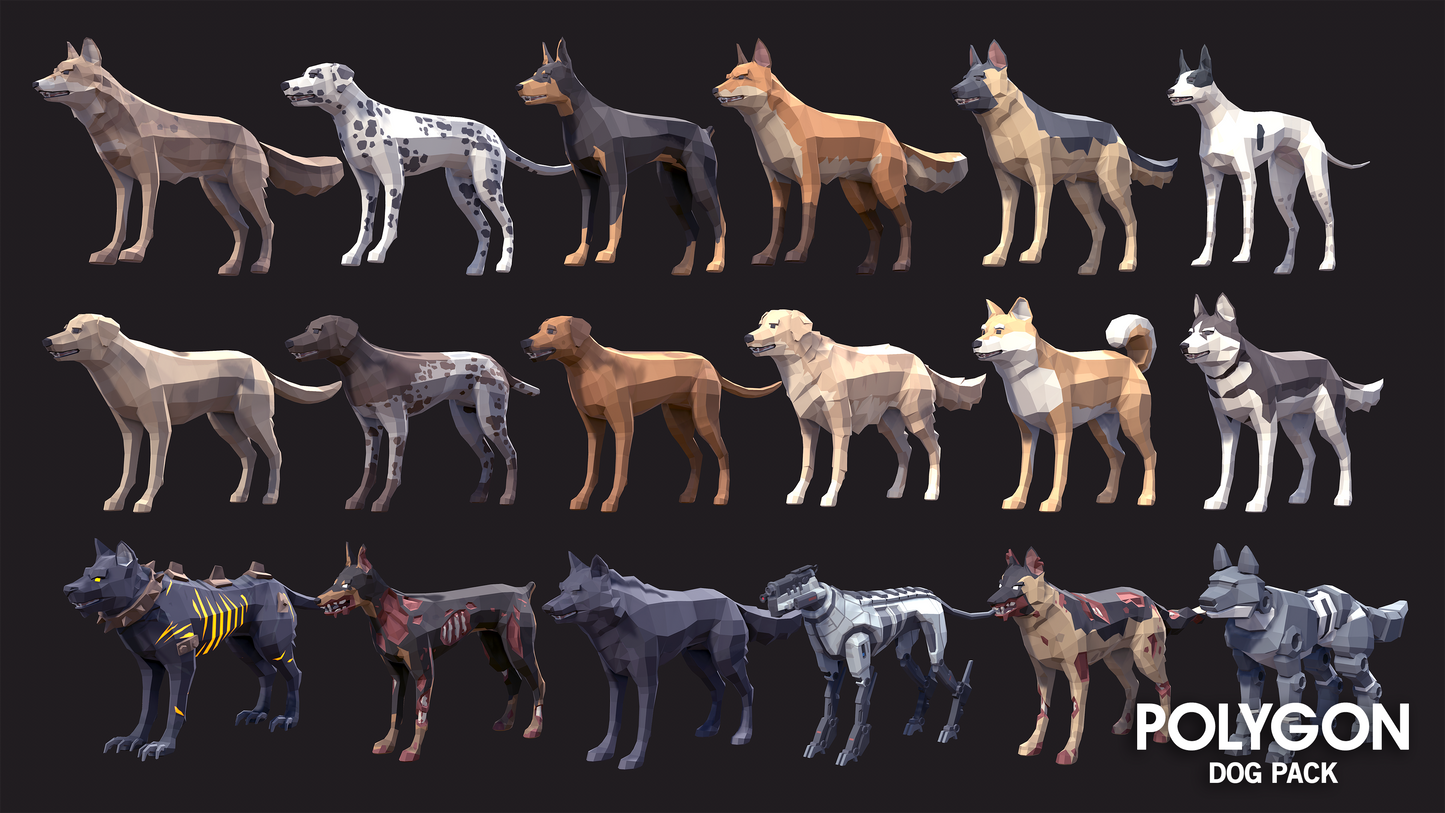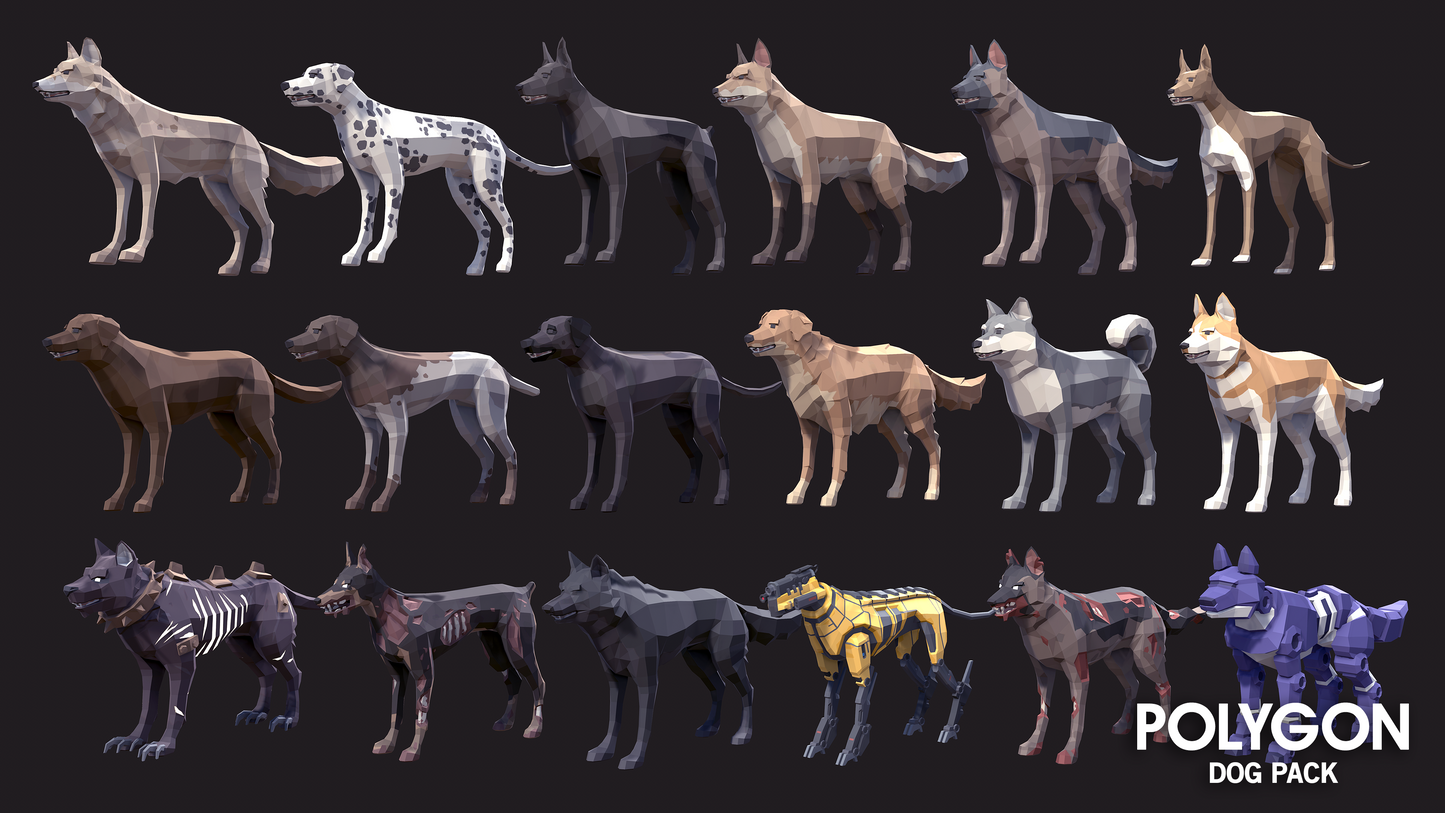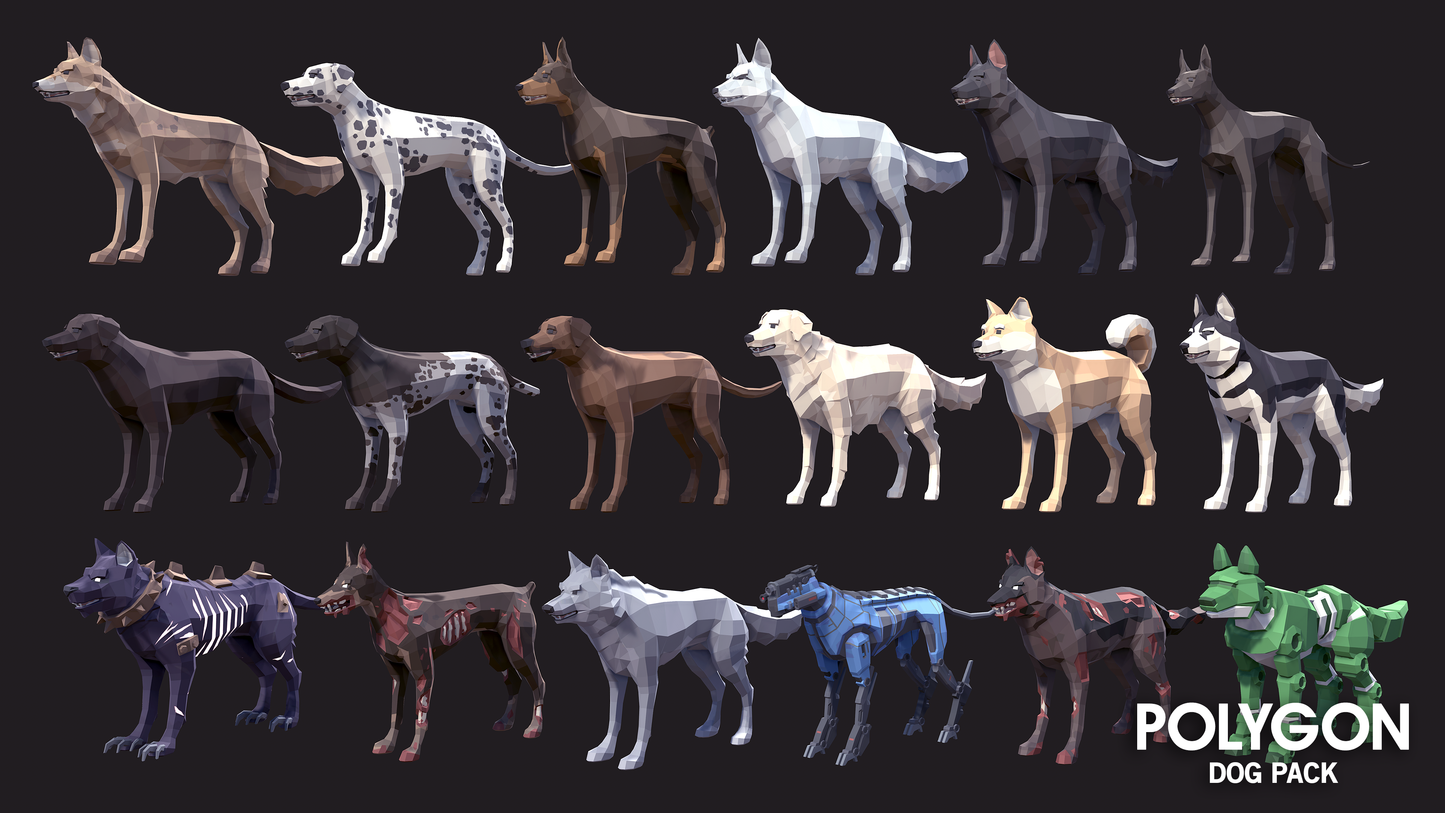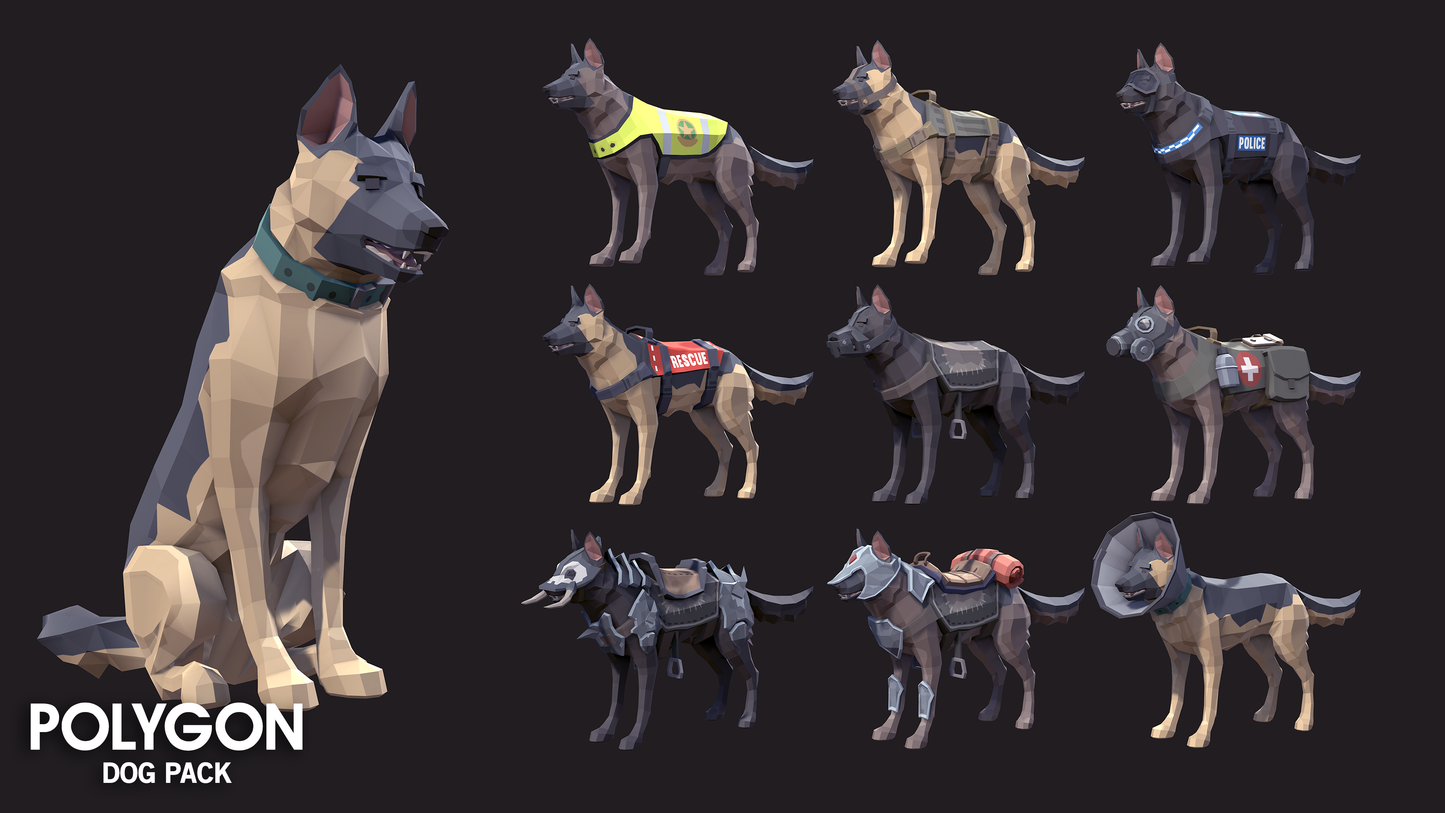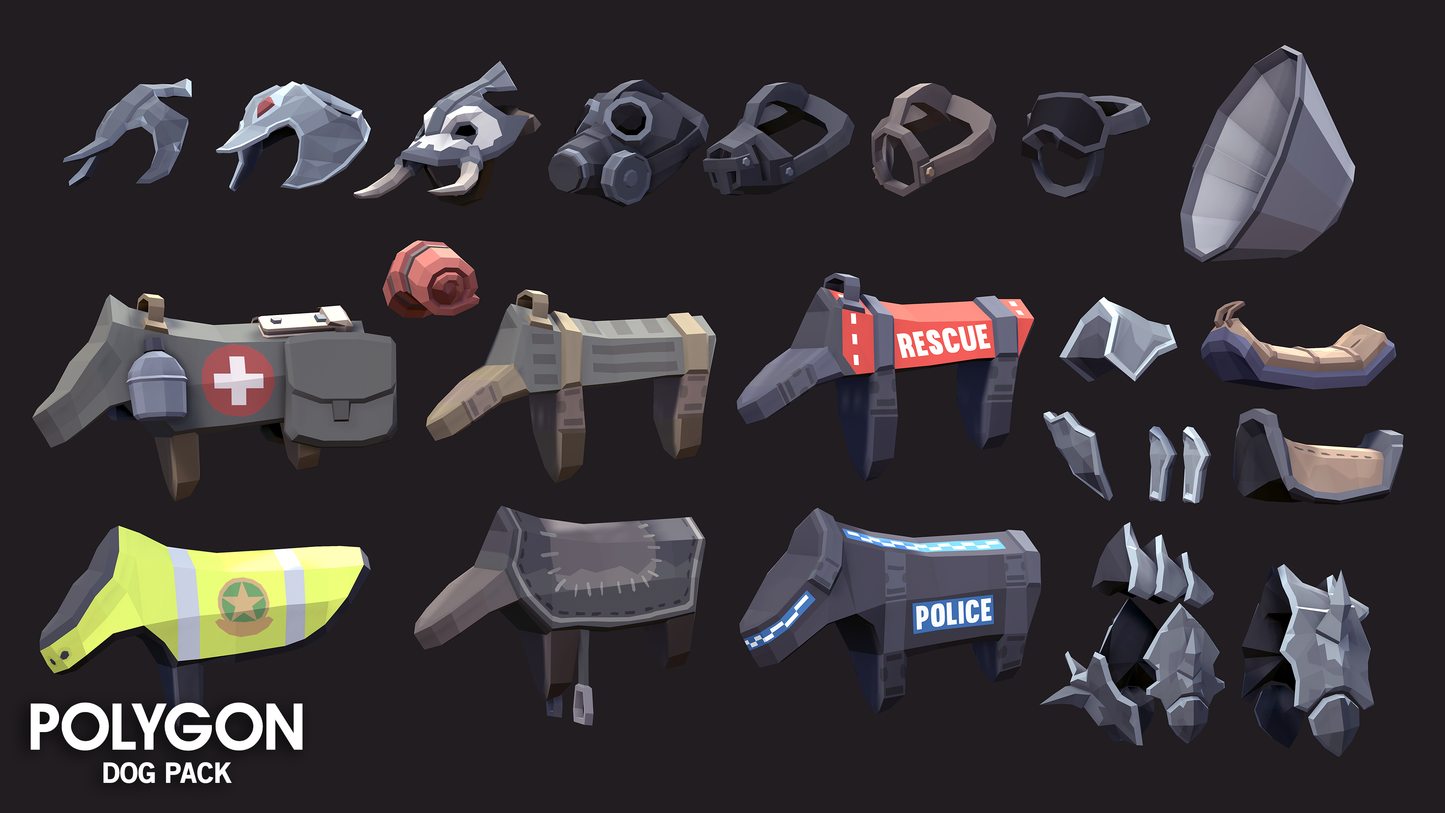 *Excludes New Releases and FREE Assets