Regular price
$149.99 USD
Regular price
$299.99 USD
Sale price
$149.99 USD
Unit price
per
BYOB 50% Off
Sold out
5 seats per copy - Licence
Synty Studios presents - POLYGON - Military Pack
Synty Studios™ presents one our most ambitious packs!
POLYGON Military
An absolutely massive low poly asset pack to build your dream game! No need to scour the store looking for packs that match, this is an extremely comprehensive asset pack for all your military needs.
OVER 1500 Detailed prefabs are included with this pack.


◼ Key Features ◼
- Fully Modular Weapon System
- Super Customizable Characters
- Desert Themed Buildings and Environments
- Buildings have enter-able Interiors!
- Full Military Arsenal!
- Includes a MASSIVE demo scene - (Character poses indicative only)


◼ Assets ◼
Characters (x23)
- Bomb suit Male, Civilian Female 01, Civilian Female 02, Civilian Male 01, Civilian Male 02, Contractor Female 01, Contractor Male 01, Contractor Male 02, Ghillie suit Male, Insurgent Female 01, Insurgent Female 02, Insurgent Male 01, Insurgent Male 02, Insurgent Male 03, Insurgent Male 04, Insurgent Male 05, Leader, Pilot Female 01, Pilot Male 01, Soldier Female 01, Soldier Female 02, Soldier Male 01, Soldier Male 02.
- Plus x10 Soldier Preset Characters

Character Attachments (x169)
- Backpacks, Beards, Hair, Hats, Helmets, Pouches, Weapon Accessories, etc.

Vehicles (x27)
- Tanks, APCs, Helicopters, Jets, Trucks, Vans, Cars, Motorbike etc

Vehicle Attachments (x56 )
- Aerials, Cloth, Containers, Canopies, Armor, Lights, Flares, etc

Weapons (x20)
- Pistols, Shotgun, LMGs, Rifles, ARs, Rocket Launchers, Knives, Grenades/Explosives etc

Weapon Attachments (x84)Weapons (x20)
Bi-pods, Flashlights, Fore-grips, Muzzle Breaks, Suppressors, Rails, Under-barrels, Scopes, Cross-hairs, etc

Modular Weapon Pieces (x92)
- Fully modular weapon parts including Barrels, Bodies, Grips, Hand-guards, Handles, Iron-sights, Magazines, Rails, Stocks, Triggers, etc

Modular Weapon Presets (x14)
- Heavies, AR's, SMG's, and Snipers

Buildings, with interiors (x197)
- Shops, Village Houses, Doors, Ruins, Monuments, Tents, Barracks. Hangars, Guard Towers, Oil Rigs, Pipelines etc
Environment (x114)
- Bushes, Cacti, Grasses, Ferns, Flowers, Trees, Roads (Dirt and Paved), Grounds, Sand Dunes, Pebbles, Rocks, Mountains, Ruins, Helipad, Runway, Sidewalks, etc

Props (x626)
- Aircons, Ammo, Antenna, Barrels, Barriers, Baskets, Beds, Blood pools, Books, Boxes/Crates, IEDs/Explosives, Carts, Chairs, Tables, Shop Items, Pipes, Electronics, Fences/Walls, Gym Equipment, IEDs, Lights/Lamps, Money Stacks, Plates/Pots, Powerboxes/Powerlines, Rubbish/Debris, Sacks, Satellite Dishes, Statues, Wardrobes/Lockers, Water Tanks, Missile/Launchers, Radios, Radar, Military Control Rooms, Oil Pipelines/Tanks/Pumps, Rugs, Signs, Posters, Flags, etc

Items (x39)
- Battery, Binoculars, Book, Bullets, Cans, Canteen, Cigarette, Clipboard, Crowbar, Earmuffs, Masks, Goggles, Laptop, Food, Pencil, Pouches, Sunglasses, Tape, Radios, etc

FX and Decals (x31)
Bullet Hit Decals, Blood Splatter, Dusts, Smokes, Fires, Gunshots, Explosions, Jet Booster, etc
◼ Compatibility ◼
- View our tutorial on converting to the Universal Render Pipeline.
- Characters are setup to work with Mecanim (no animations included in this pack)
- Compatible with Unity 2020.3+
- Compatible with Unreal 4.25+

***Contents may vary between engines. 
Need support?
EMAIL | FAQ | TUTORIALS | DISCORD
Change Log

v1.08 (Unity)
- General pack cleanup

v1.06
- Fixed Flap_Tail pivot points on Veh_Drone_01
- Fixed texture issue with SM_Prop_Gunlocker_01 
Share
Synty went above and beyond
As a solo developer, this pack is really essential if you want to get things done.
Synty also went above and beyond with their customer support! Thanks for going the extra mile!
Increadible Pack
I've loved working with this pack. The only major thing that I feel like is missing is the fact that all the characters don't have separate arm prefabs. I'd love to be able to create some procedural animations for only the arms but there doesn't be a separate option which makes it very difficult to swap arms out to match the actual character model the player is using in third person. Other then that I've had no complaints its definitely worth the money I spent (I did purchase this on sale for $140)
Thanks for taking the time to leave a review and provide feedback. Cheers.
Awesome Assets!!!
Great assets for either prototyping or making a complete game out of them. I am able to use them both in Unity and Unreal.
Great asset pack full of military-styled POLYGON goodies!
I love the POLYGON series art style and the amount of great assets in the Military pack is well worth the cost when I bought this pack on sale.
No fan of Military ;)
I'm no fan of military, BUT this assets are so amazing, I must have them and I'll find a use for them!!
Thanks for taking the time to leave a review.
View full details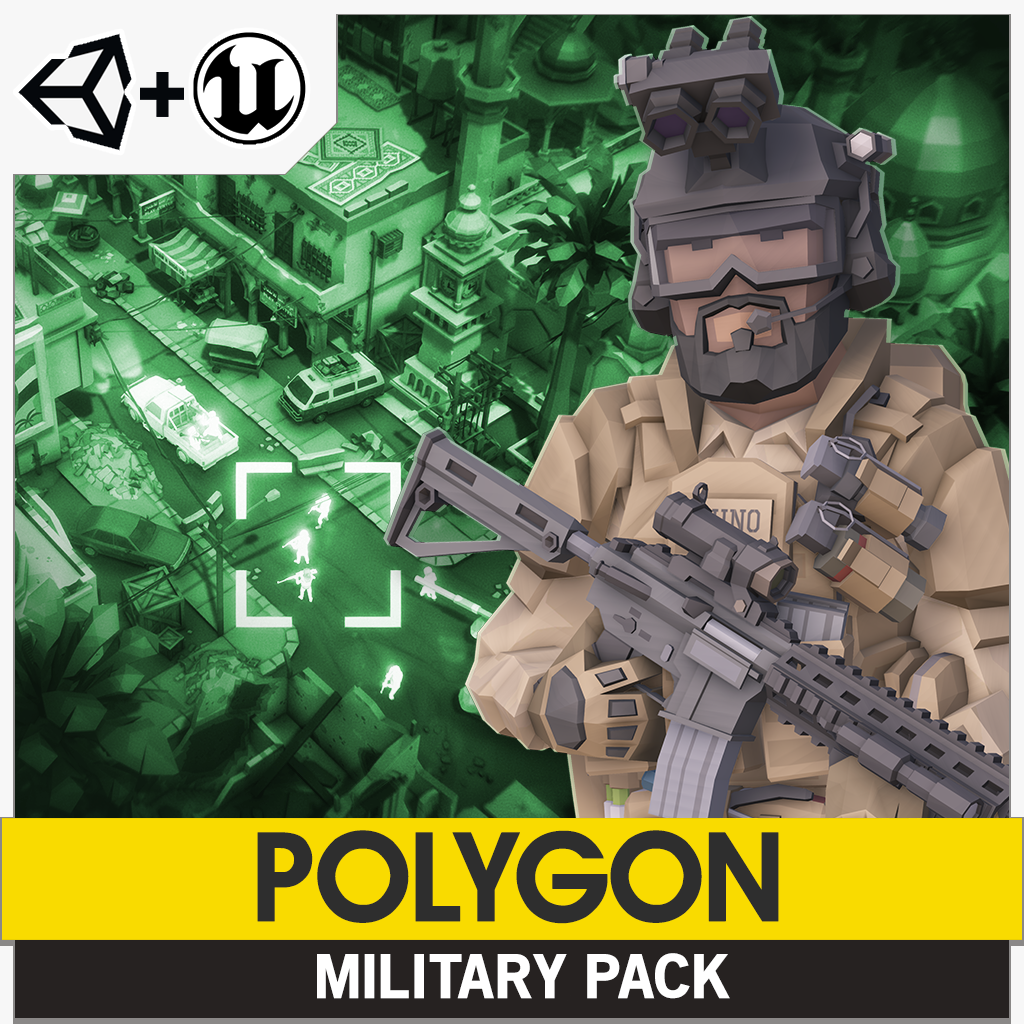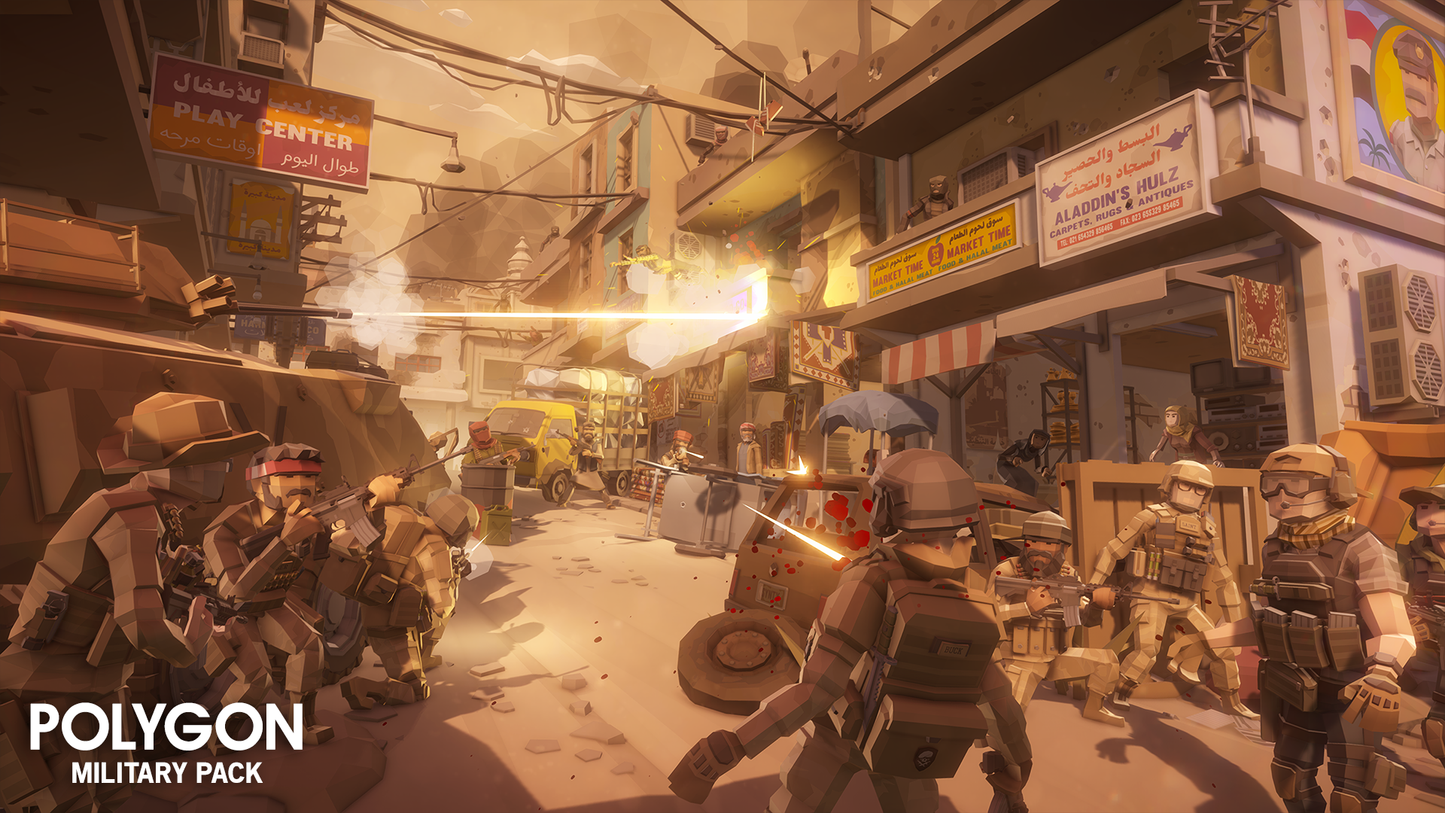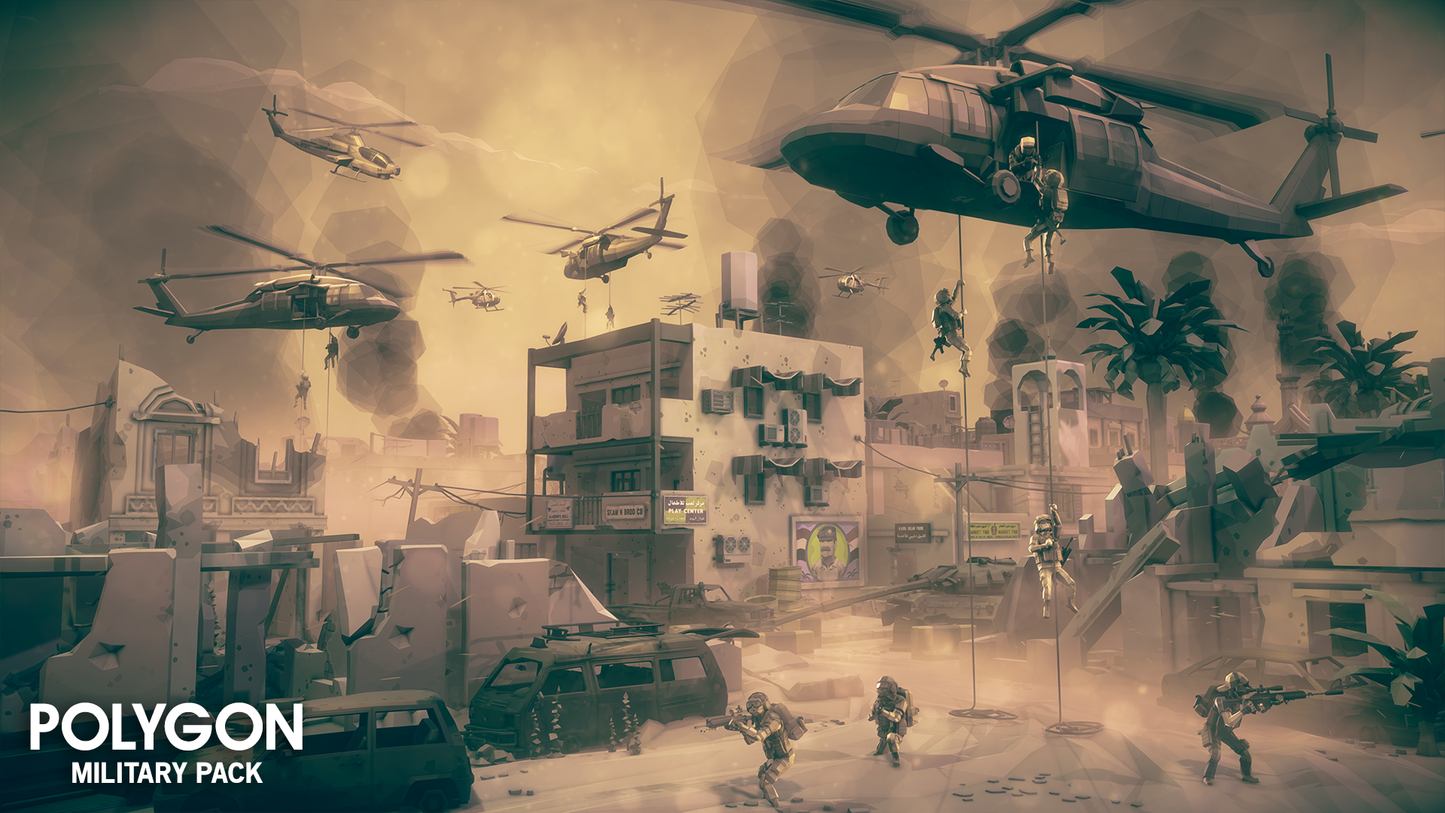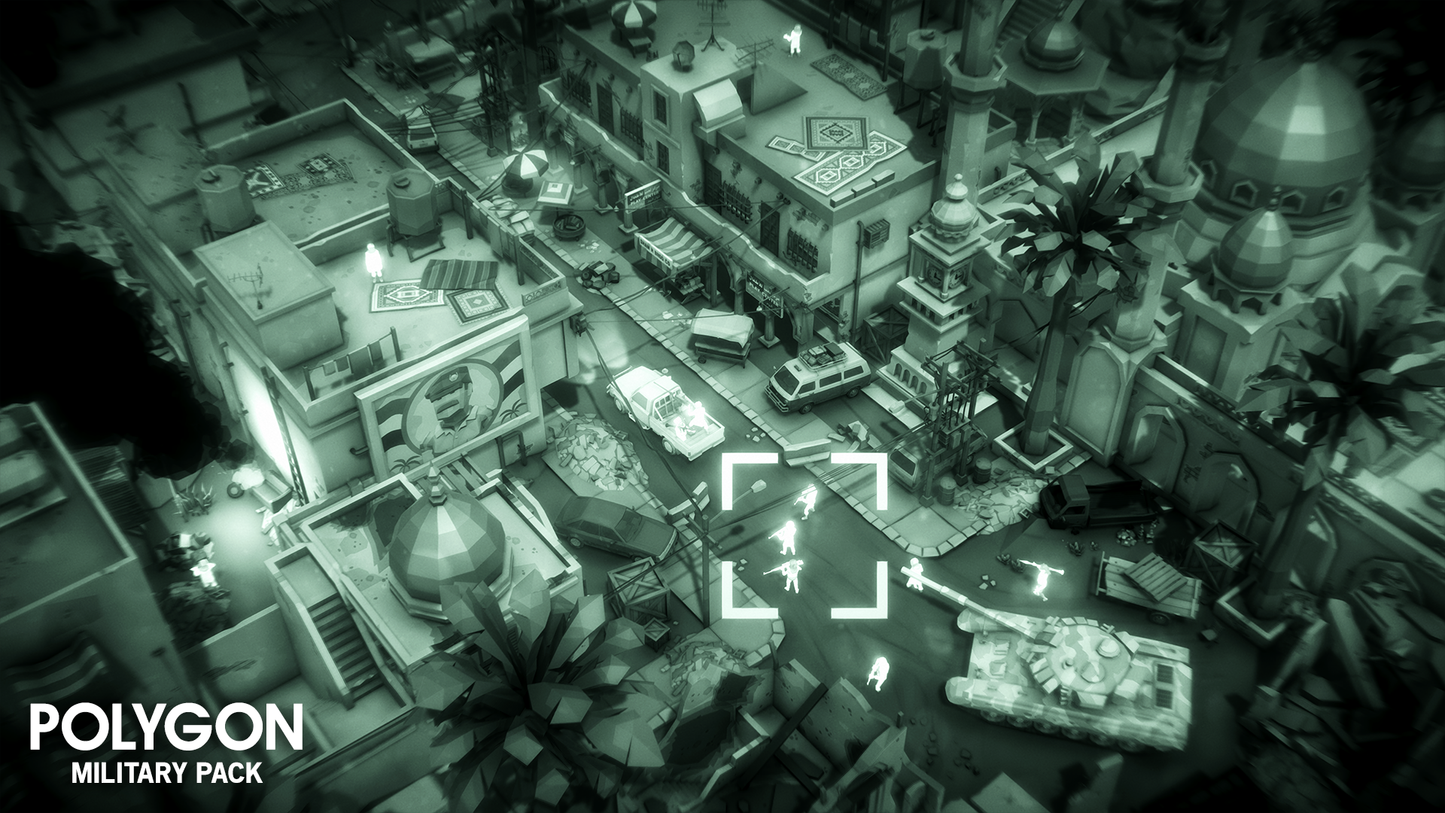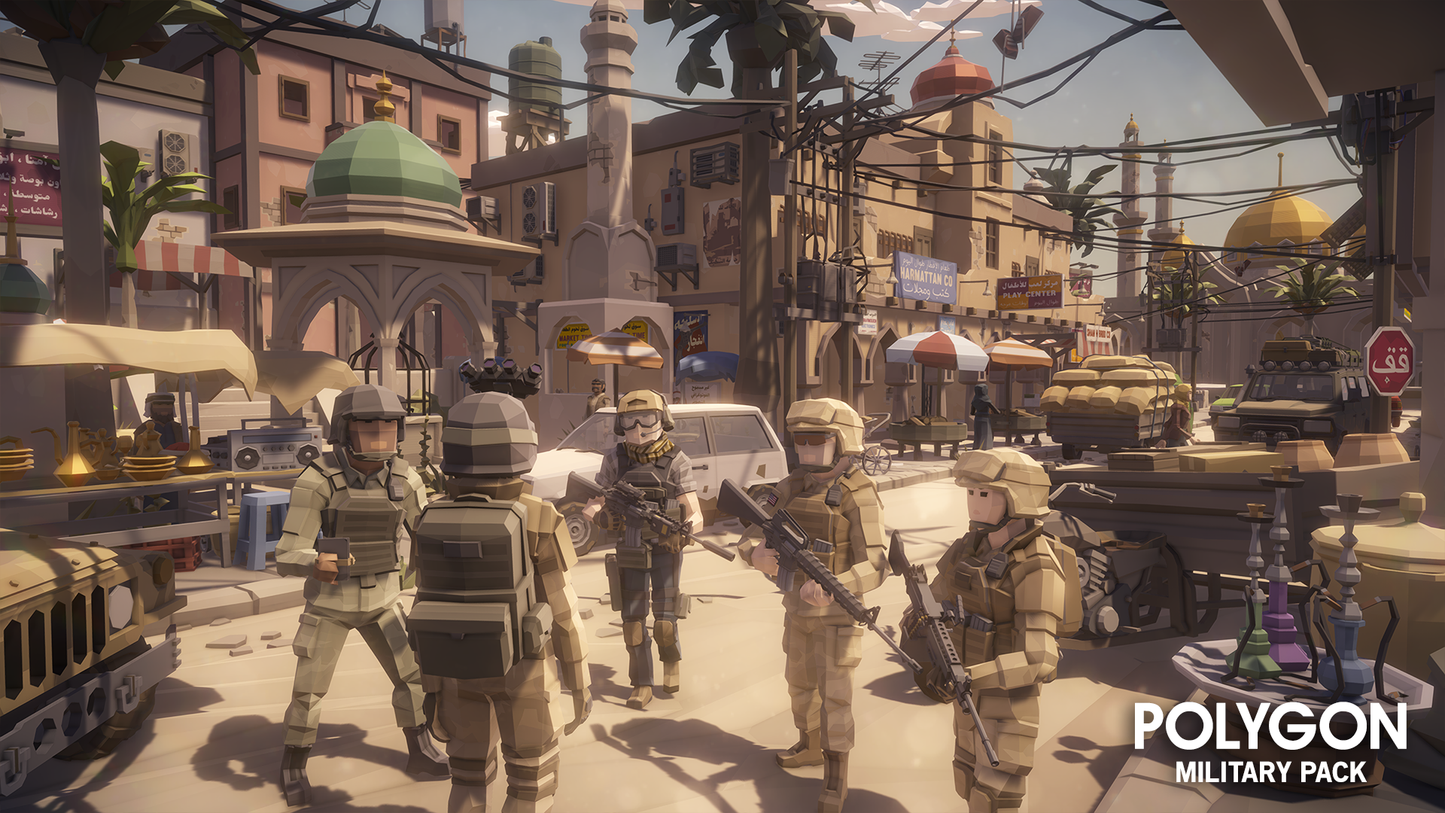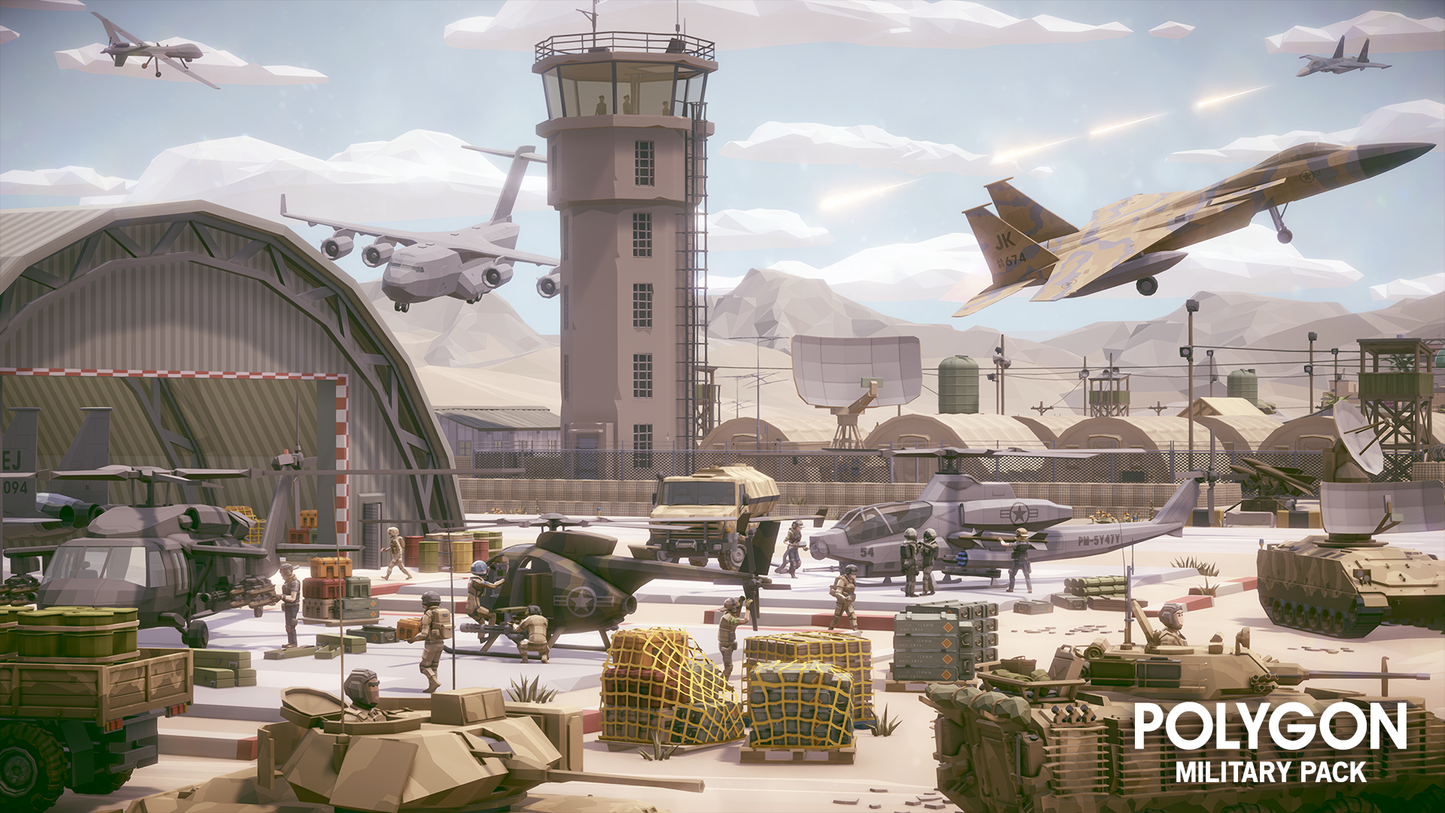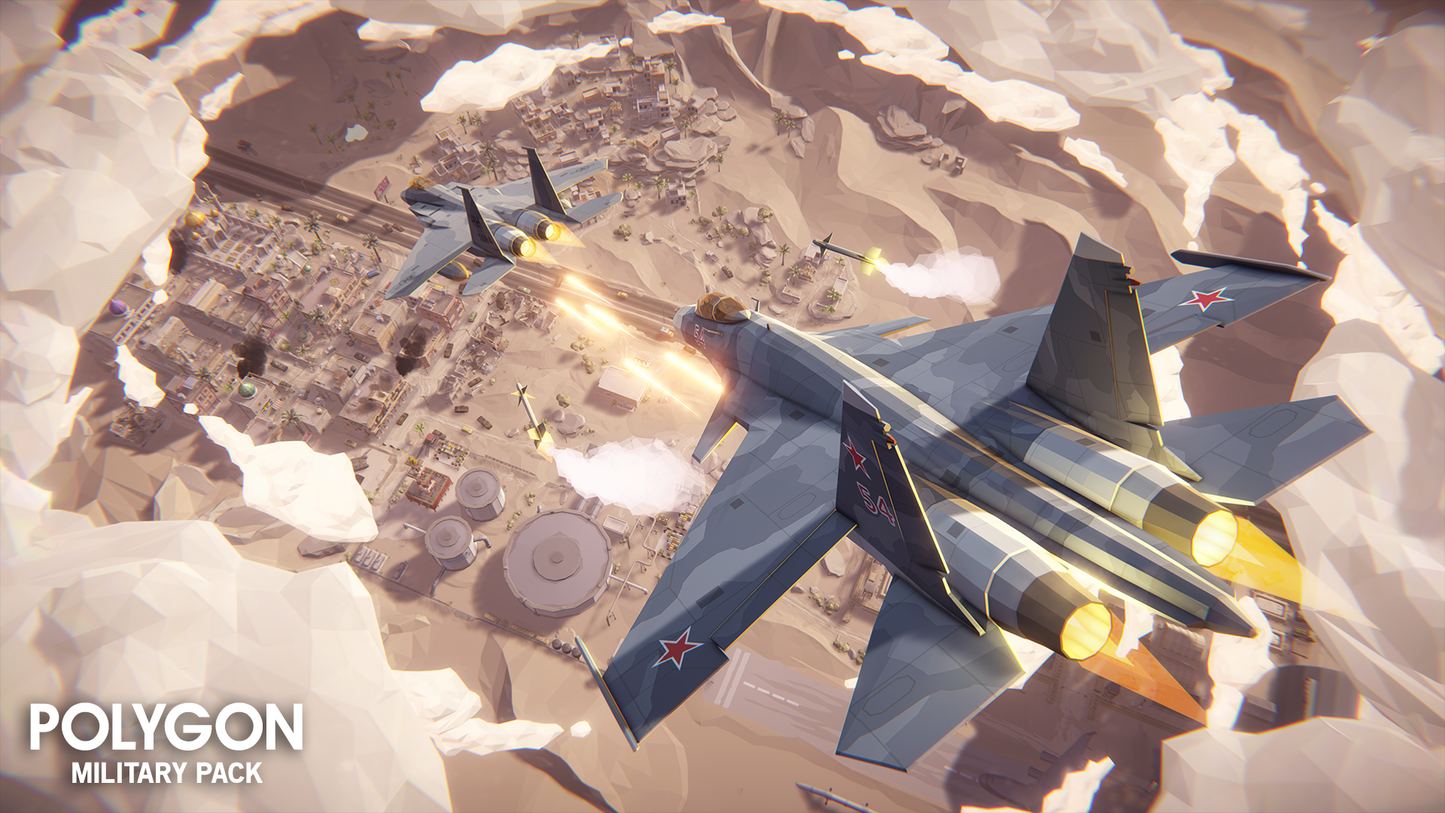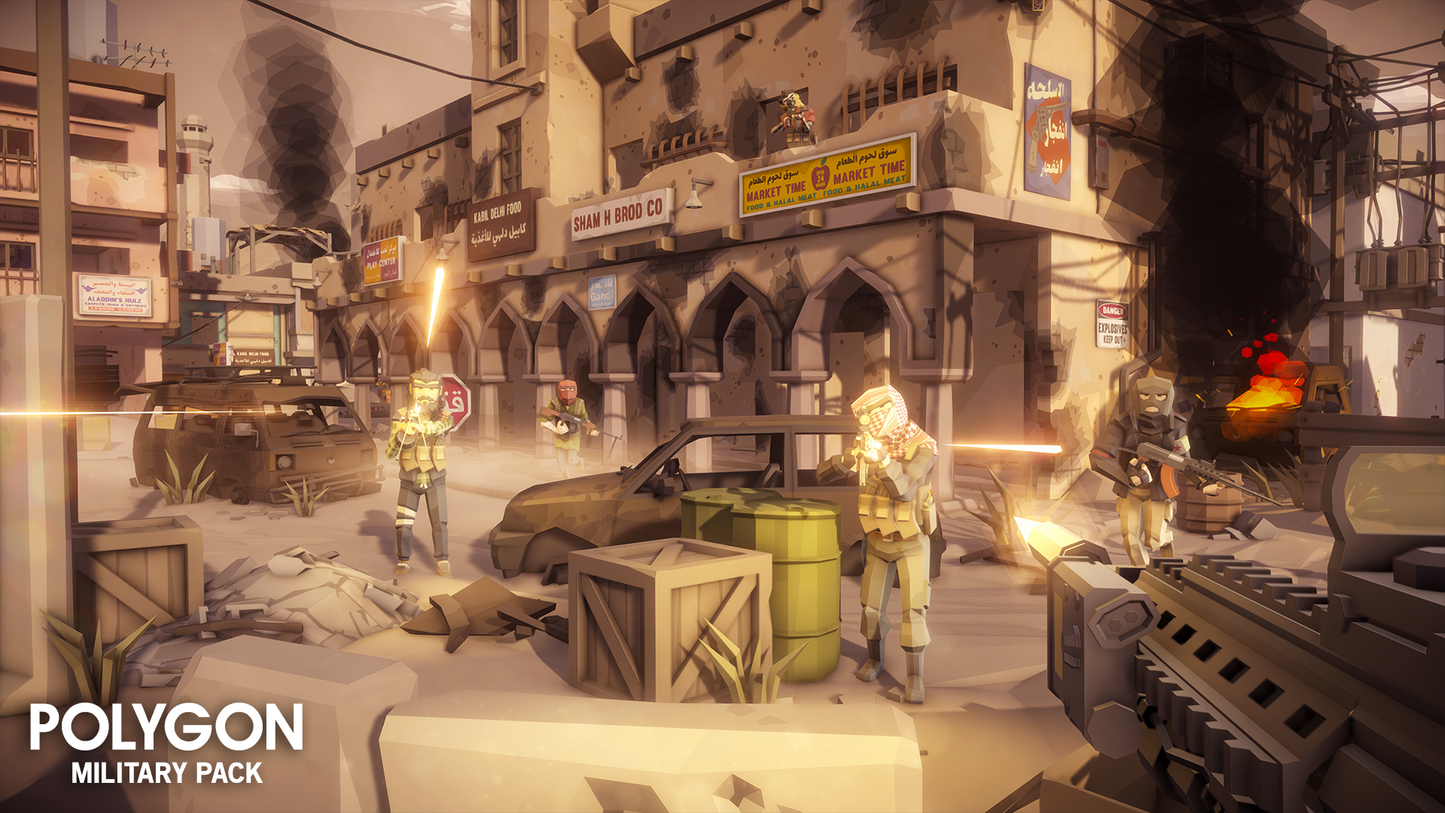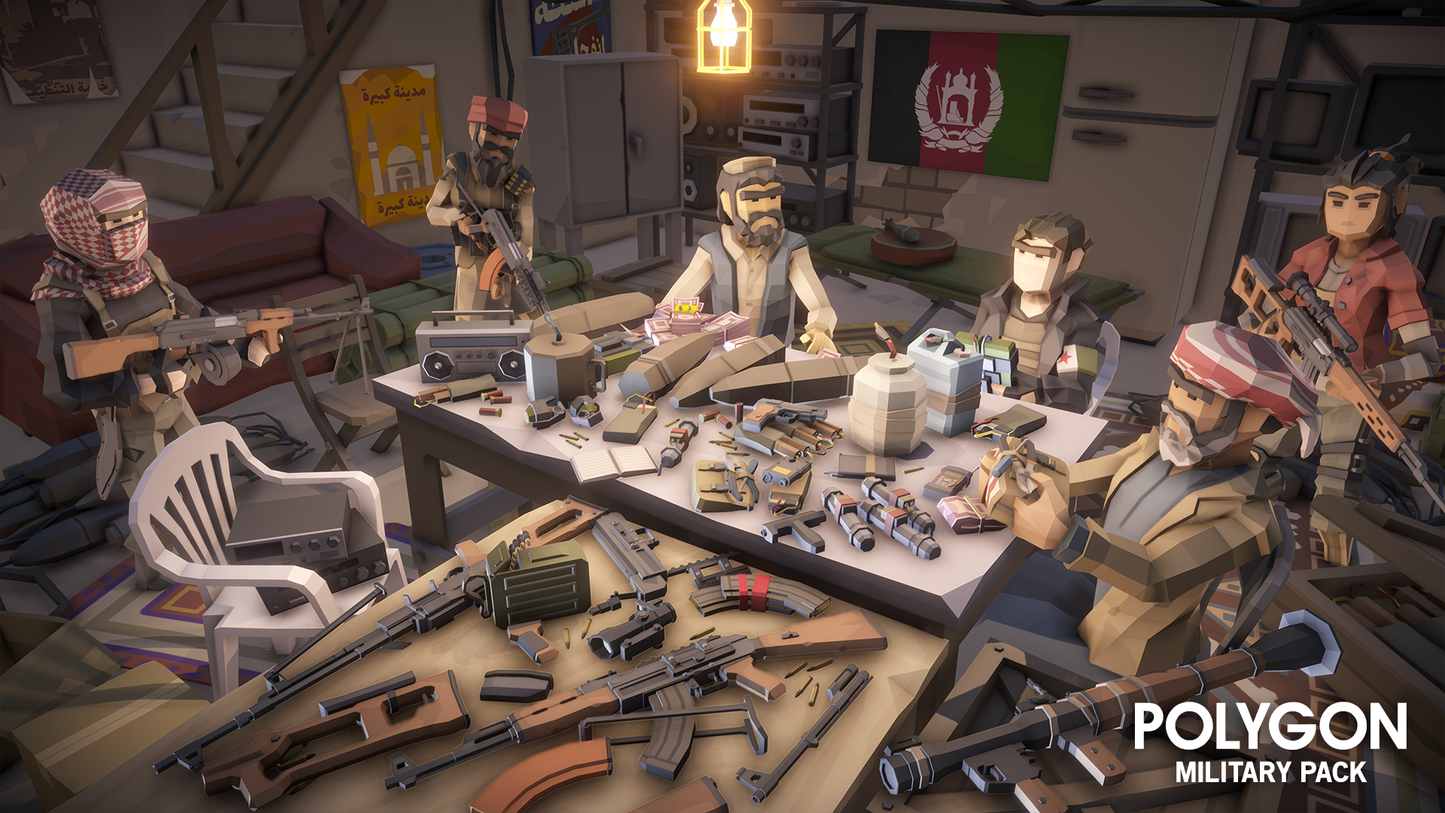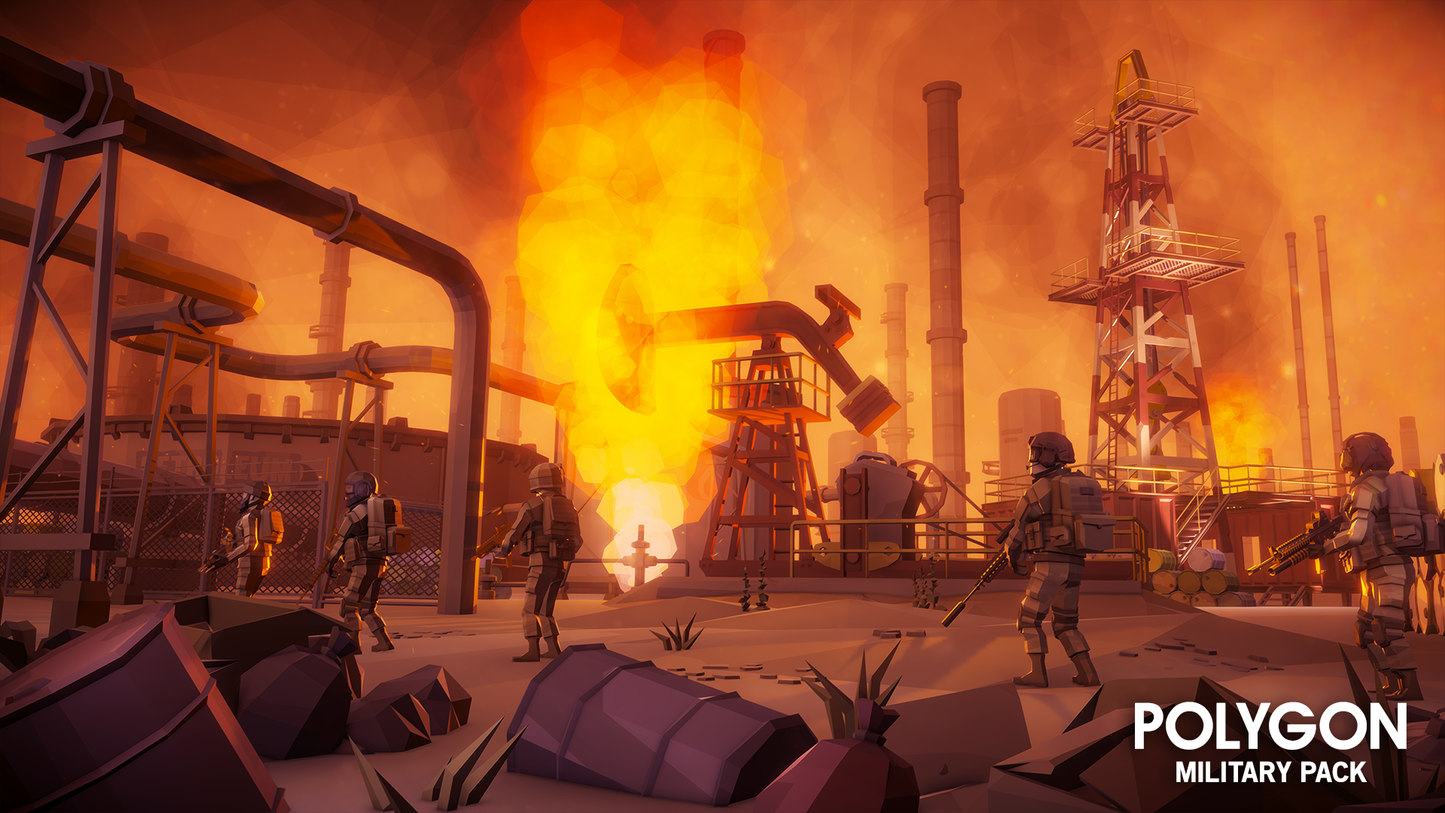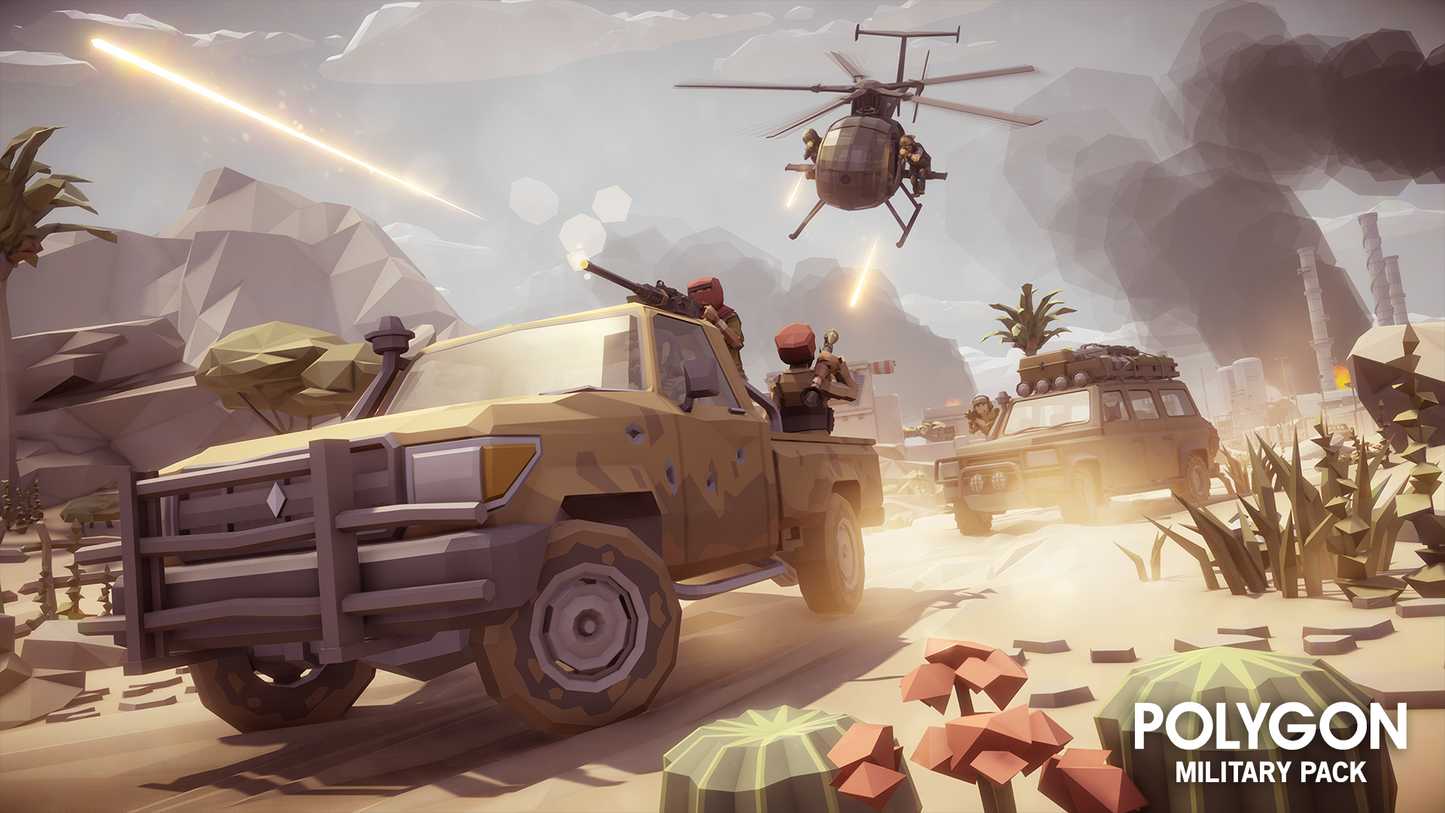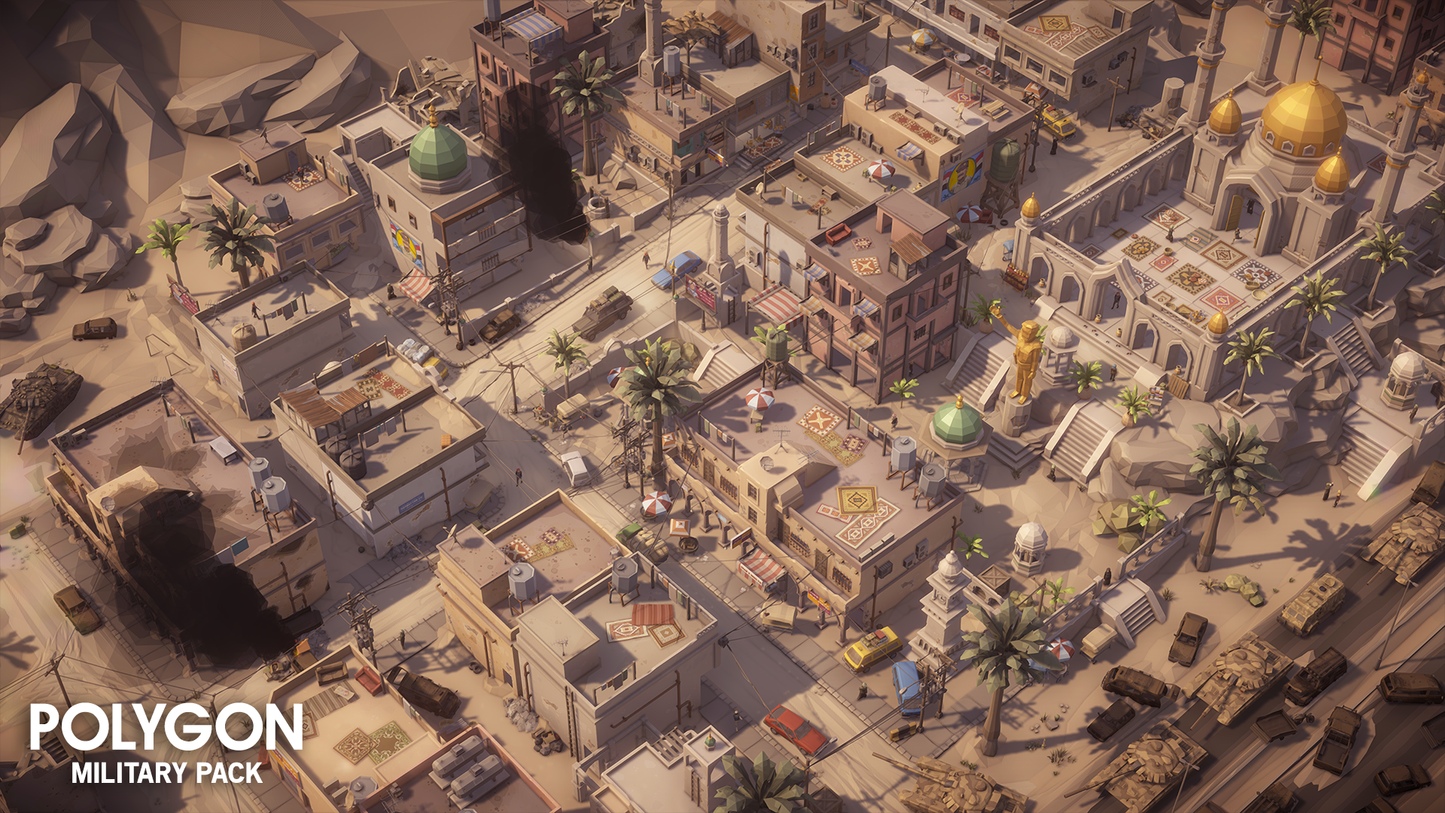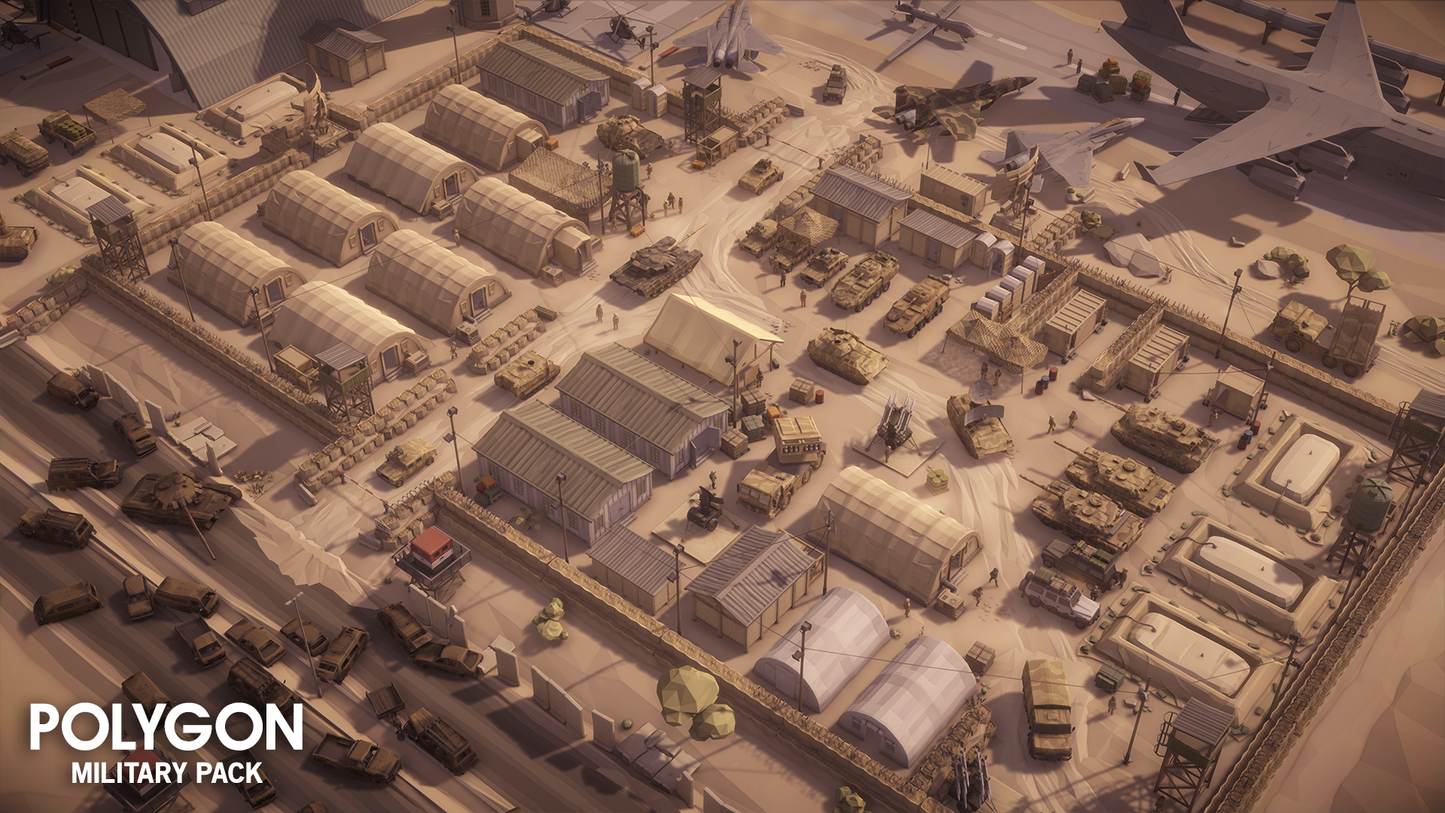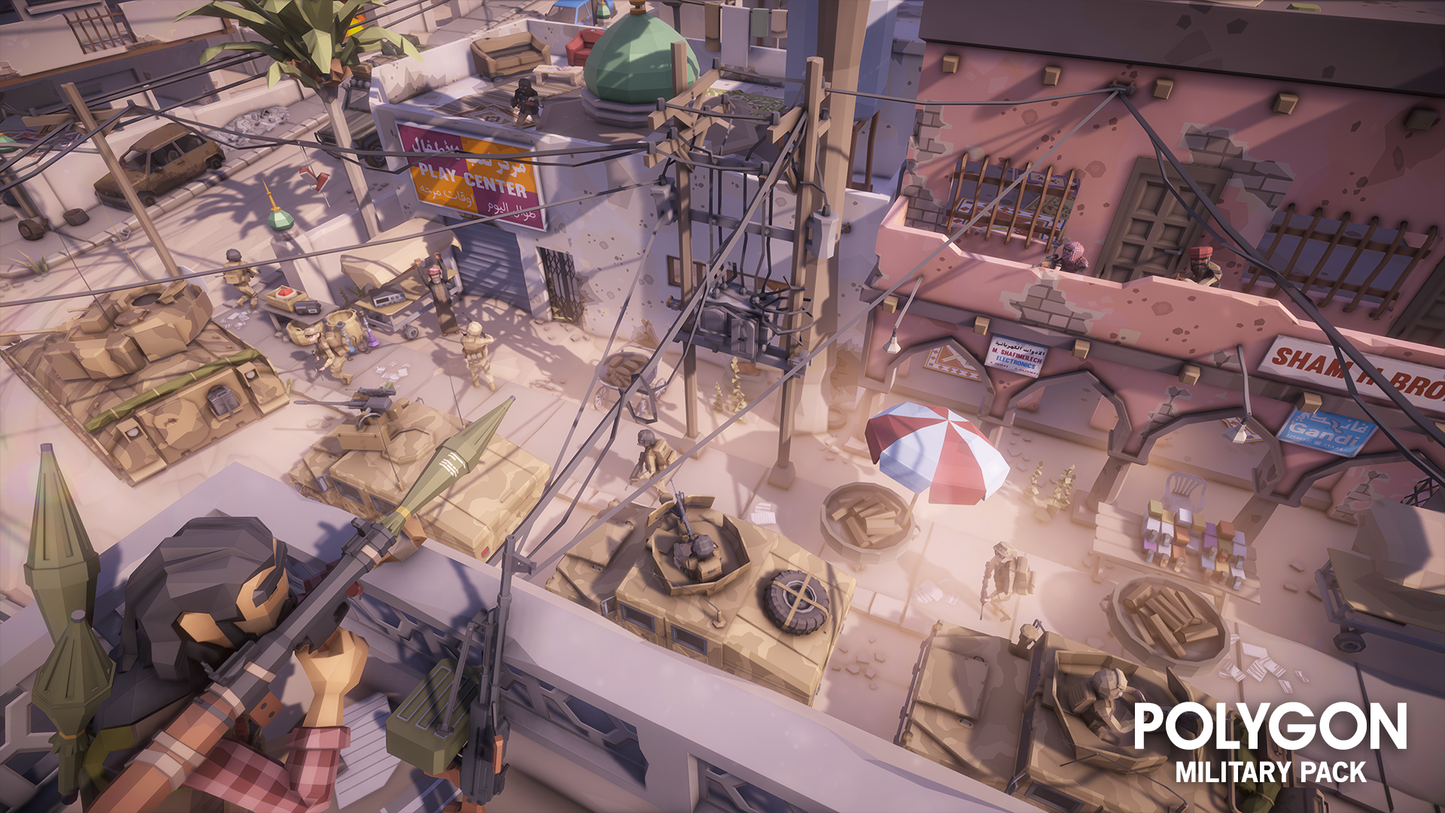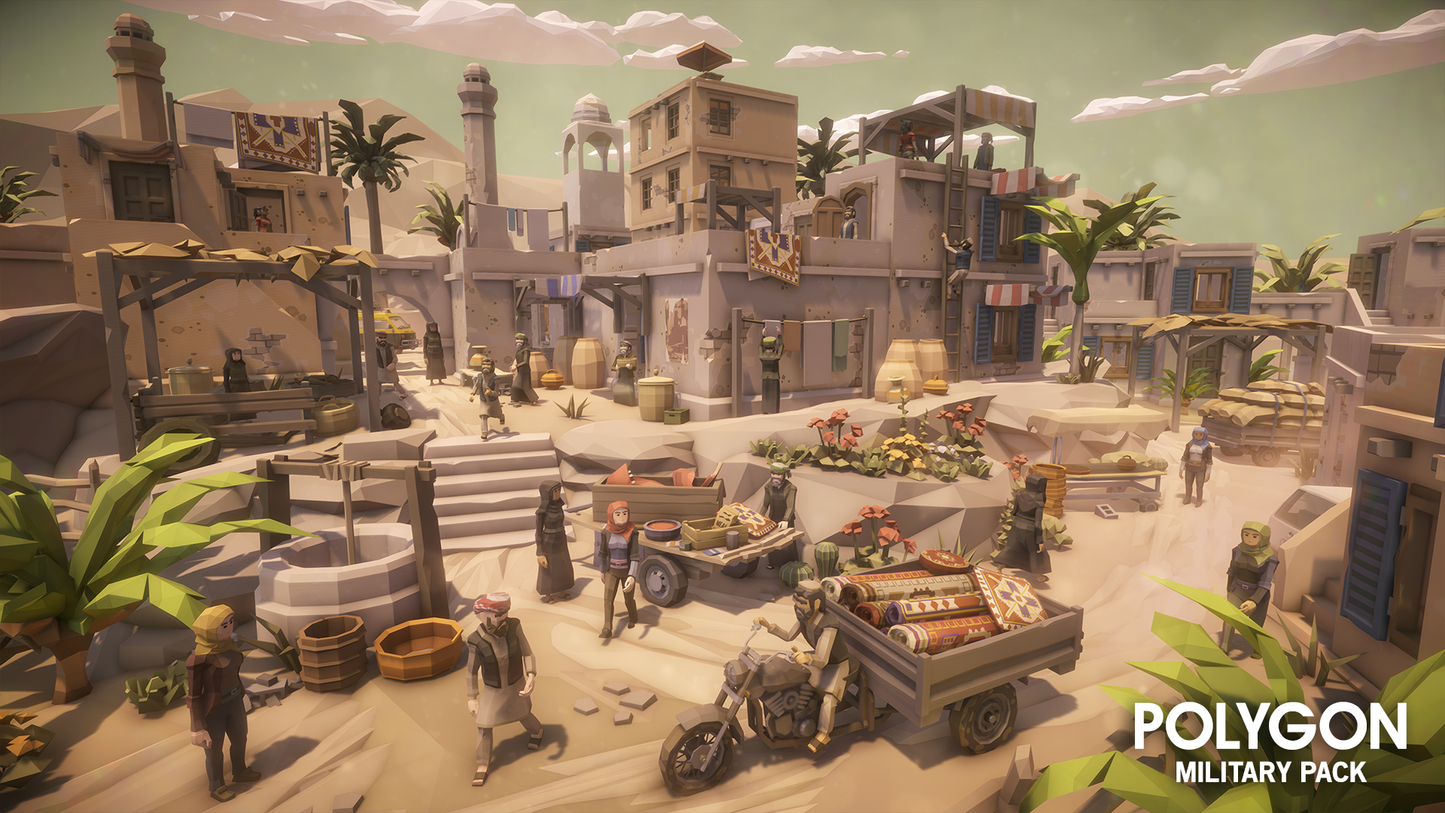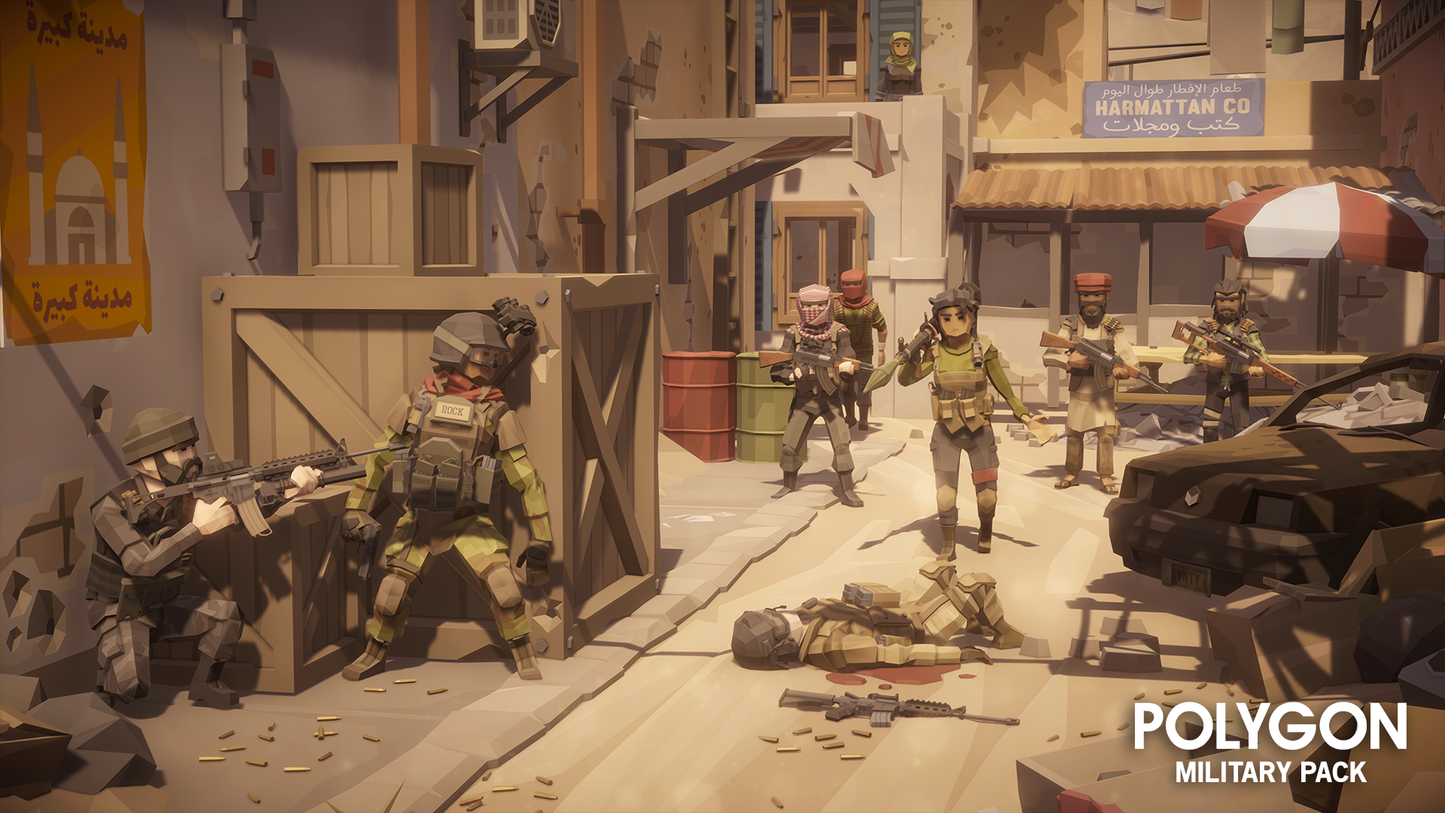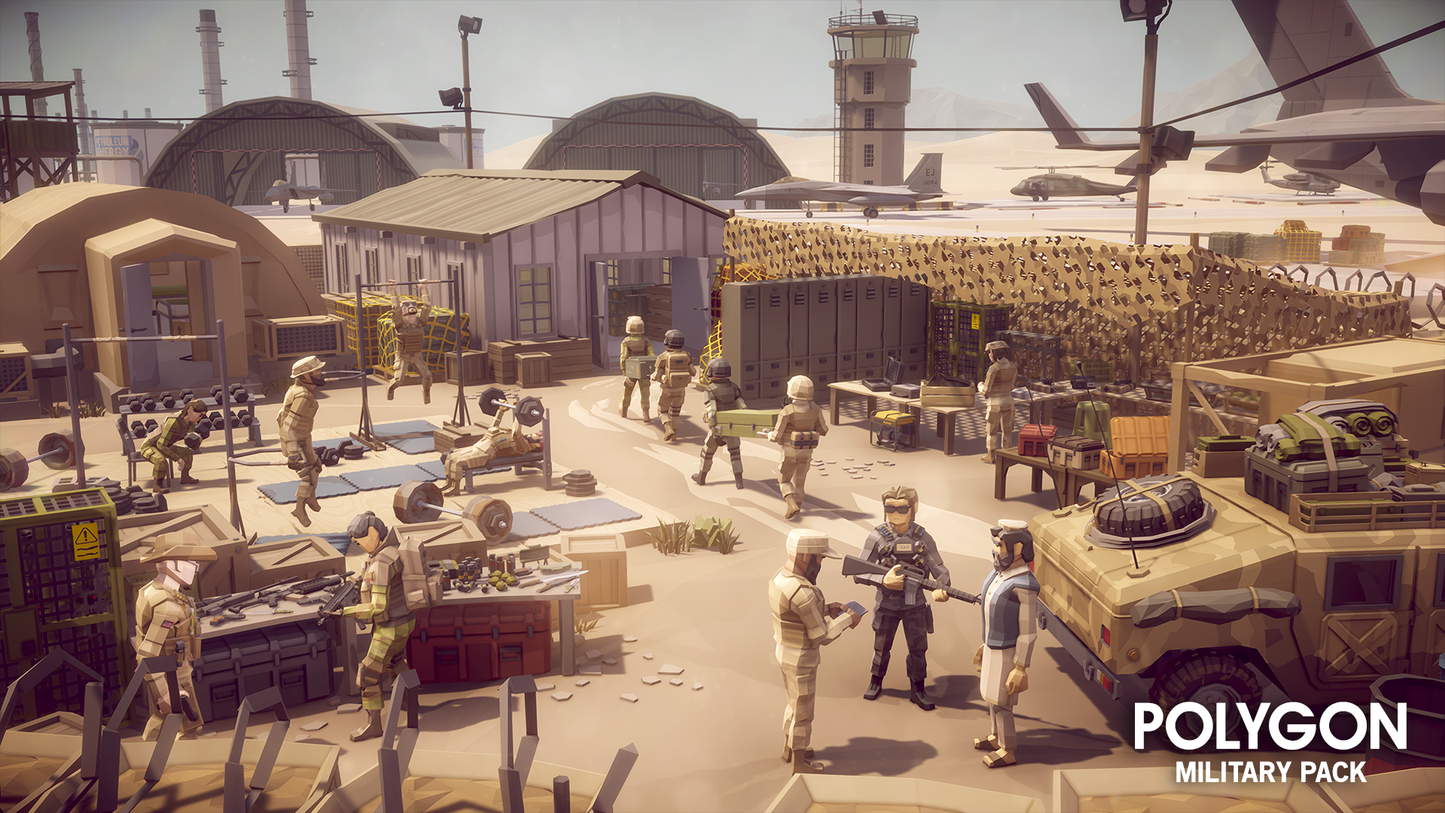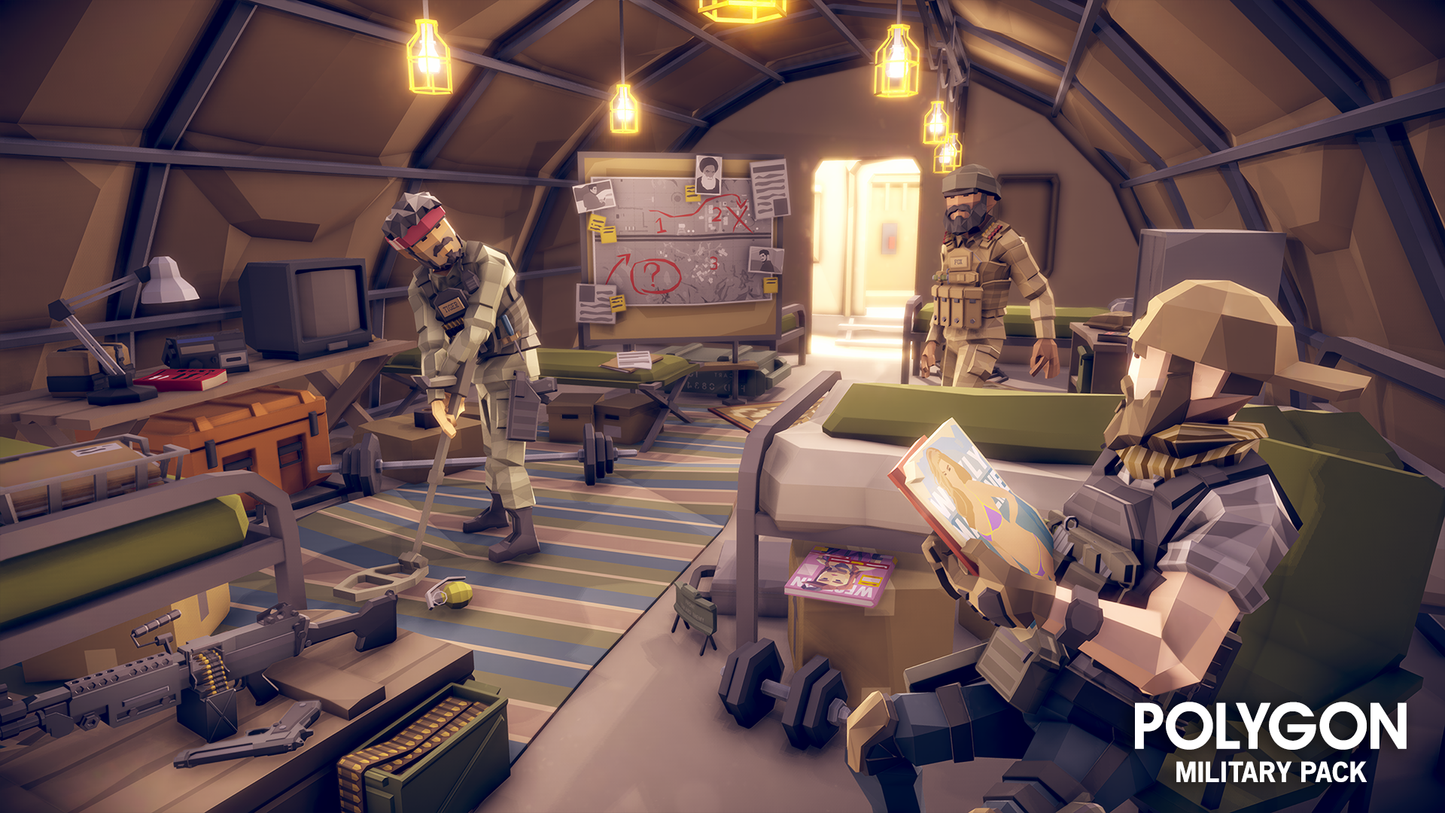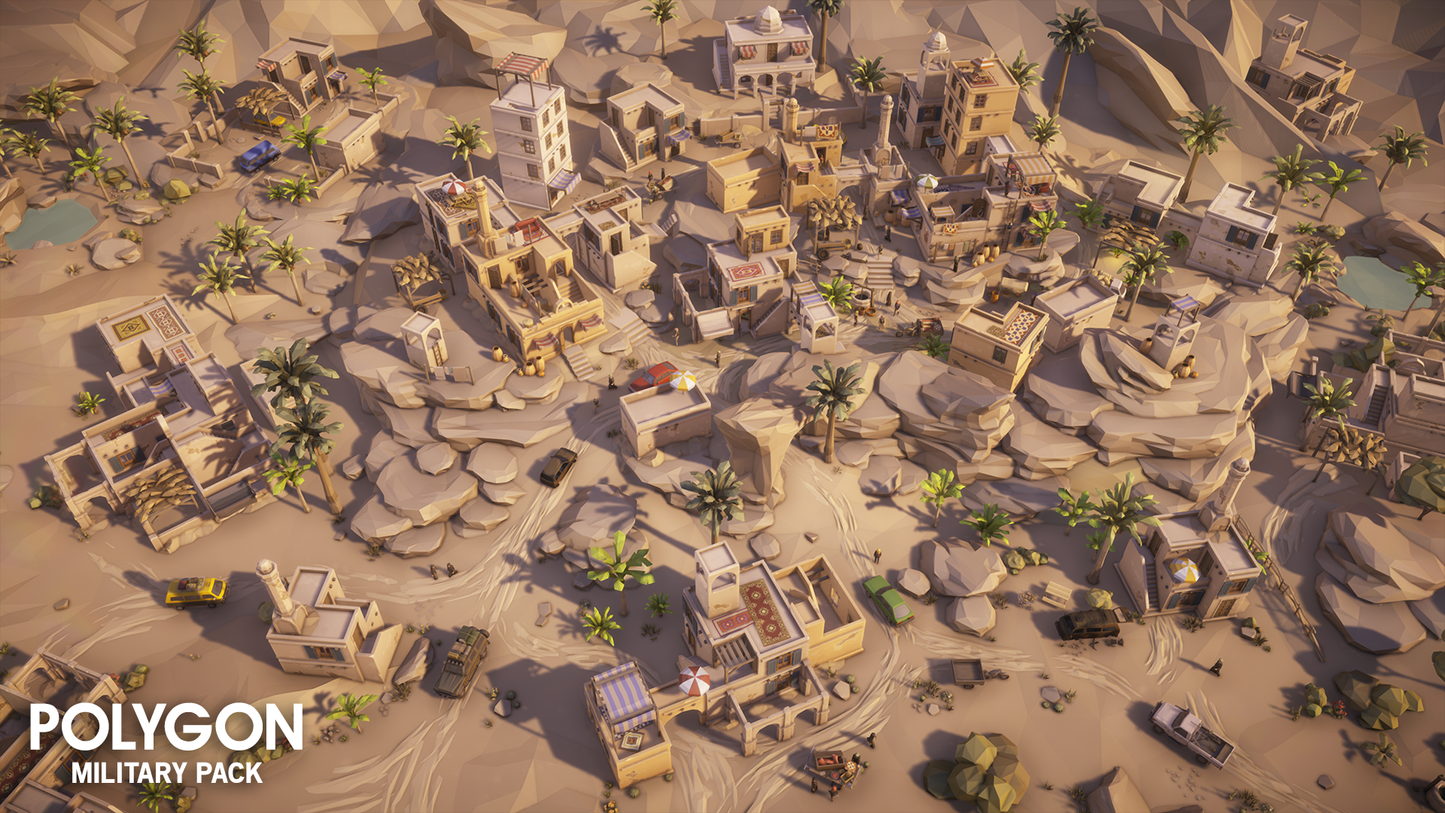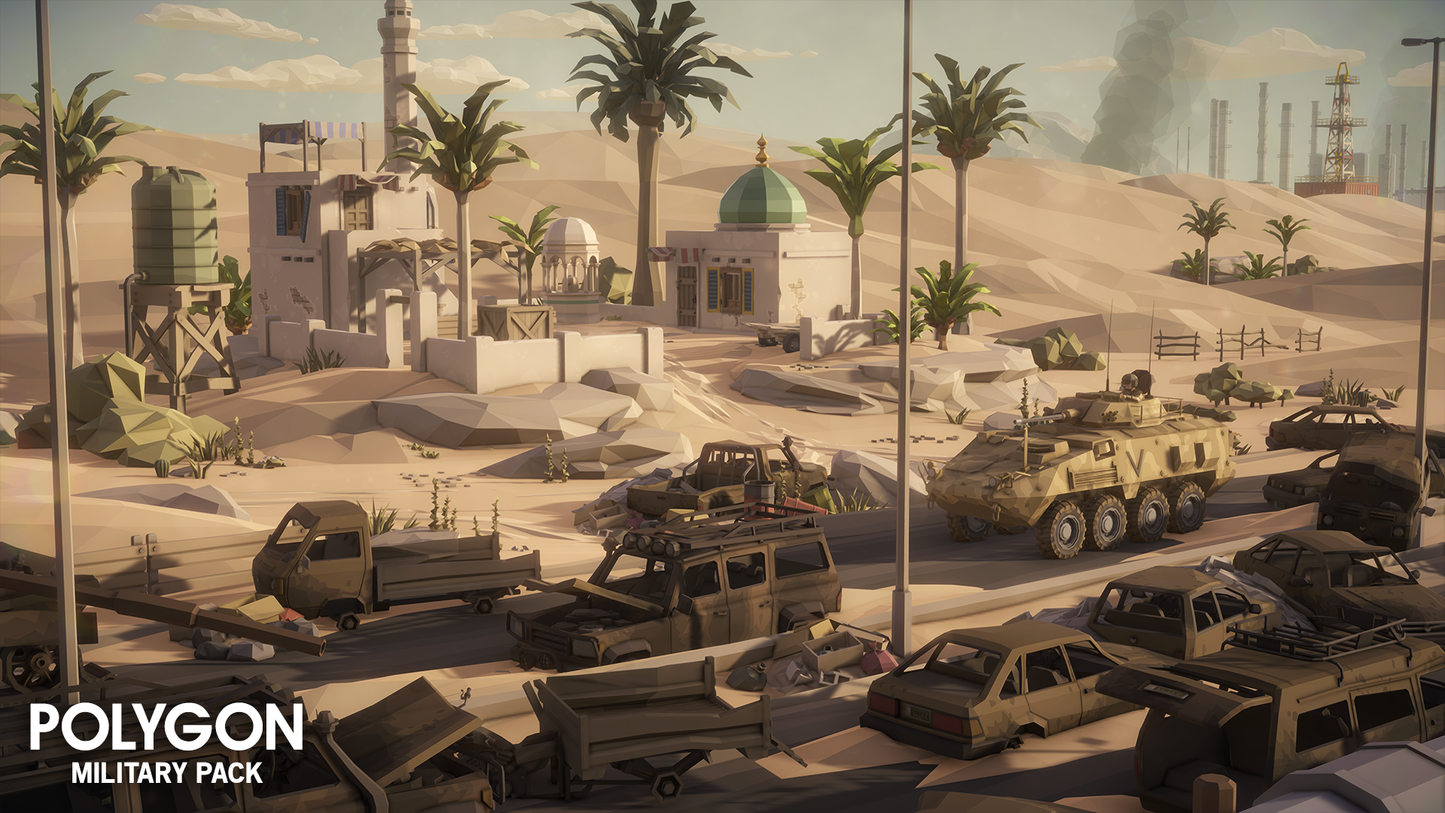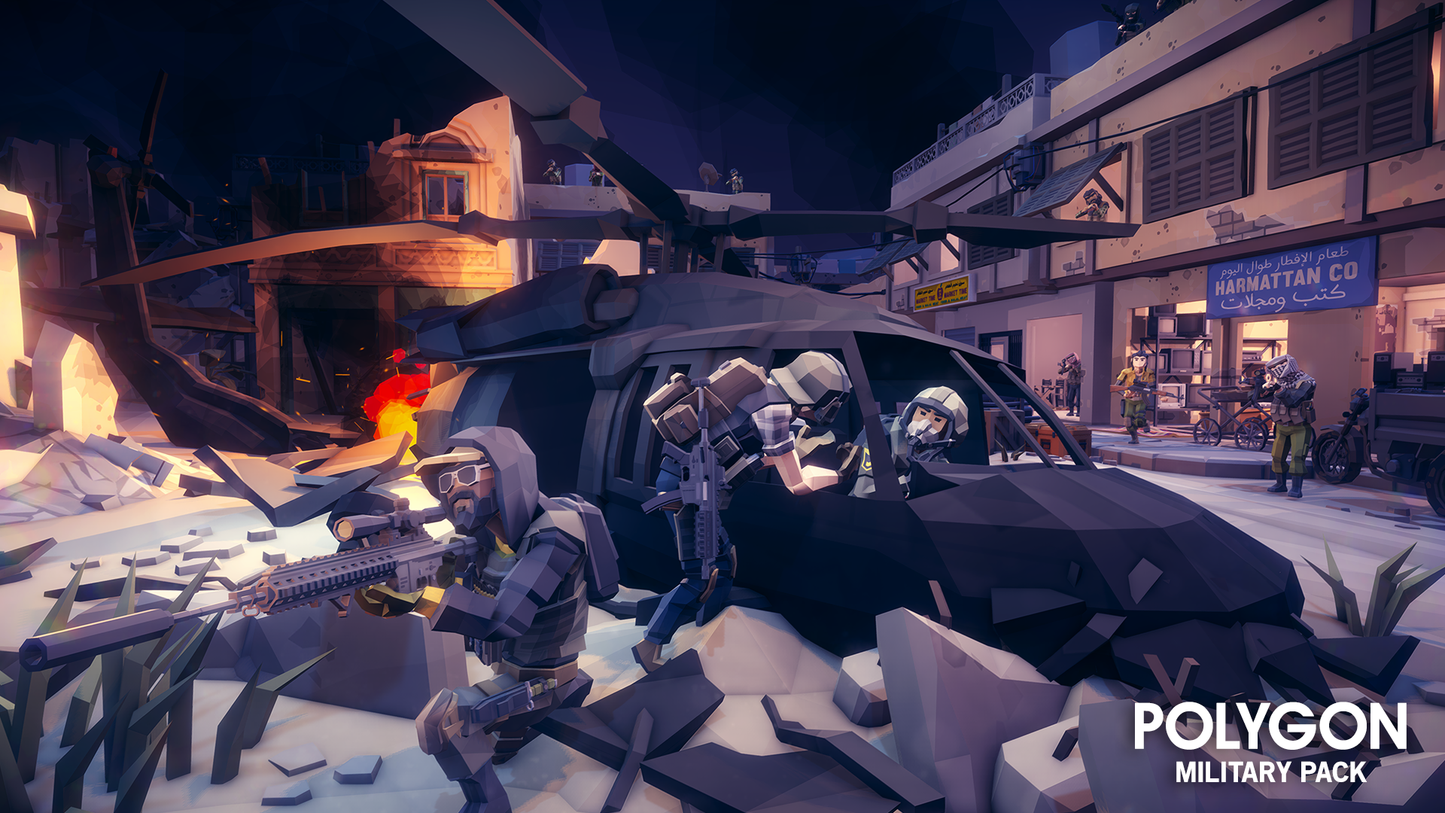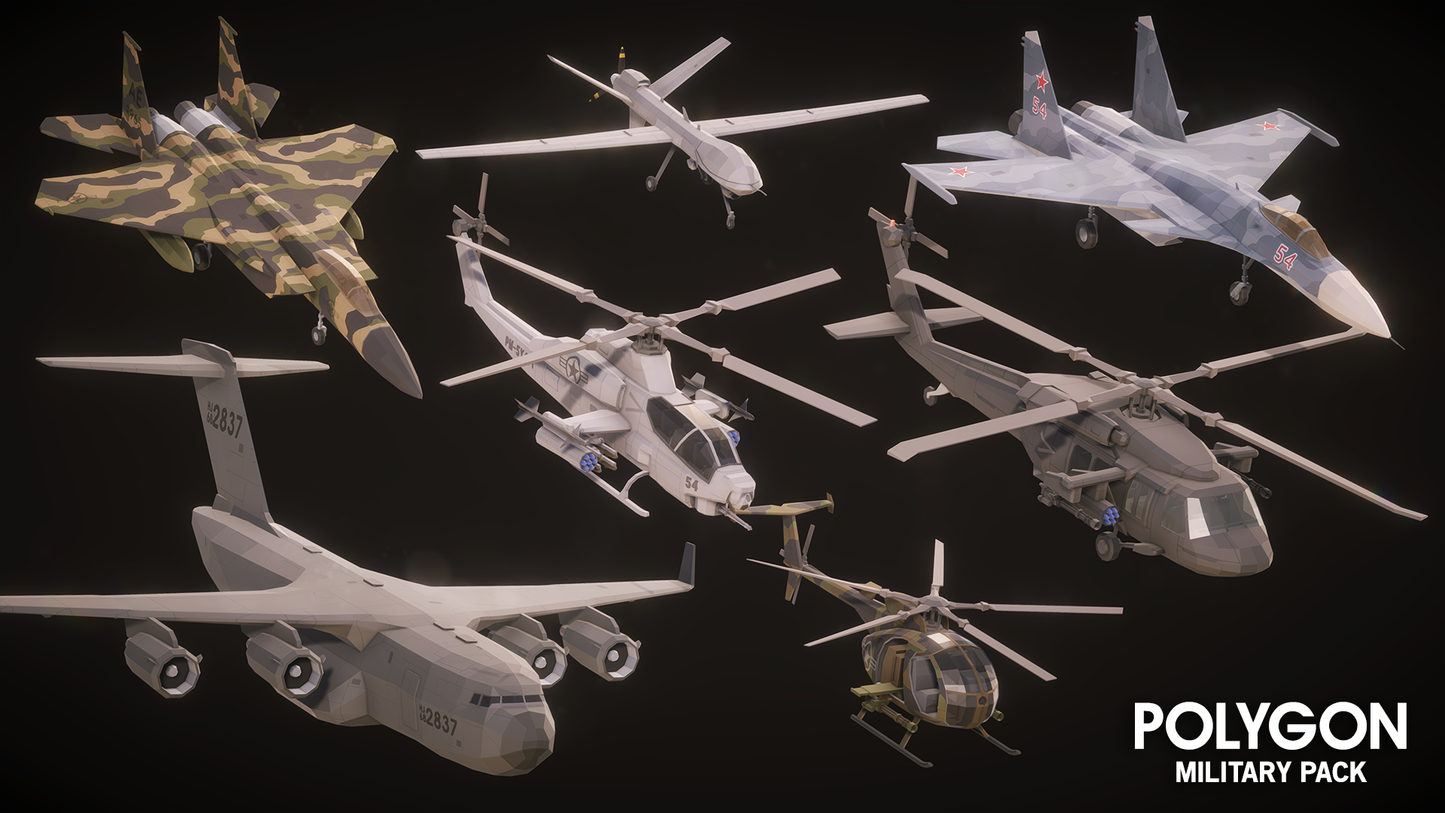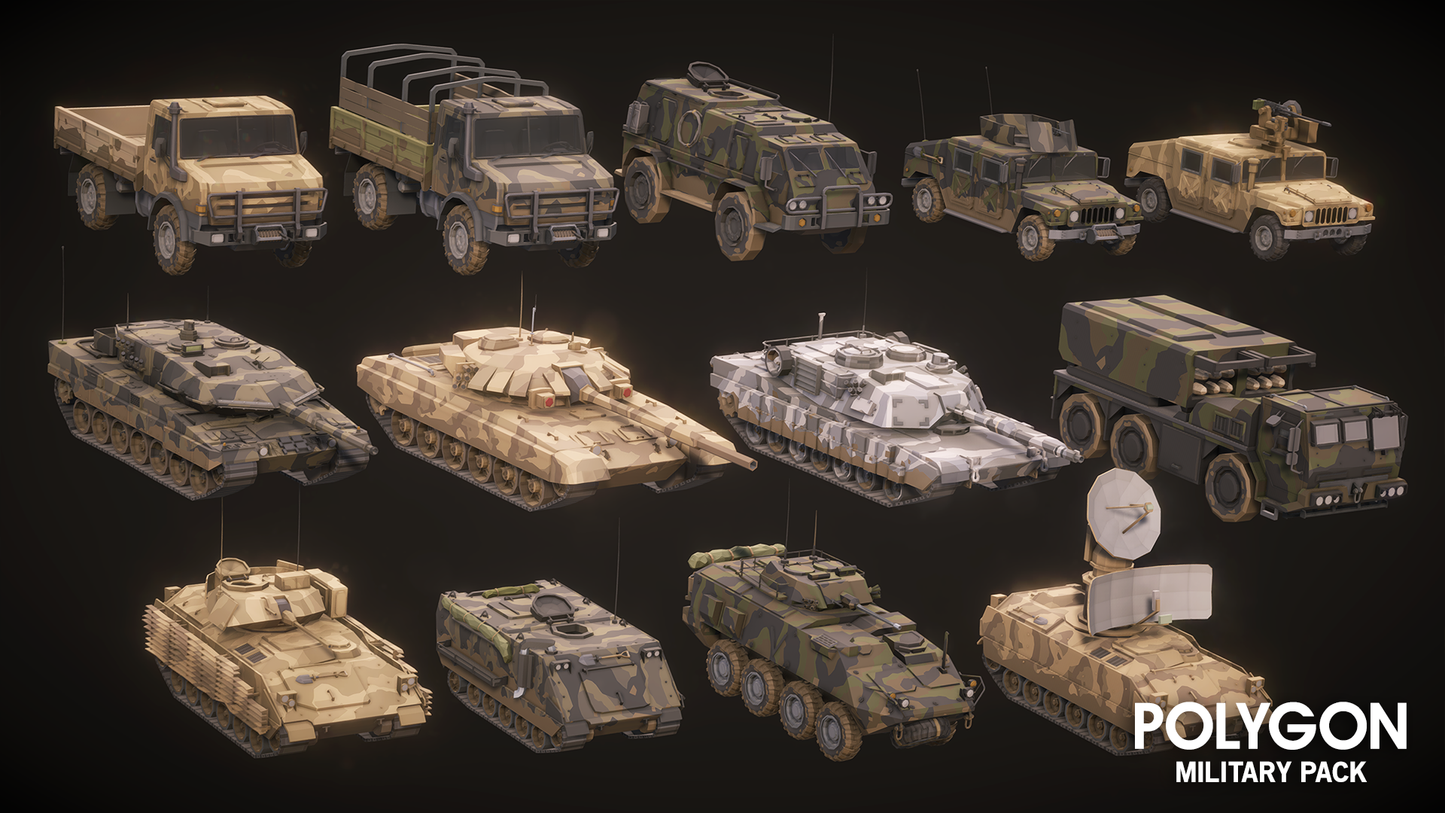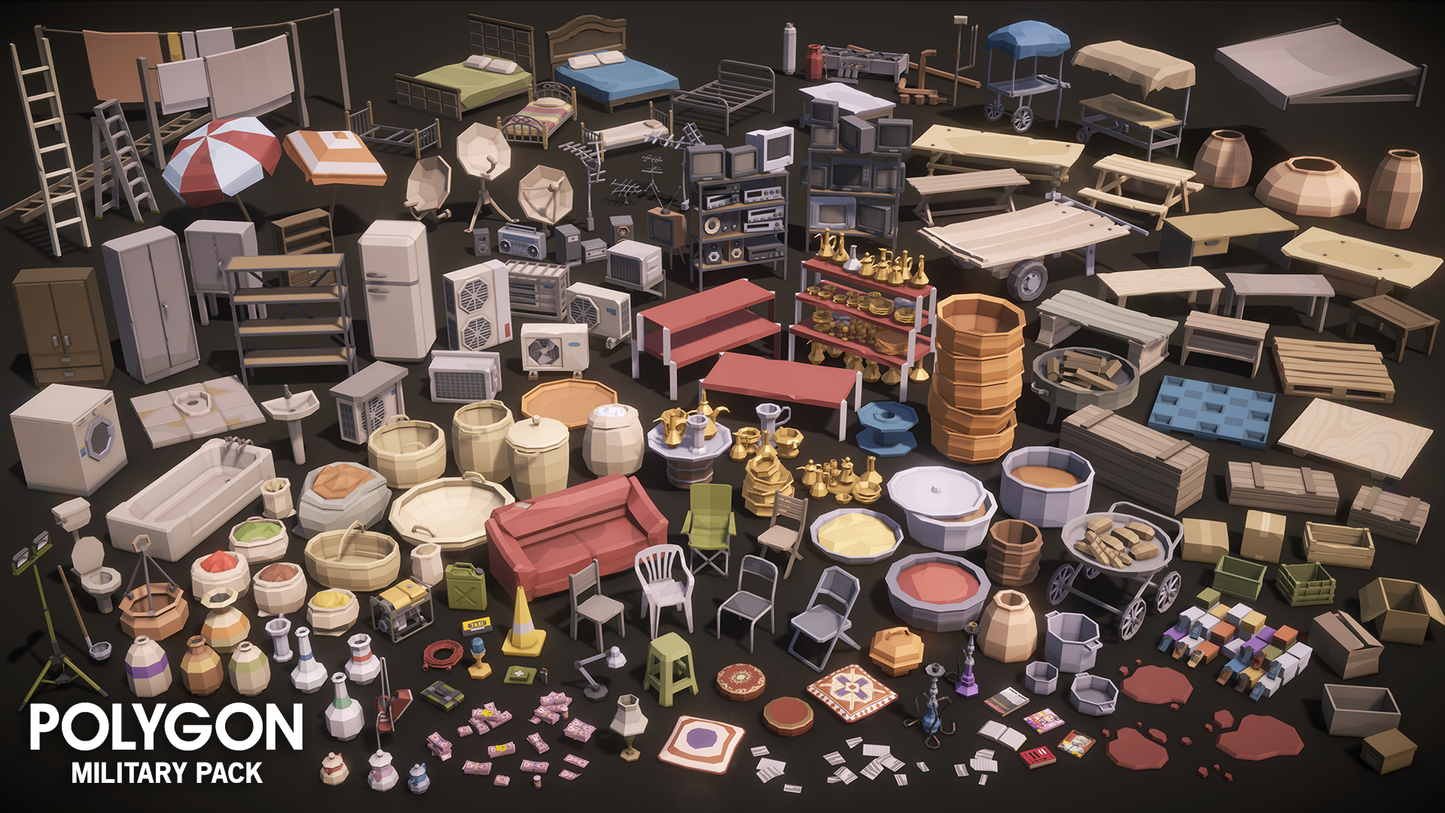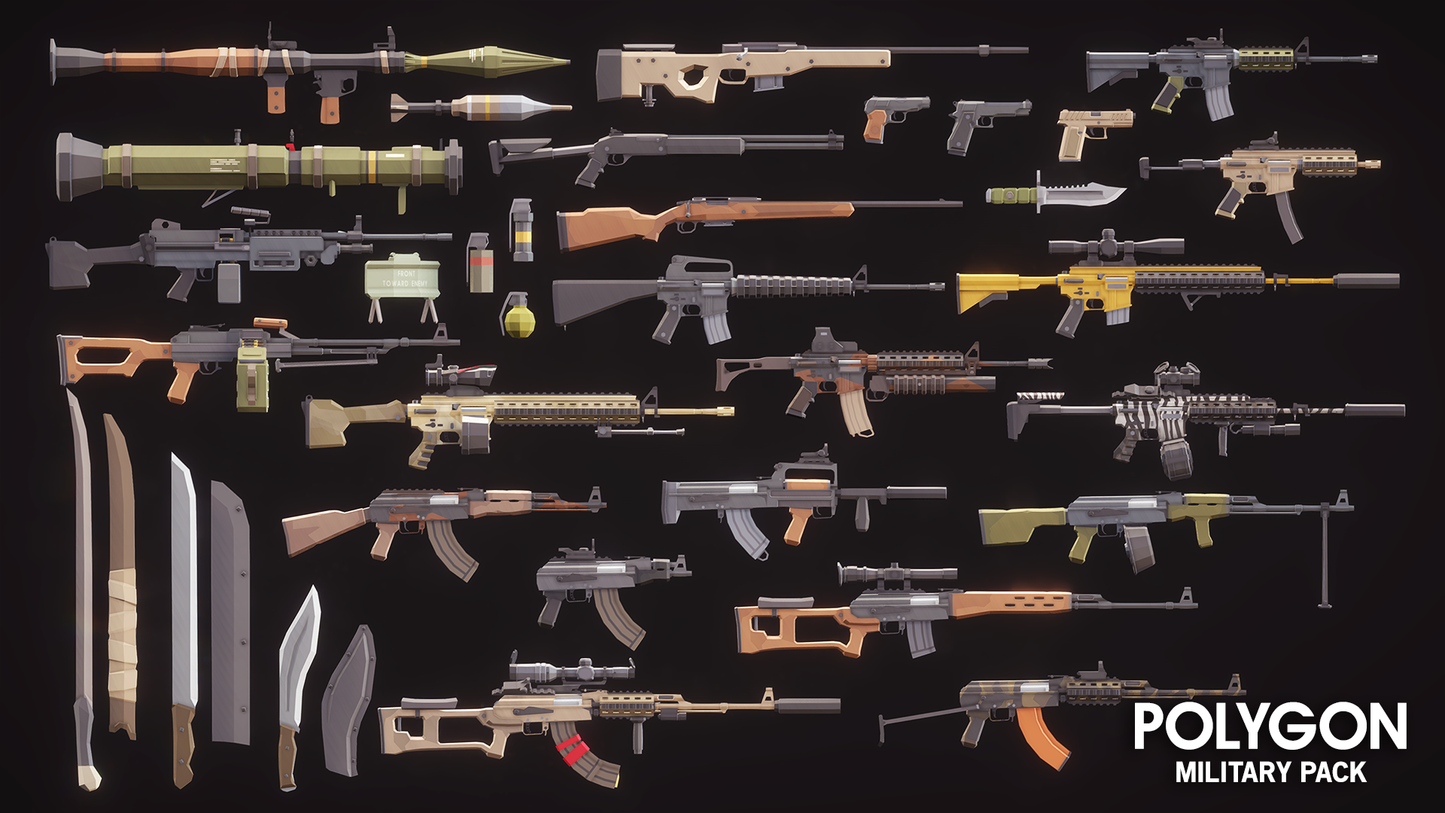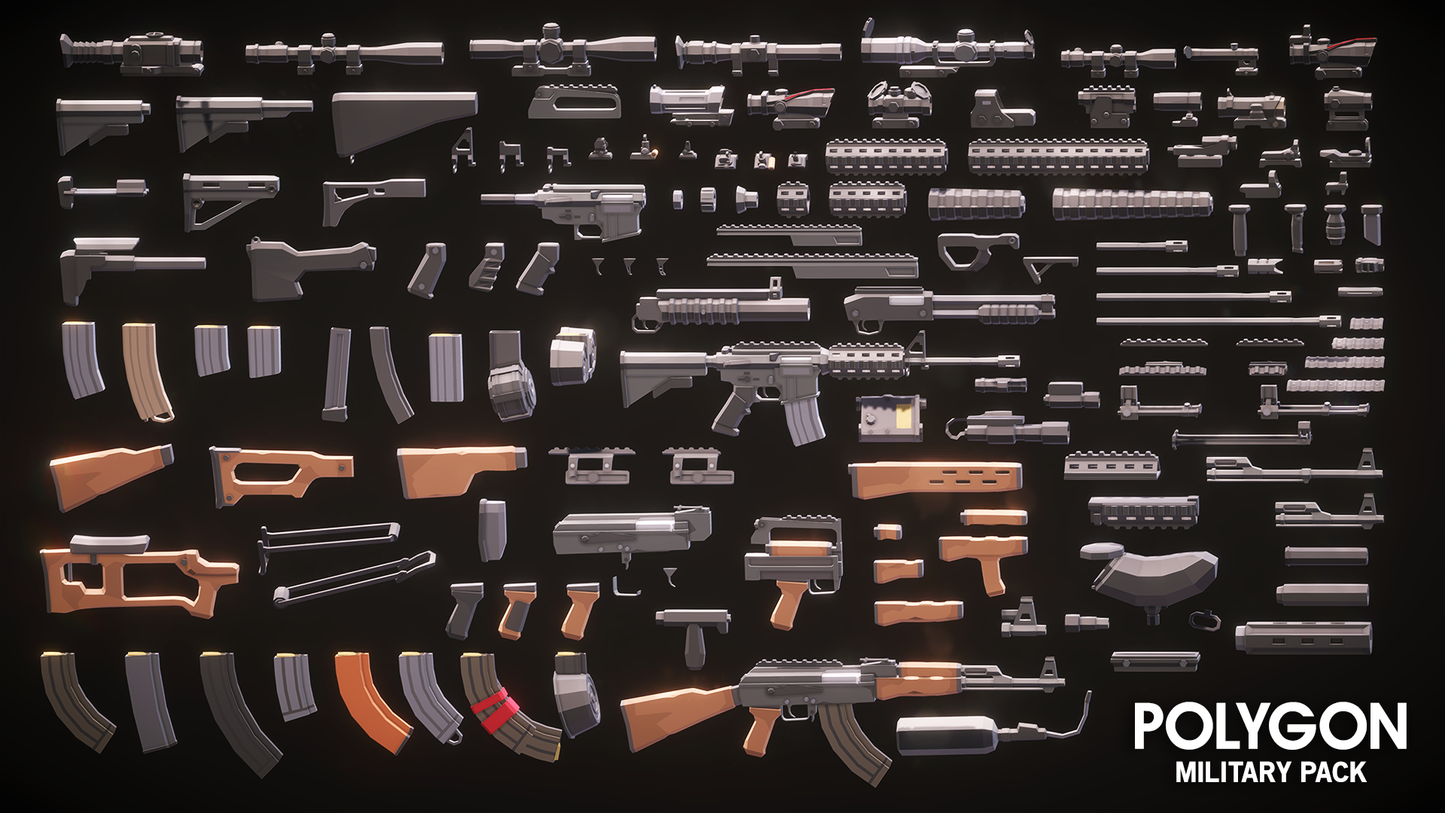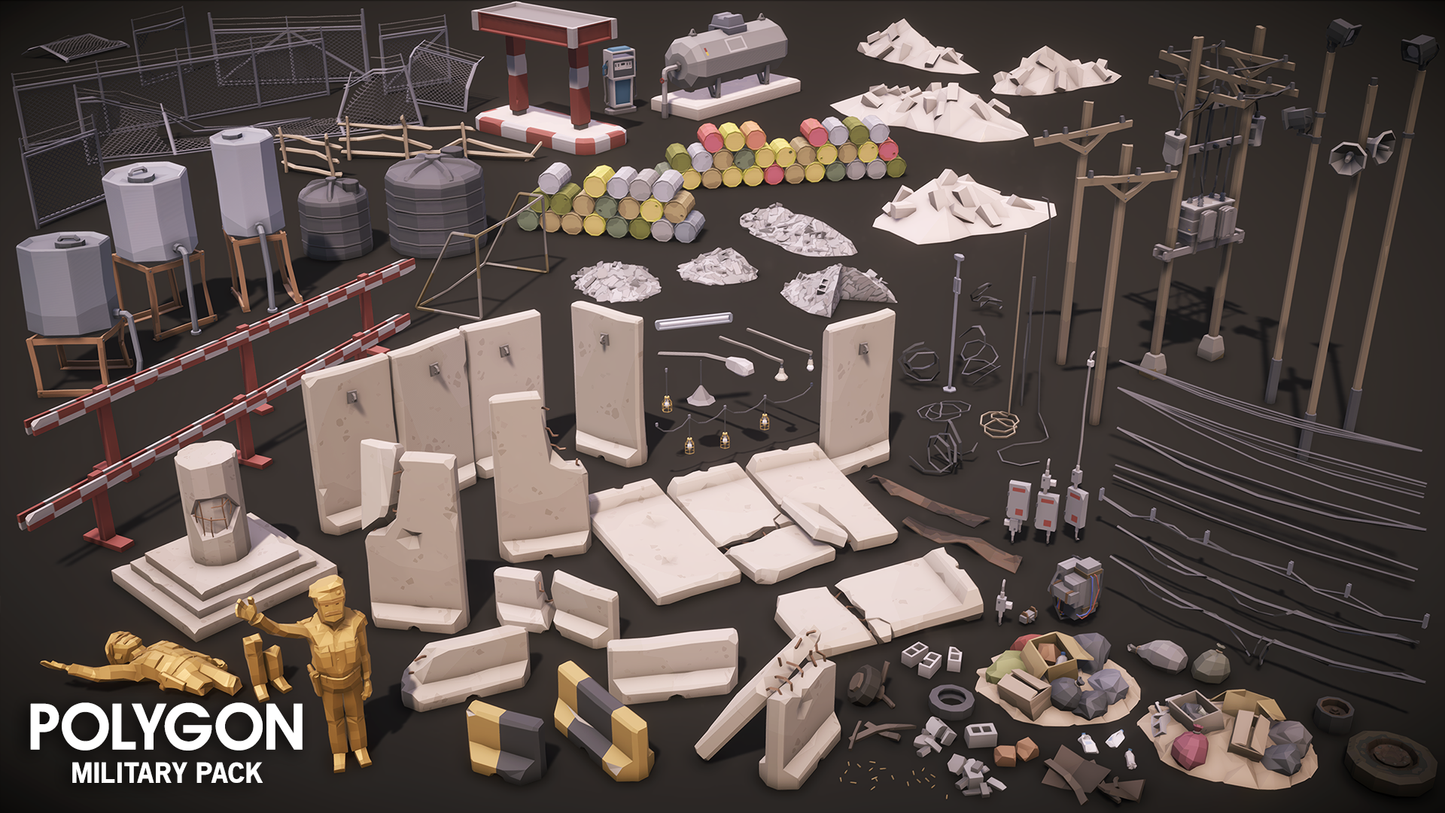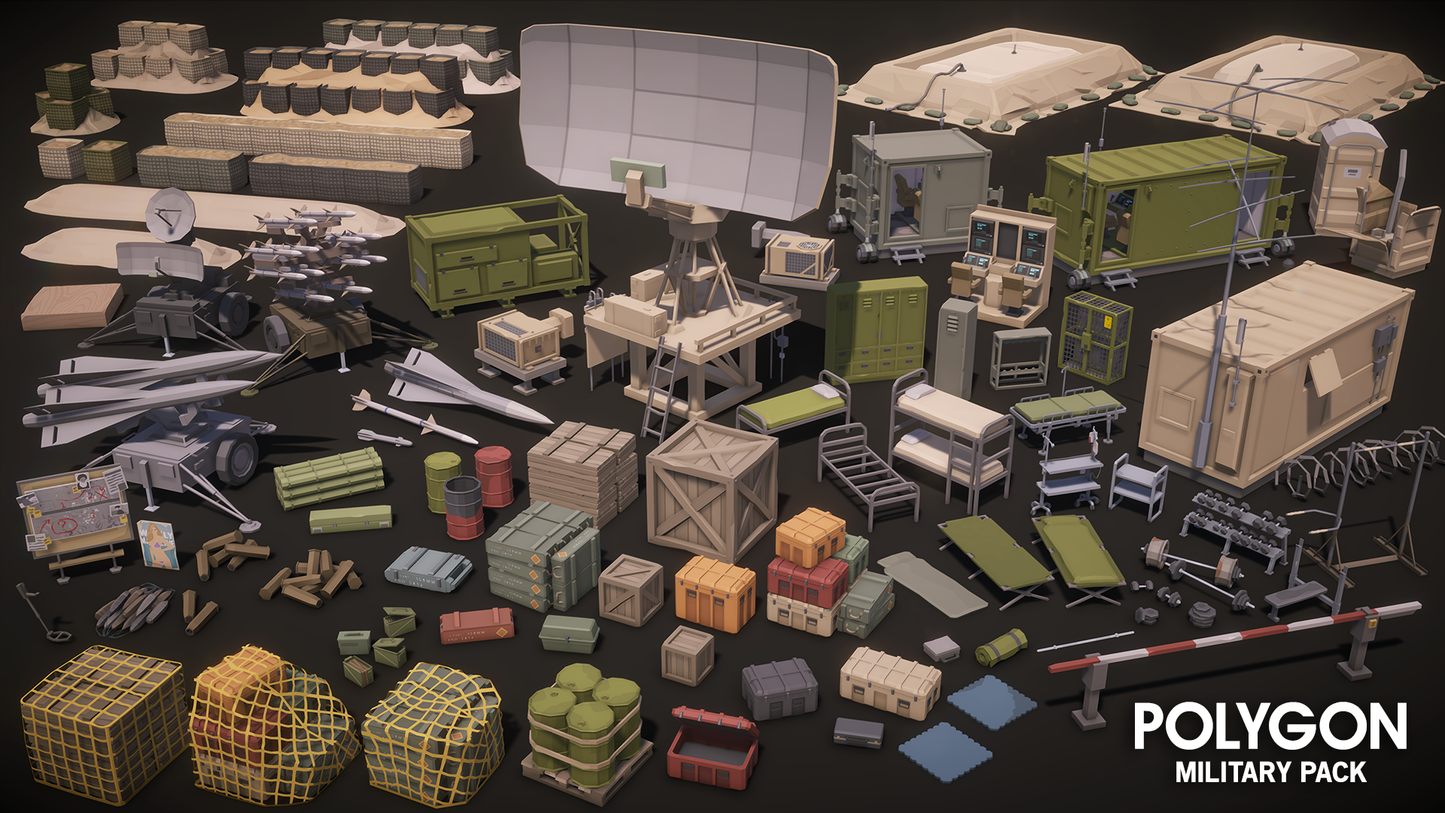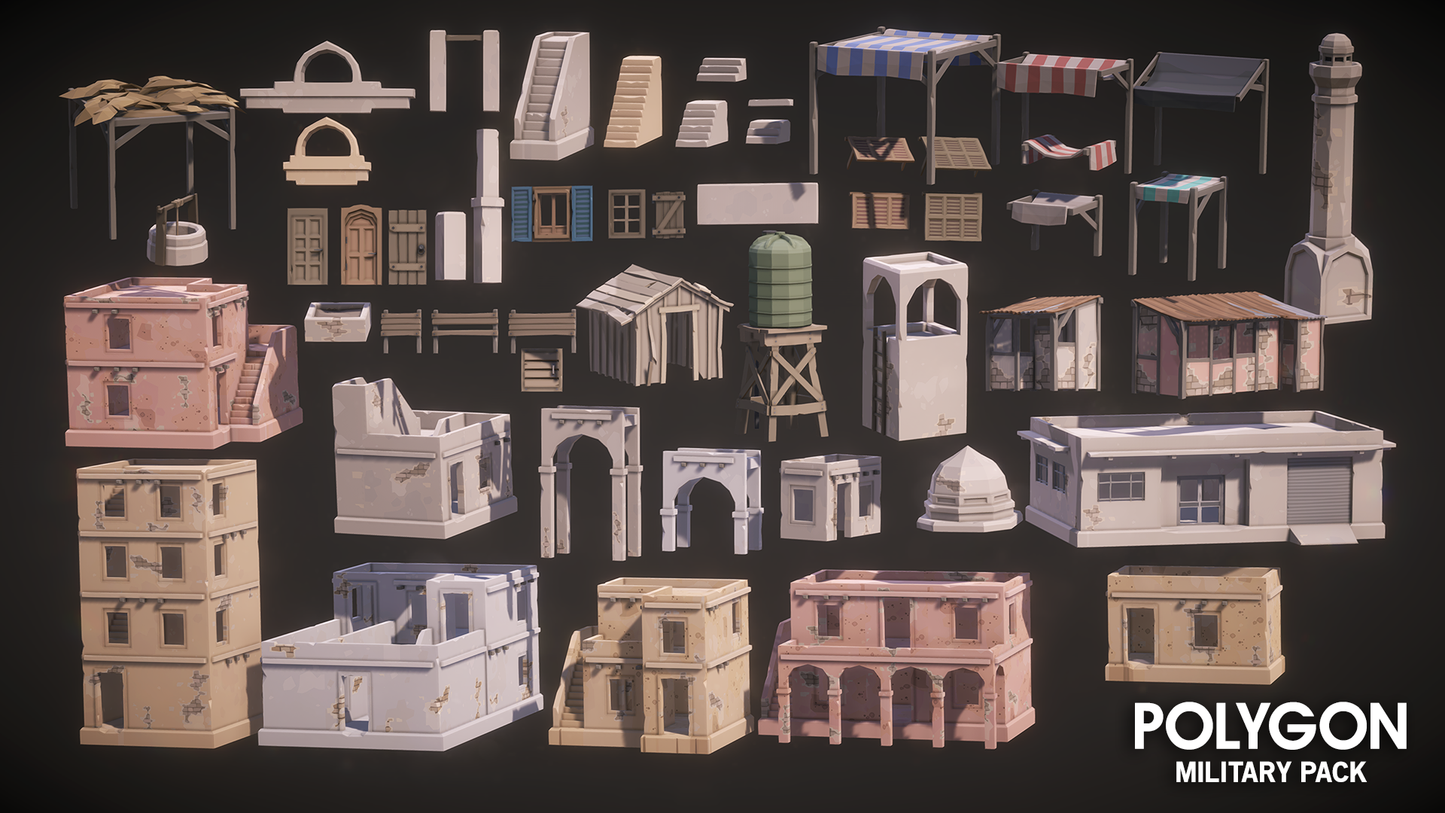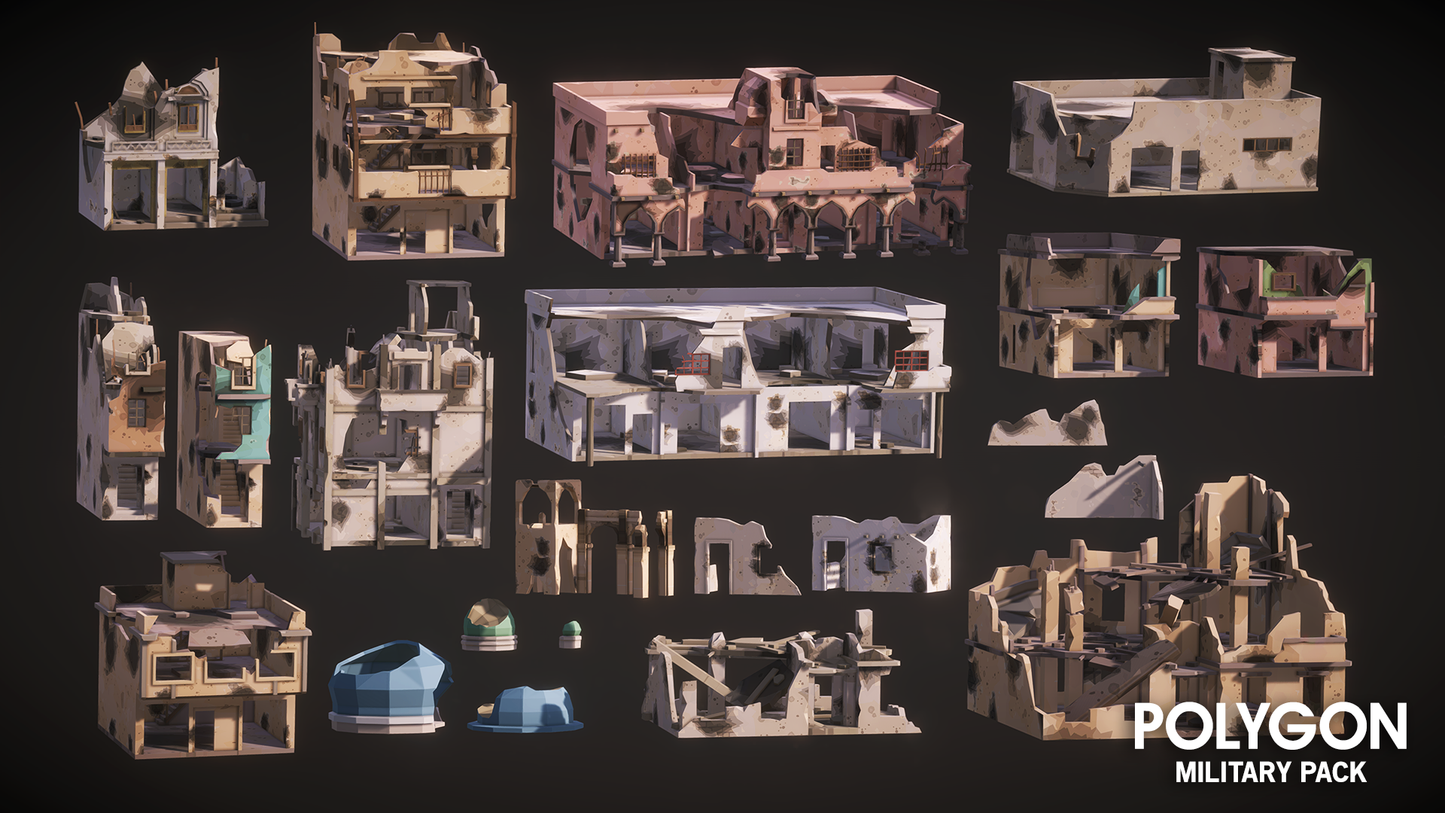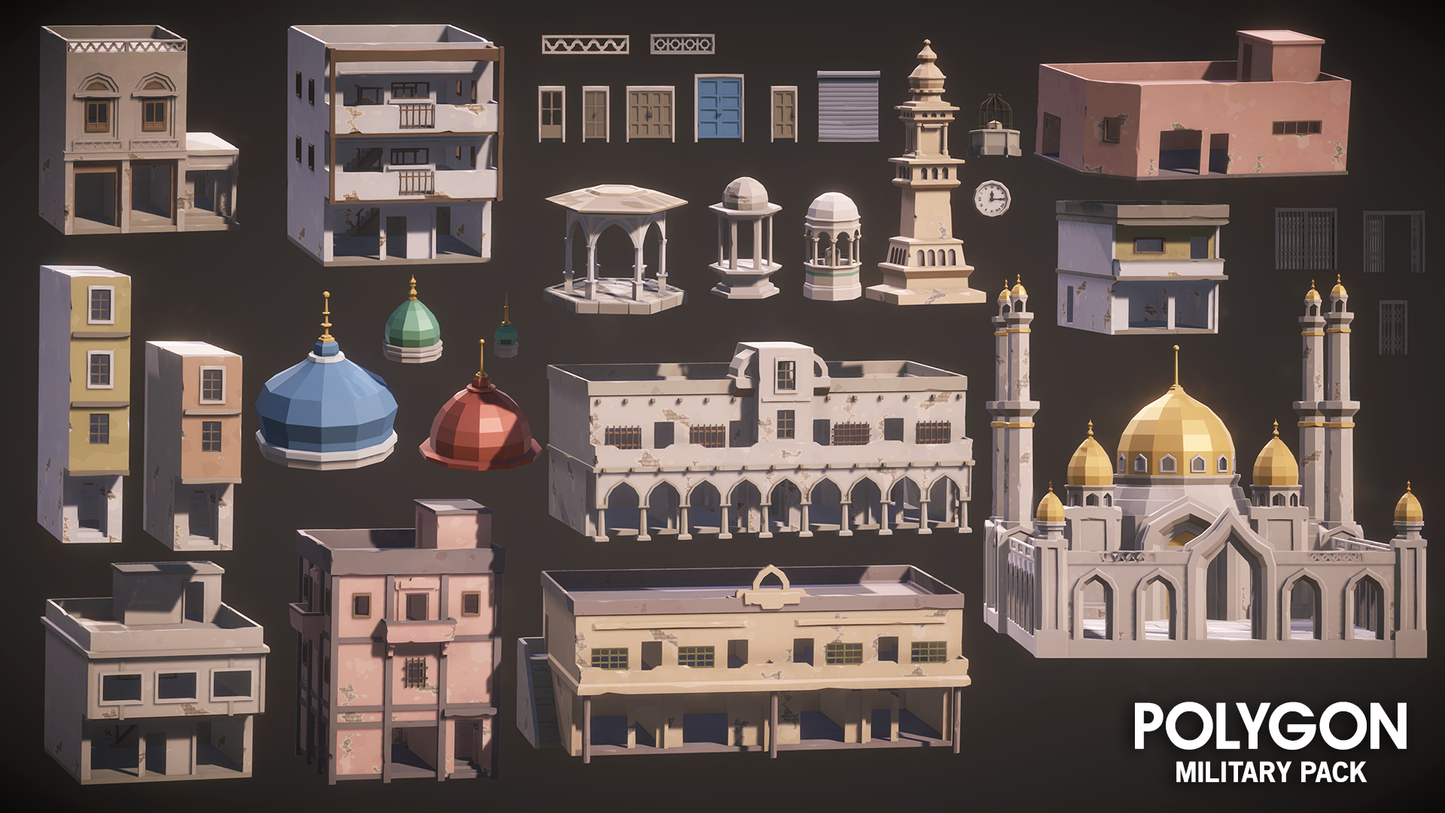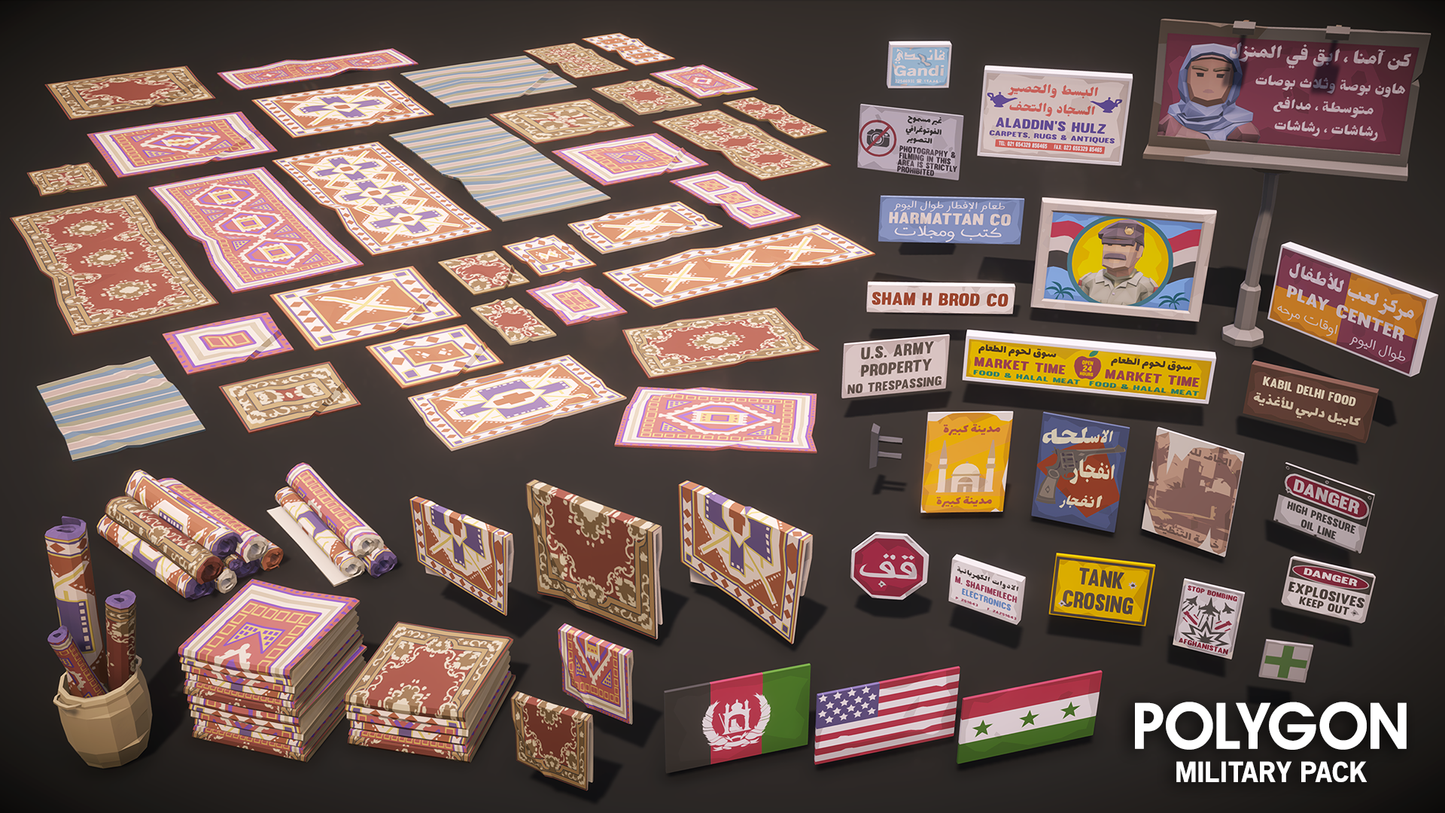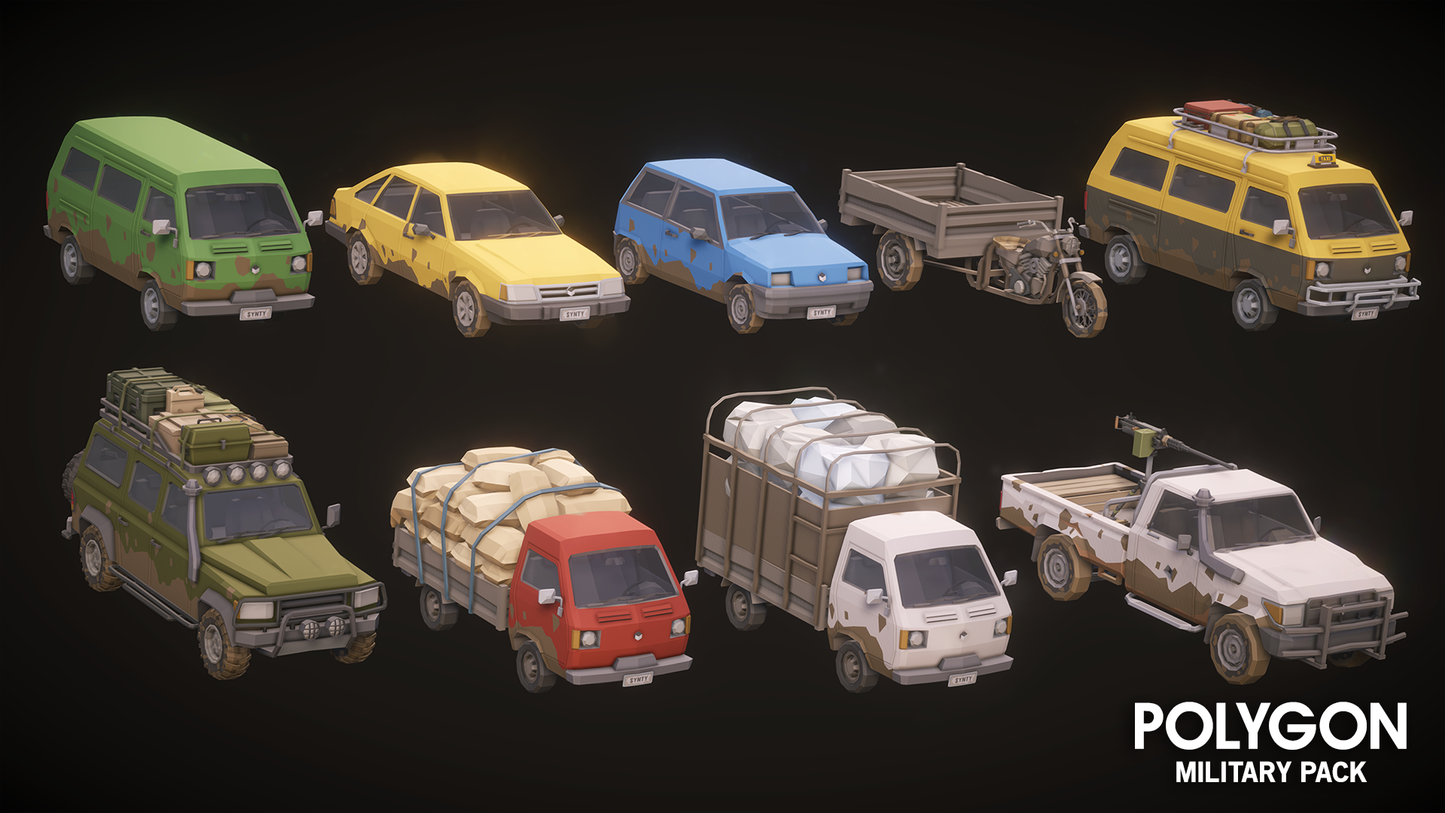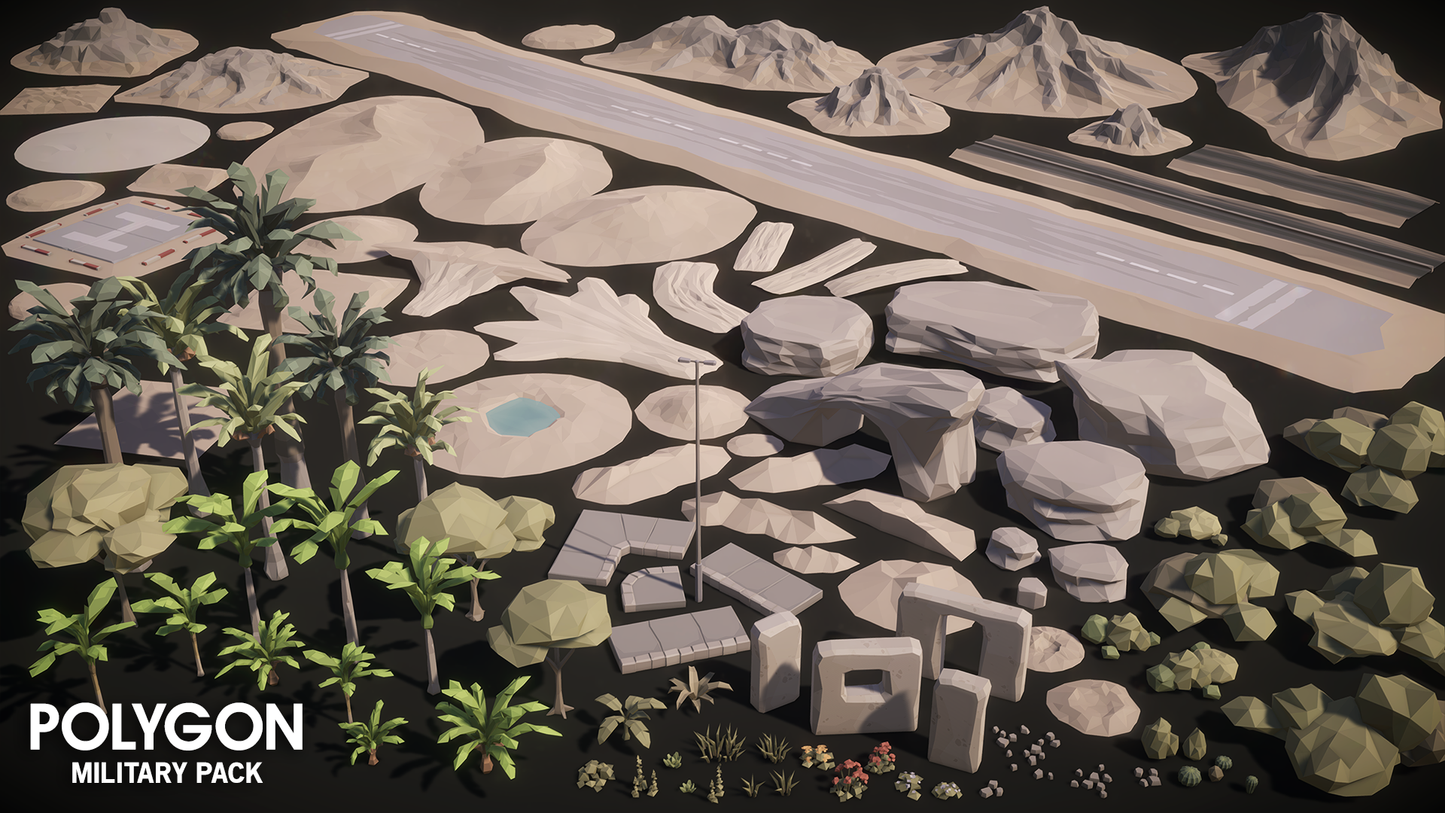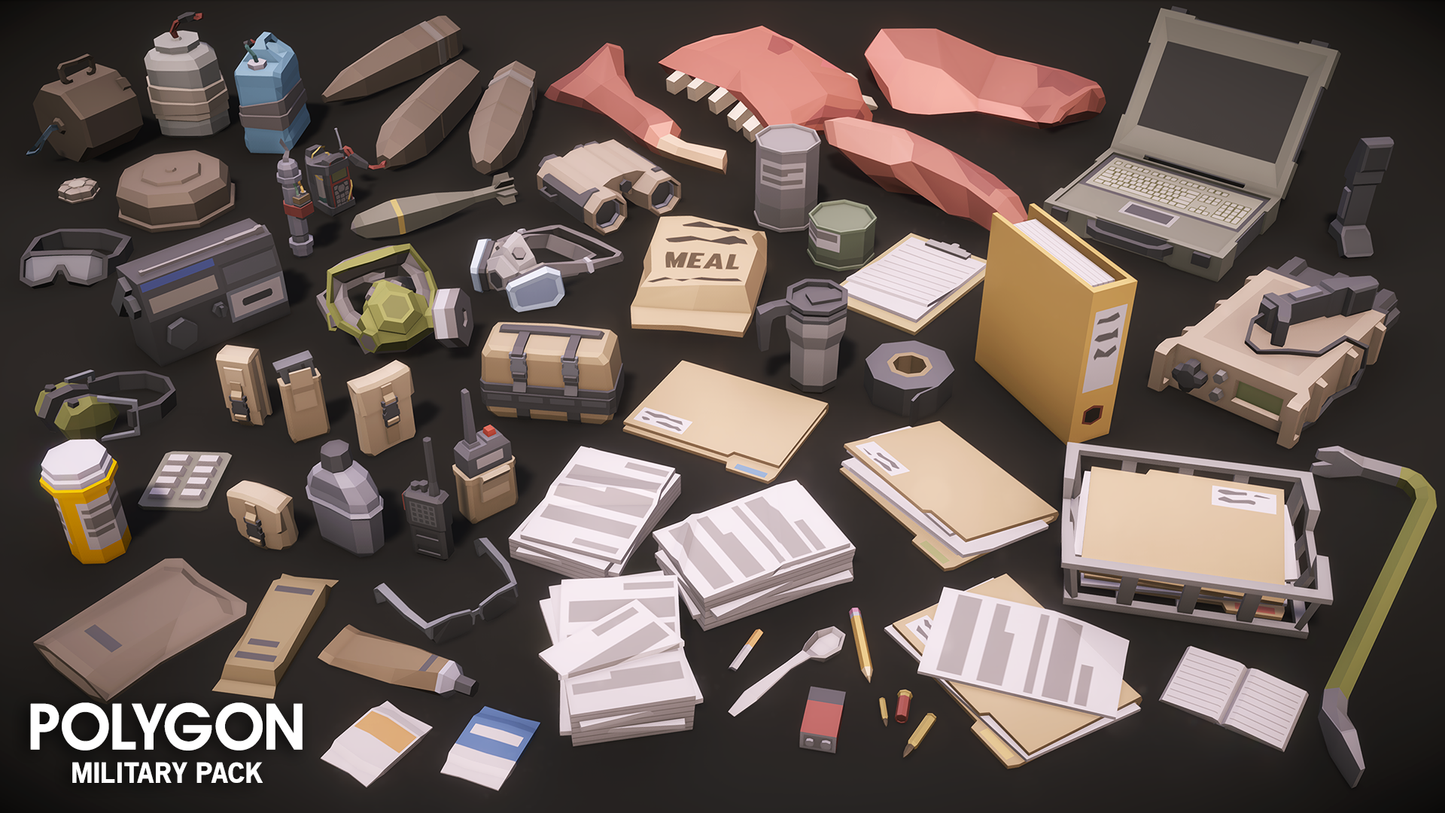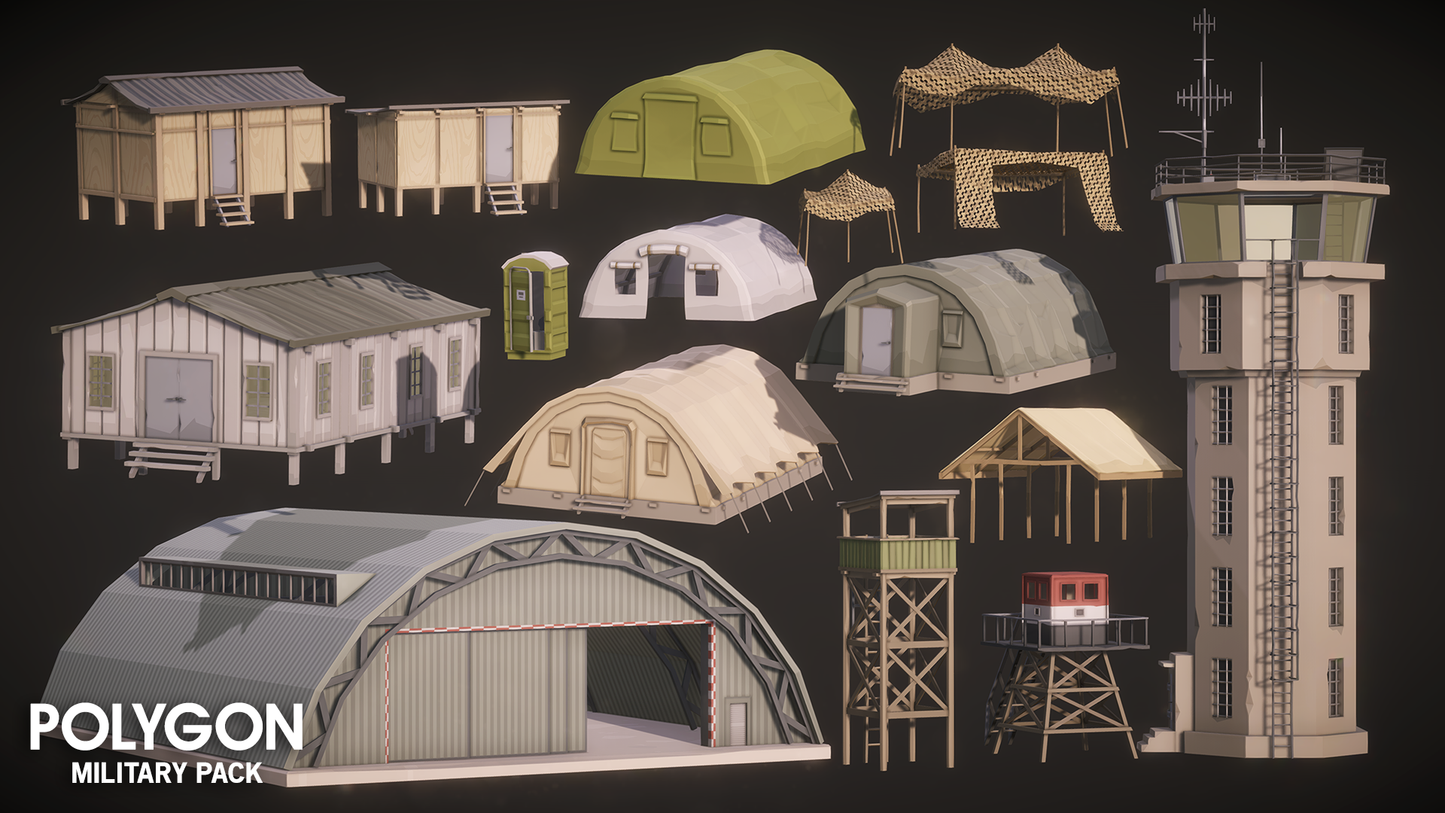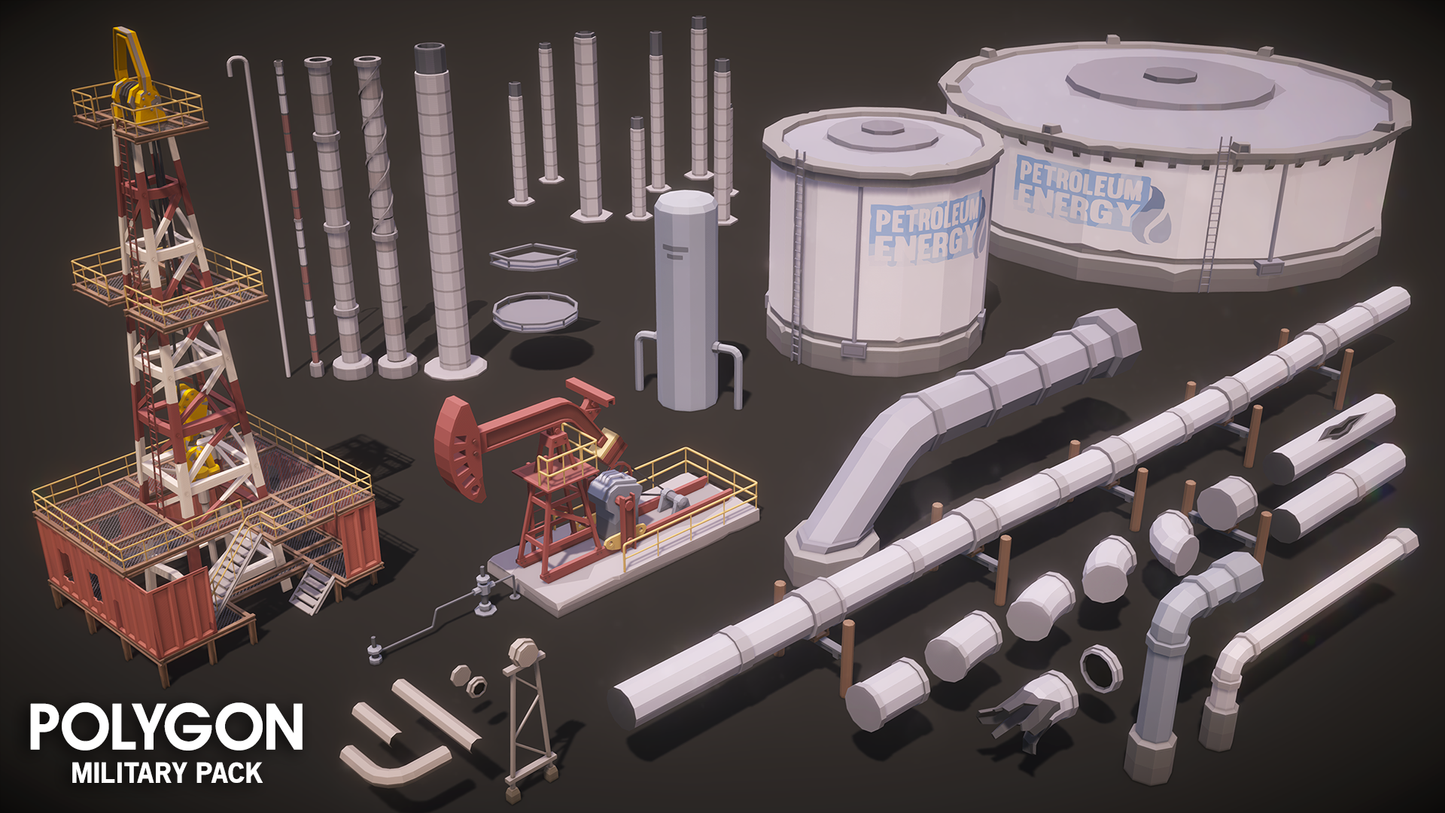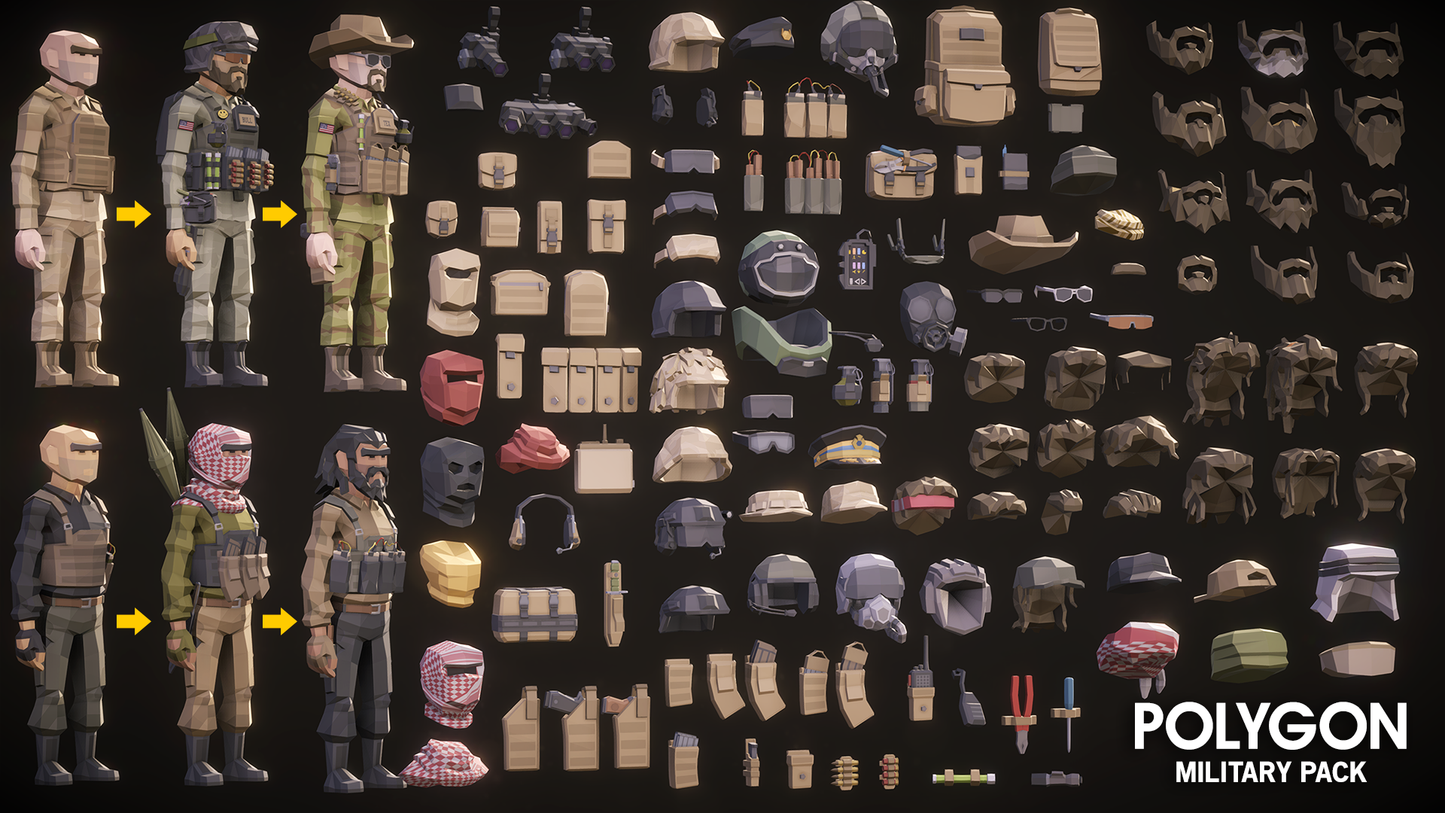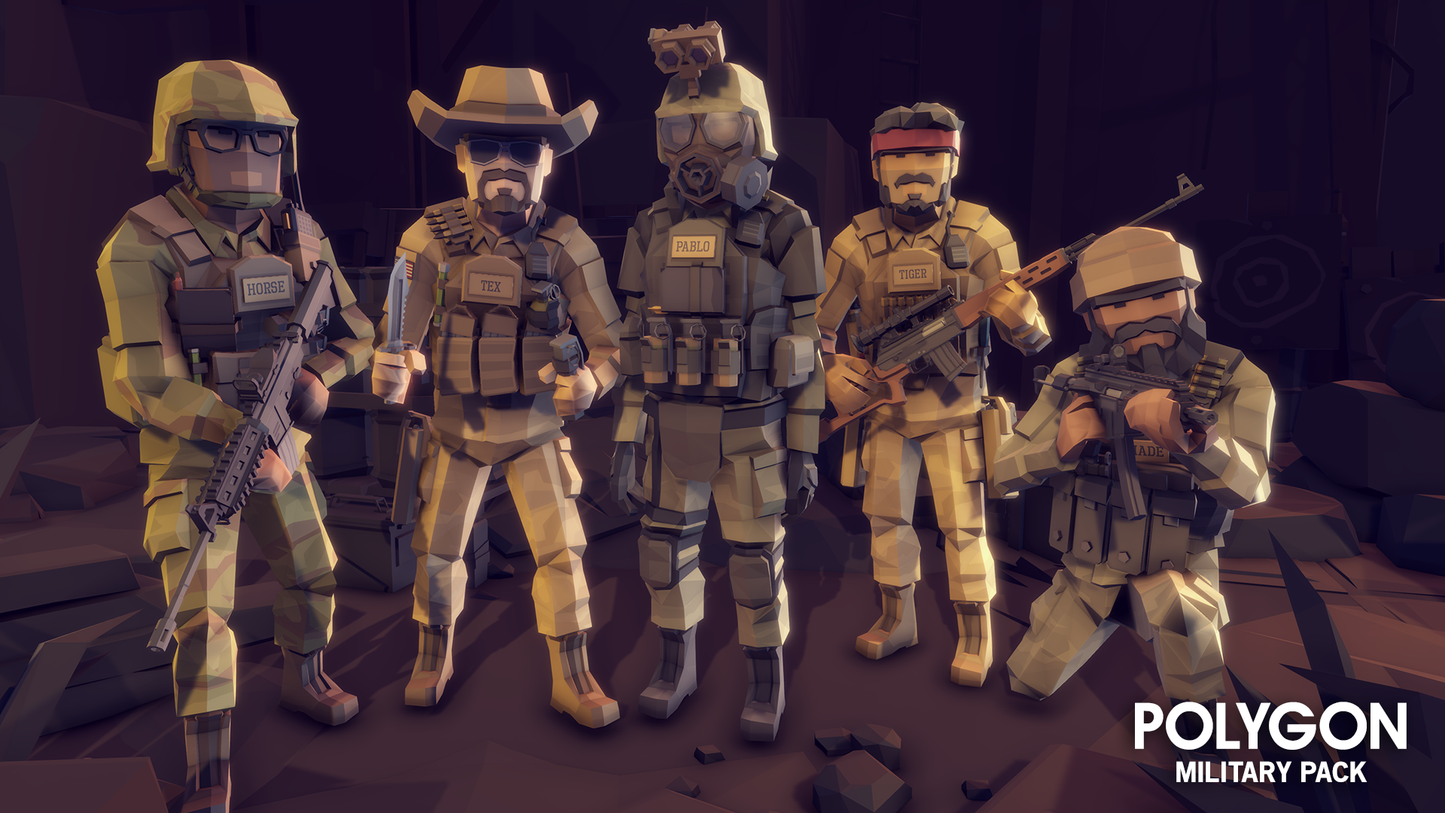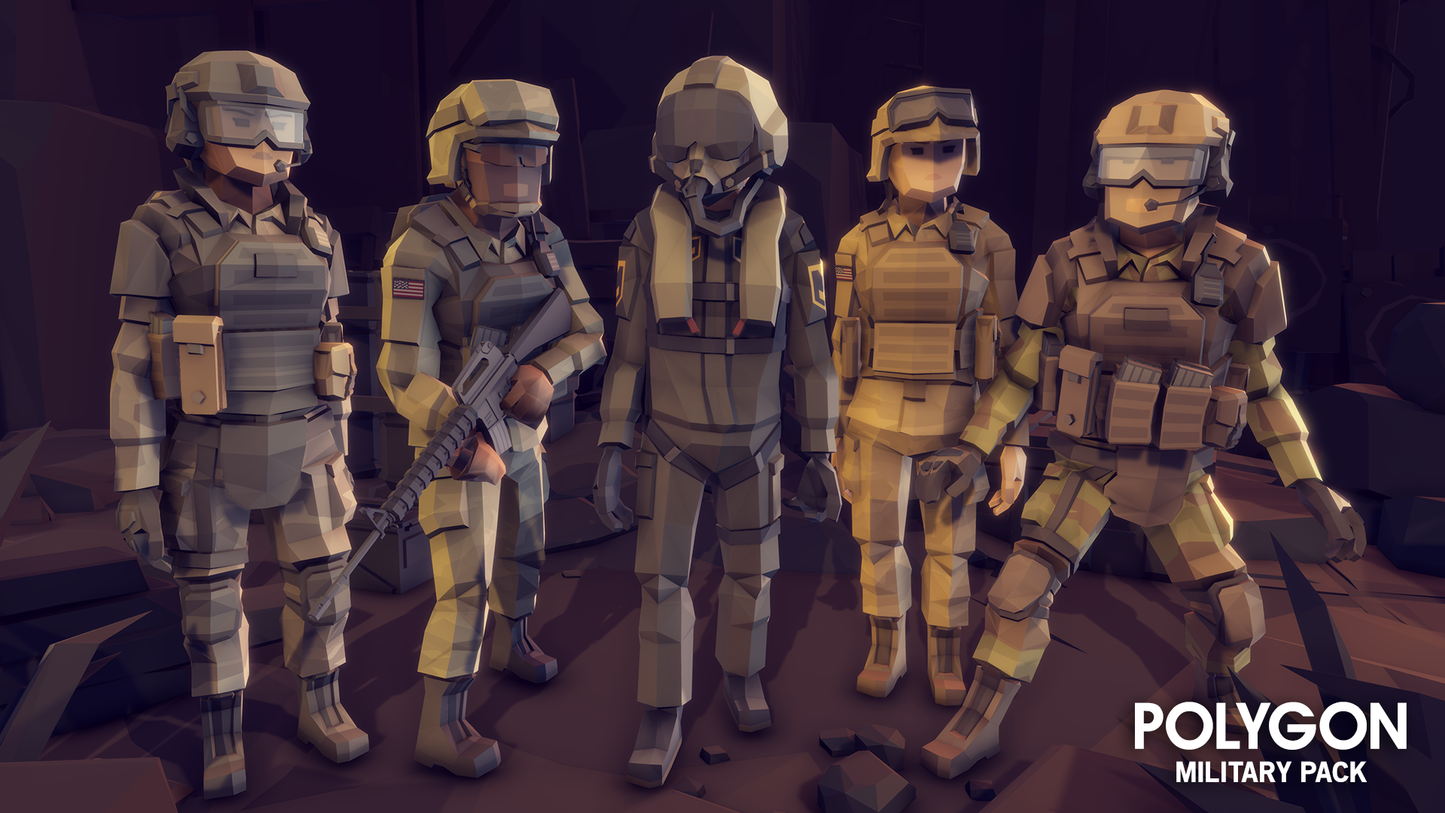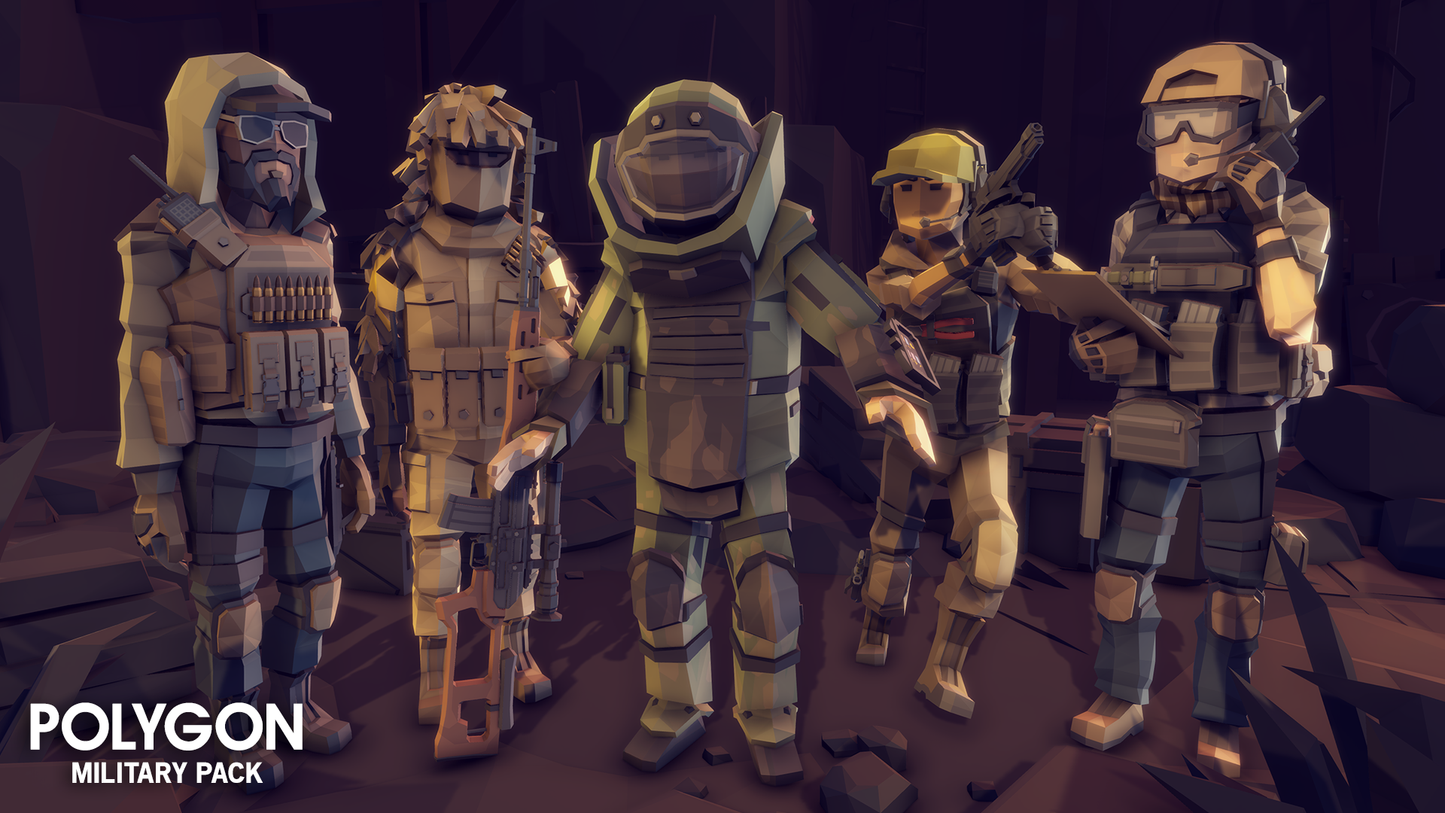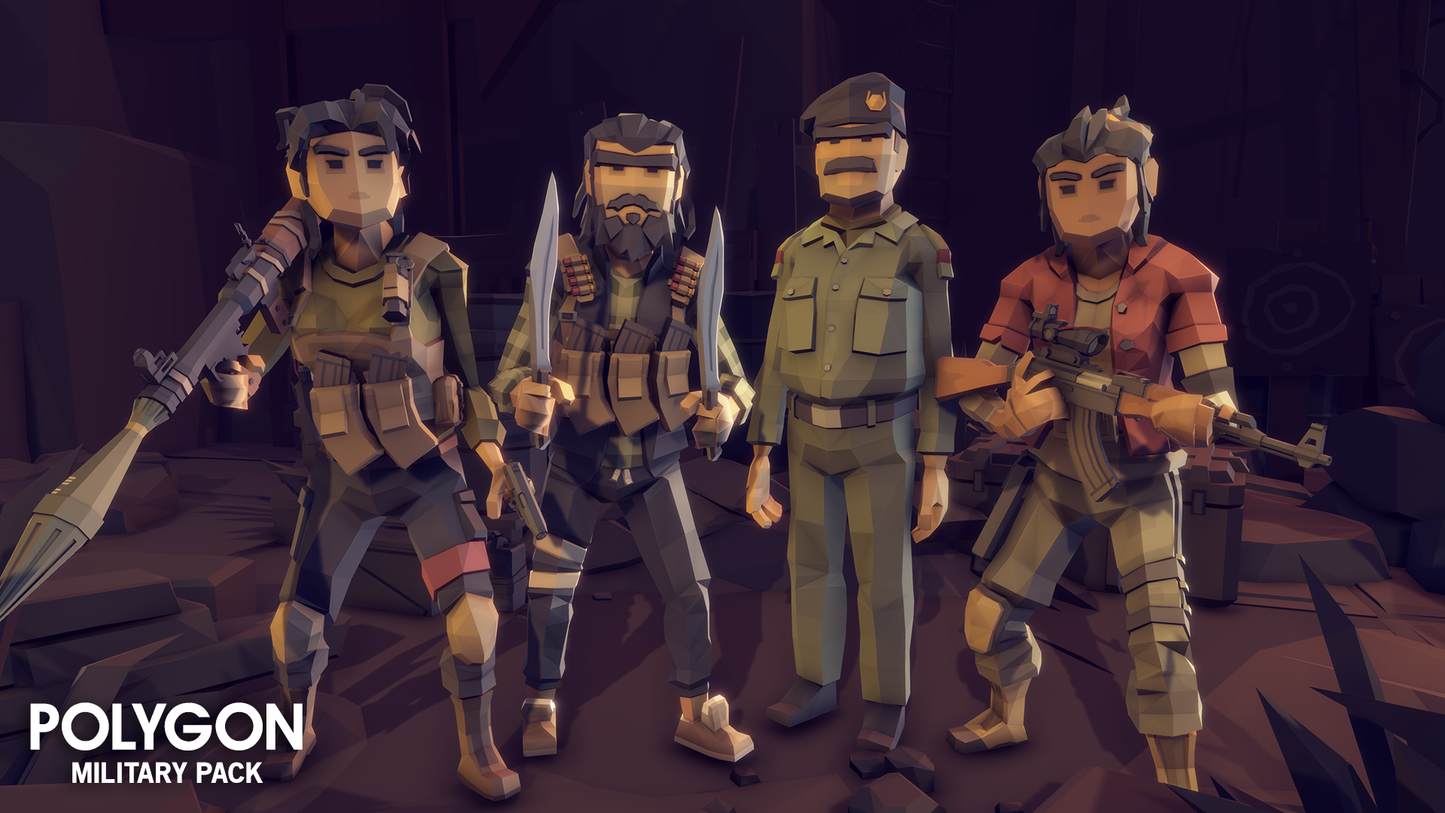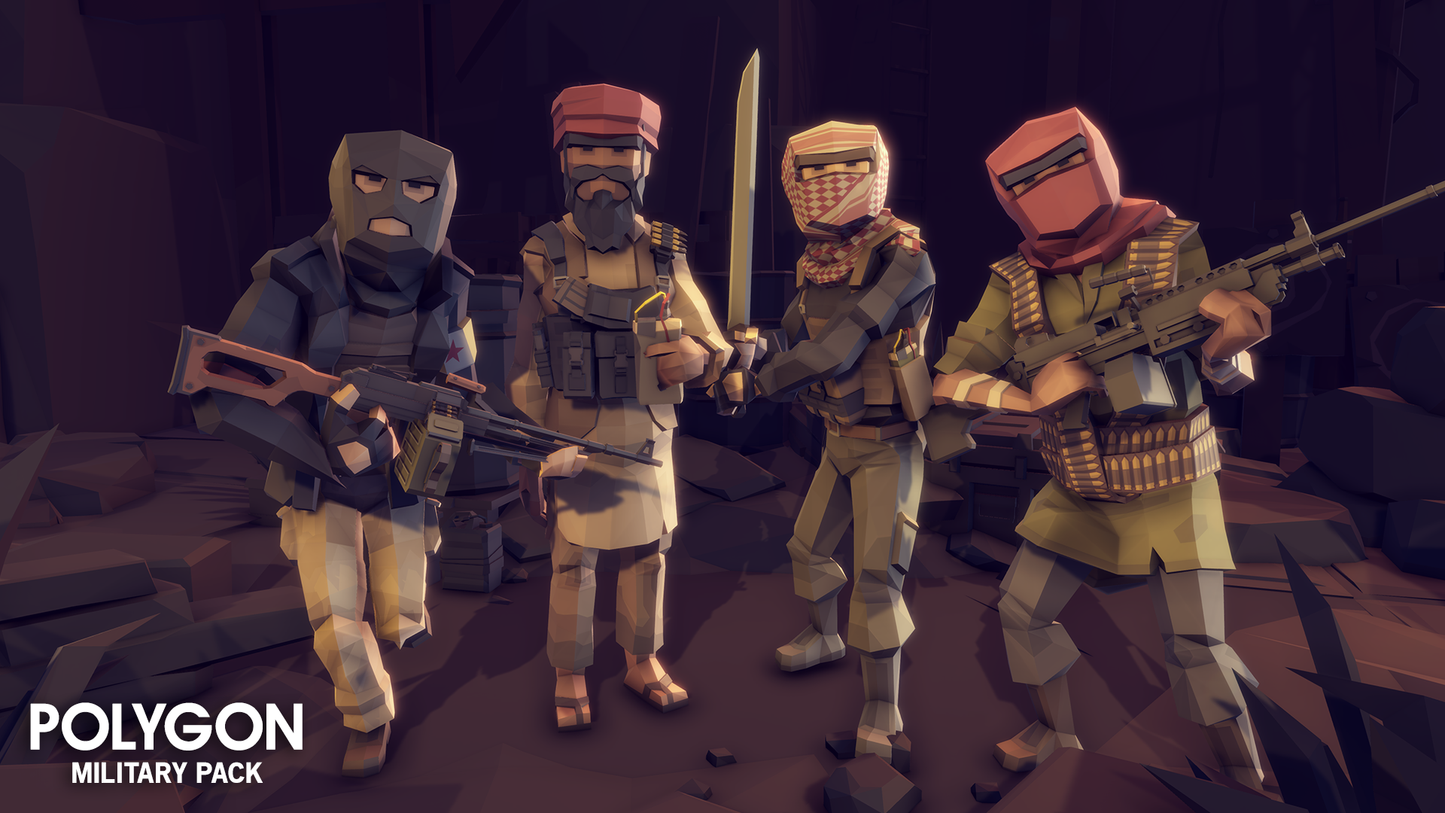 *Excludes New Releases and FREE Assets