Regular price
$9.99 USD
Sale price
$4.99 USD
Unit price
per
BYOB 50% Off
Sold out
5 seats per copy - Licence
Synty Studios Presents - 
A low poly asset kit of characters, props,and a vehicle asset to create a snow/ski themed polygonal style game.
(Includes a Layout scene)
A great addition to POLYGON - Nature Pack

Key Features -
Vehicle (x1)
- Snowmobile
(with Alternative Textures) 

Characters (x2)
- Snow Male 01, Snow Female 01.
(with Alternative Colors)

Snowboards (x8)

Sets of Skis (x8)

Props (x23)
- Bottle, Camera 01, Camera 02, Fence 01, Fence 02, Fence 03, Flag 01, Flag 02
- Flag 03, Flag 04, Flag 05, Lift Cable 01, Lift Chair 01, Lift Pillar 01, Lift Turn 01, Rail 01, Rail 02, Ramp 01, Ramp 02, Ramp 03, Ramp 04, Ski Pole, Snow maker 01

FX (x5) 
- Snow, Snowmobile FX, Snowboard FX

- Heaps of awesome content included (see the layout screenshots for more details)
- Character setup to work with Mecanim (no animations included in this pack)
View our tutorial on converting to the Universal Render Pipeline.

* Environment assets in first screenshot sold separately.
***Contents may vary between engines.
Change Log
v1.4 (Unity)
- General pack cleanup
v1.3 (Unity)
- Added fixed scale characters


Share
Perfect for snow sports
This compact kit achieves exactly what it aims to, and one could potentially build a simple snow sporting game out of the assets here. The included snow VFX are much appreciated as well.
Short and sweet
A fairly small Synty pack, but it's high quality and fits with all the other packs.
Thanks, the review is appreciated.
Wish rigging on non-character models was better
Great looking models but the snowmobile isn't rigged in a way that would make it useful as anything more than a set piece. The snow maker isn't rigged so it will be static as well. The ski lift parts have proper rigging so thumbs up for that. Unfortunate that this pack won't work for my purposes due to the snowmobile but it would probably work for most people.
Thanks for taking the time to leave feedback. If there are areas that can be improved please reach out to us at support@syntystudios.com so we can explore them in more detail.
View full details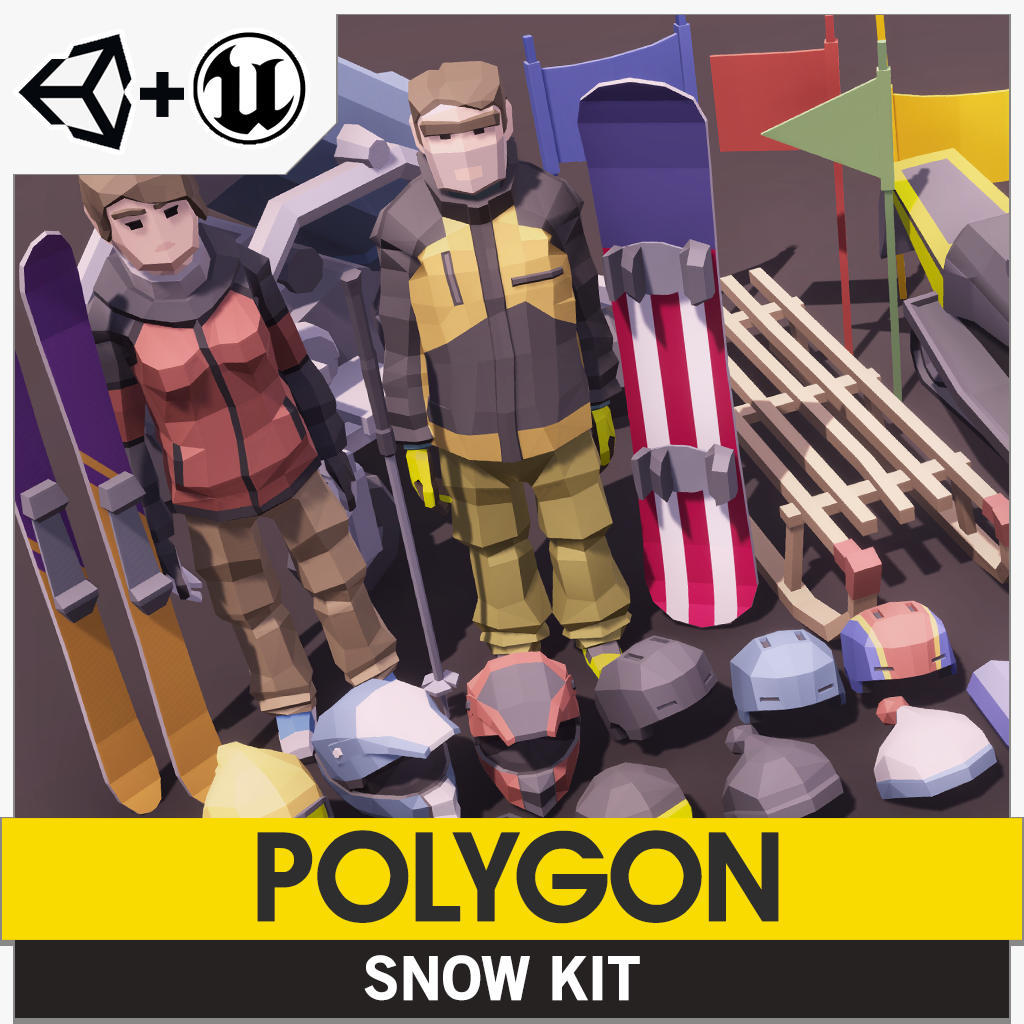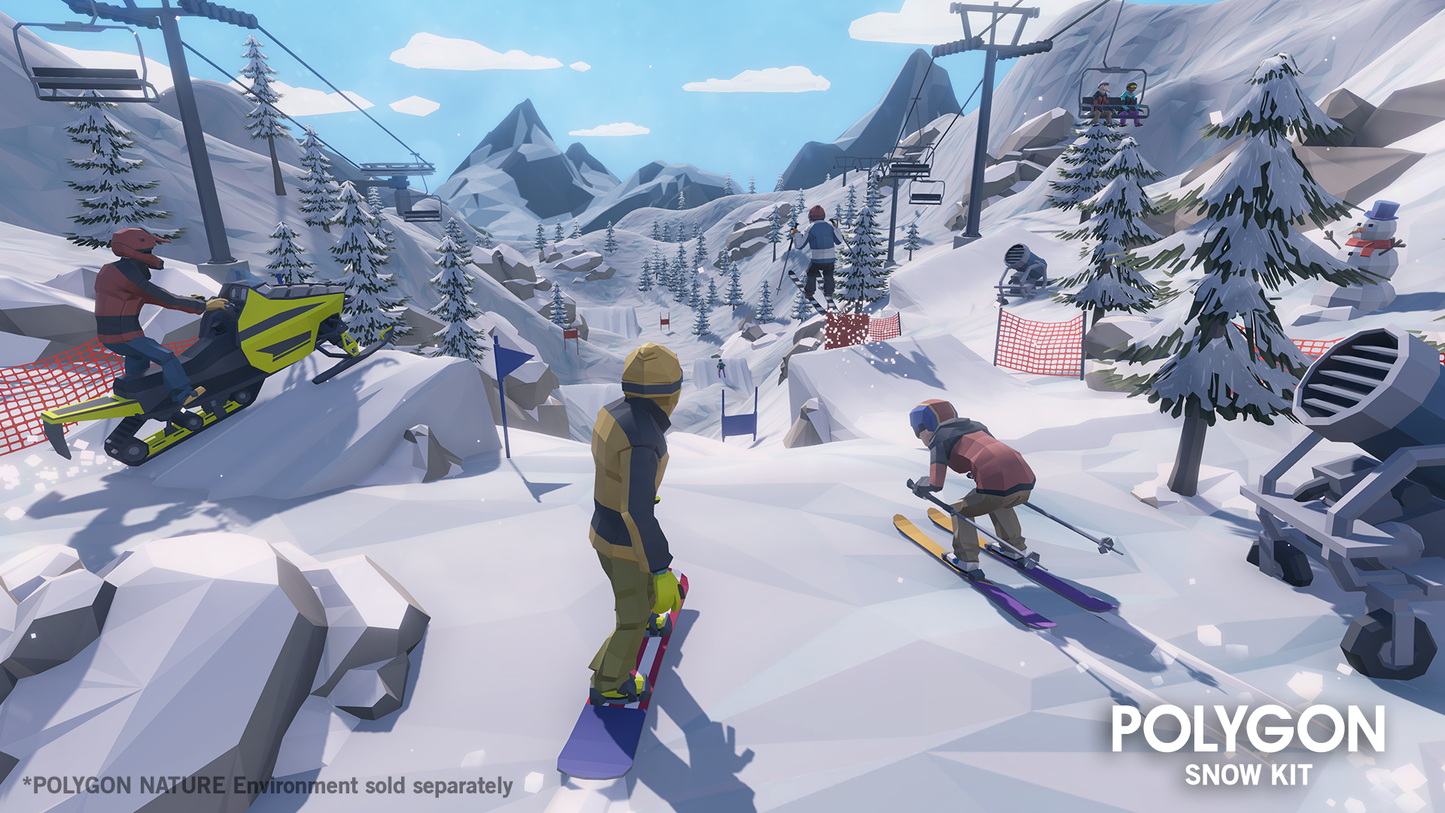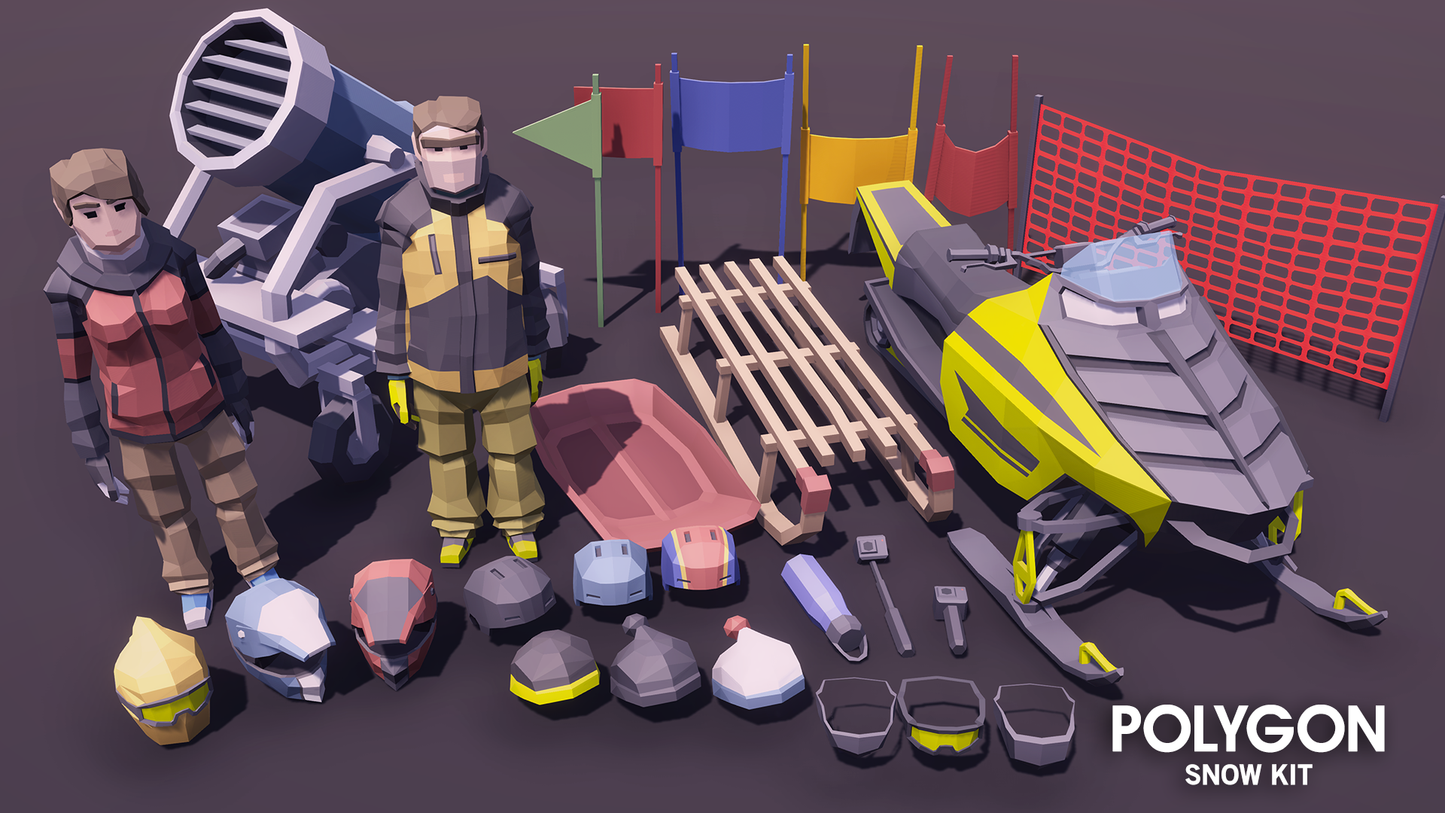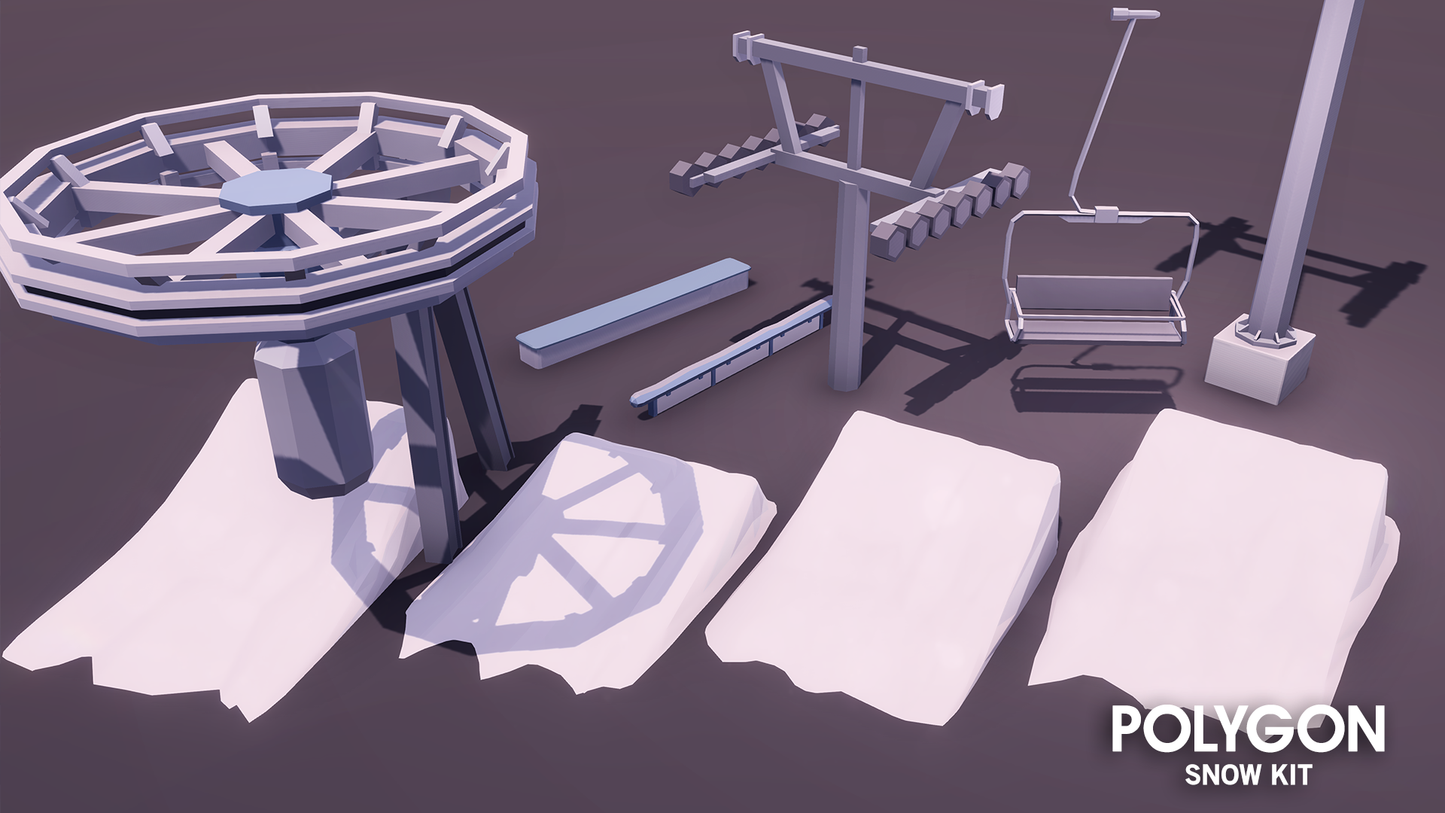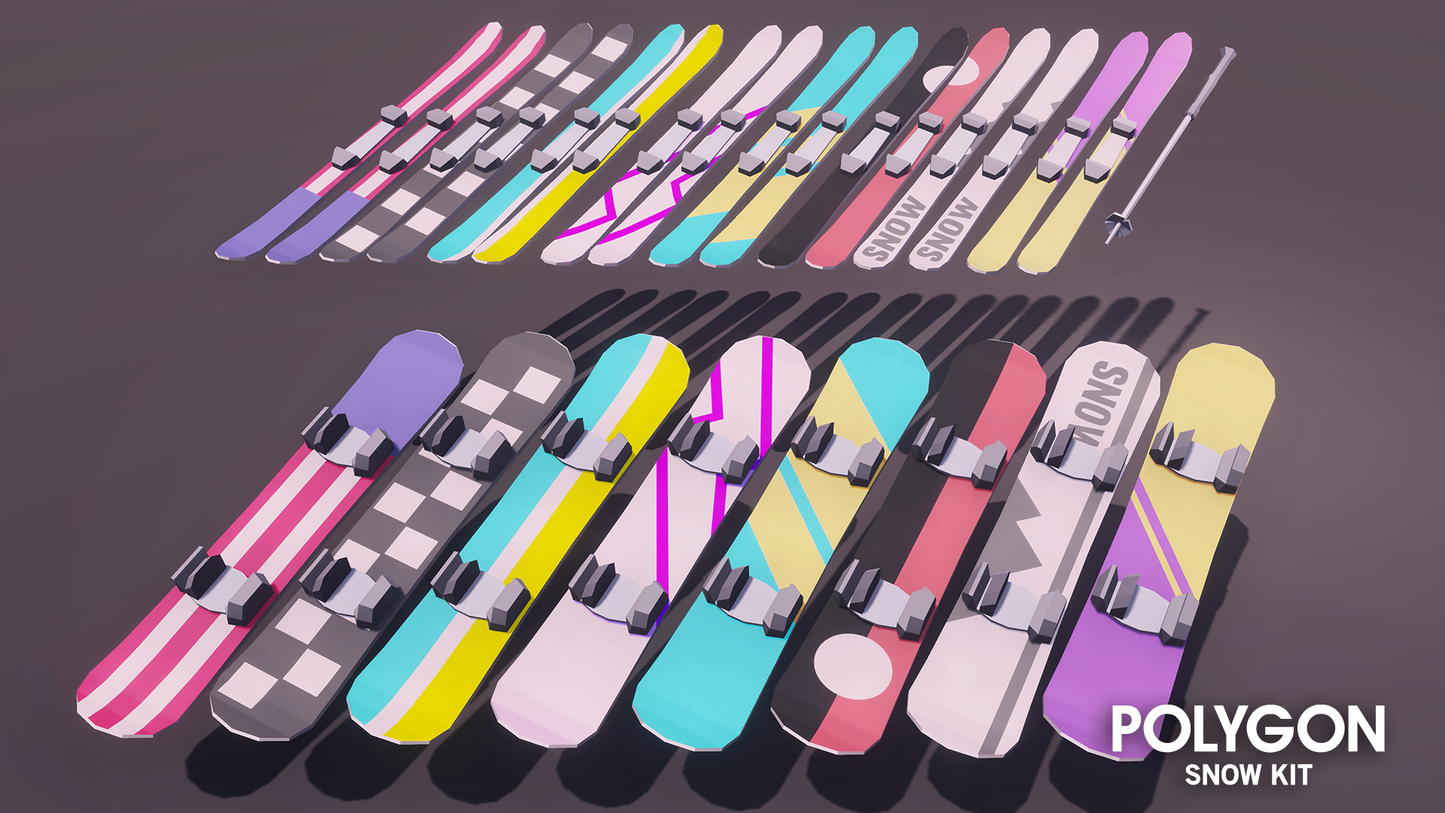 *Excludes New Releases and FREE Assets